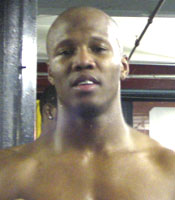 Judah speaks on his next fight Tszyu, De La Hoya, Mosley and more!
GL: What's good Zab?
"Everything. I've been going everywhere checking out the whole world seeing my fans all over the place and telling them I love em. I've been to Mexico, Miami, North Carolina, Virigina, Washington DC and Vegas. It's just been great, my fans know I always got some time for them."
GL: Before we get into your next fight, can you tell us what you thought about Tszyu quitting on his stool against Ricky Hatton?
Zab Judah: "I told everybody if I was able to get a rematch I would have done it spectacular. I take my hat off to Ricky Hatton. He did his thing and I thought he looked real, real good. Hopefully, he'll come up to welterweight."
GL: If he was willing to move up to welterweight would you be willing to defend your titles against him in England?
ZJ: "Come on baby, I ain't no fool. I see what happens when dudes go over there. He'll have to come over here."
GL: It looks like your next fight is going to take place on Showtime in September
.
ZJ: "We got the September date with Showtime. But I'm a little disappointed because everybody knows that my hopes and goal was to get an Oscar De La Hoya fight and it doesn't look like that fight is going to happen right now. I was putting all my eggs in the De La Hoya basket, but I just want to figh the biggest fights out there. There is no Plan B. I want to stay on top and keep my fans happy by fighting the best."
GL: Carlos Baldomir is your mandatory challenger in the WBC, if it's not going to be something big, would you look to get that mandatory out of the way to free you up for a big fight?
ZJ: "I'll fight any of those dudes. And this is a message to the managers and promoters out there, if you respect your guy and he made it to number one in the world. Do something else about him making that mandatory. All that's going to happen is, he's going to get knocked out and dropped to a lower number. I'm telling y'all right now, all these guys running to a mandatory spot are just running to get their ass whipped. I'm not playing with nobody, I'm focused again."
"I'm trying to take boxing back to the old days. I want to knock one motherf**ker out and then come right back to do it again a few weeks later. The name of the game is fighting and back in the days, Joe Louis, Joe Walcott and guys like that were rumbling every weekend, and todays the old fighters are known as the baddest guys ever. I want to bring it back there and fight every other week."
Send questions and comments to: gleon@Boxingtalk.net