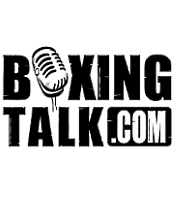 The best 130 pounder in the world?
Yodsanan 3K Battery (Nanthachai) is the best 130 pounder in the world that you haven't seen fight, period. He holds the WBA junior lightweight titlist and is rated #4 by Boxingtalk in what is probably the toughest weight class in the sport. Boxingtalk was able to speak with the champ yesterday to get his thoughts on his upcoming bout with mandatory challenger Vicente Mosquera and hopeful future showdowns with Marco Antonio Barrera, Erik Morlaes and Manny Pacquiao. "I've been working very hard for this fight at the Square Ring Boxing Gym in New Jersey. The owner was very helpful in welcoming me, I felt right at home.  I'm much more prepared than I was for Forbes. Mosquera will be no problem for me, I'm going to try my best to take him out as quickly as I can."
GL: The American public hasn't really seen you fight yet so can you explain to our readers what you're all about in the ring?
YN: "I'm a puncher, and in each fight I have been improving. I'm hoping more people get to see me this weekend at Madison Square Garden because they're going to see power. I'm a very strong fighter with a lot of power."
GL: How do you feel about the junior lightweight division being so stacked right now?
YN: "I feel very lucky and fortunate to be in this weight class because there's a tremendous amount of great boxers in this weight class and I'm ready for all of them. I have a thirst to fight these big names and I can't wait to meet them in the ring. Hopefully after this fight our promoter (Banner Promotions) will try to get us in with one of them. I want the guys like Morales, Barrera, Pacquiao and Barrios."
GL: How would you feel about fight with Manny Pacquiao? That would be a huge fight overseas and the American public would get a great fight at the same time.
YN: "It's no problem at all, I feel very comfortable facing Pacquiao. And it's weird that two big name fighters from Asia would be fighting in America, but of course, that's no problem at all."
GL: You described yourself as a strong, powerful puncher. Do you see Pacquiao, Morales or Barrera going the distance with you?
YN: "Once I get a couple of good shots on them all of them would down. All three of them would go down. I'm very comfortable at 130 and pretty soon the American public will know that I am the best 130 pounder in the world. The only reason I'm not there is because we haven't gotten that opportunity yet. Pacquiao got his chance with Barrera and we're just waiting for the right time. Until then, everything will take care of itself, but my time is coming. I'm going to take Mosquera down and then I'm looking forward to fighting on HBO.
GL: Is there anything you'd like to say in closing?
YN: "I want the fans to know that we are here and we're looking for our opportunity. I want everyone to come to the Garden to see a better fighter than Pacquaio or any of the other ones at 130."
Send questions and comments to: gleon@Boxingtalk.net