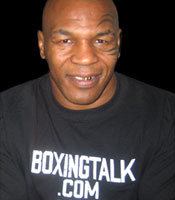 Get the truth, ONLY on Boxingtalk!
Yesterday afternoon Boxingtalk.com received a special invite to kick it with former undisputed heavyweight champion "Iron" Mike Tyson hours before he flew back to Phoenix, Arizona to enjoy his 39th birthday with friends and family. I arrived at his hotel twenty minutes late due to mid-town traffic. This wasn't a "BT business" trip so there was no video camera, this was just a little one on one time with Tyson to shoot the breeze before he returned home. We did find some time to ask a couple of boxing related questions. Is Tyson really interested in fighting Riddick Bowe or Evander Holyfield in four round fights? What did he think of Floyd Mayweather's stellar showing against boxing's blood and guts warrior? Of course you know Boxingtalk's the only place to get the truth straight from the horse's mouth.

Okay let's get the boxing out the way quickly. Tyson described Mayweather's showing as, "a truly masterful performance. It was his speed, Gatti's known for coming back when he gets hurt, but he couldn't do nothing with that speed."

Although I seriously doubted that there was any validity to these rumors and I wasn't there to formally interview Mike, I had to inform him that there was a story on the internet stating that he could be fighting the likes of Riddick Bowe and Evander Holyfield in four round fights.

Naturally, the information was as credible as the website providing it to you, NOT VERY.

Tyson said, "I'm not interested in any of that stuff. Honestly, I still don't even really have the desire to really discuss the sport. It just doesn't interest me."

As I said, I wasn't really there to interview Mike, so our conversation quickly shifted to the going rates on real estate in Arizona. After listening to Mike explain the differences in prices between New York and Arizona, I was ready to grab my Steve Nash jersey and a toothbrush.

Tyson suddenly asked, "How old are you minister?" (Minister is short for Minister of Information, a nickname Tyson crowned me with late last year.)

I'm 27 Mike.

"I remember when I was 27, God."

You're only as old as you feel Mike.

"Don't say that brother, you know I turn 39 tomorrow."

I know Mike, but some people say life begins at 40. If that's the case you haven't even been born yet.

"You hear this slick talking (expletive delted)," Tyson rhetorically asked a friend of his, "That's why he's The Minister. I know you're on top of the internet game now, but what are you going to do to step your game up? Even when you're on top you still got to step your game up, so tell me brother, how are you going to do it?"

Mike don't worry about me stepping my game up, you need to worry about stepping your game up.

"Oh shit, there you go again. Leave me out of this brother, I'm the one asking the questions, you answer them. I want your secret."

It's going to be hard for me to get any bigger brother, I'm already here with you, right.


---On behalf of the entire Boxingtalk.com team we would like to wish Tyson a Happy 39 Birthday! May he enjoy at least 39 more!

Send questions and comments to: gleon@Boxingtalk.net