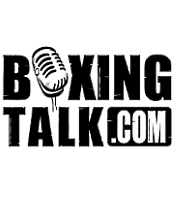 Last night Boxingtalk.com spoke with Kevin Cunningham, trainer and manager of undisputed welterweight champ Cory "The Next Generation" Spinks. Cunningham and Spinks are currently at Don King's facility in Ohio preparing for their upcoming September 4 showdown with former world champion Miguel Angel Gonzalez. Other than Gonzalez, Floyd Mayweather Jr., Sharmba Mitchell, Kostya Tszyu and Zab Judah's do to come up.
GL: What's good Kev?


KC: We're up here in Ohio in the middle of nowhere just getting ready to raise up another suspect by the name of Miguel Angel Gonzalez.


GL: You're fighting Gonzalez at the Mandalay Bay in Las Vegas, the same place you fought Zab Judah in April. However, in preparation for Judah you trained at the high altitude of Colorado Springs, this time you're training in Ohio. Why the difference in camp locations?


KC: We couldn't secure the facilities in Colorado the way we were for the Judah fight. Things went down at the last minute, and for us this is the next best thing.


GL: Shortly fter the Judah fight you said Cory's next fight would be a softer touch, now that you've got Miguel Angel Gonzalez, does it make it more difficult for you as his trainer to keep him focused like he was for Mayorga and Judah?


KC: No man, because this dude Miguel Angel Gonzalez is a former world champion. He's fought the best fighters in the world, he's a veteran, a warrior and someone who knows how to fight. We don't take nobody lightly and once you hit camp it's all about business.


GL: At the post fight press conference following your victory over Judah, Floyd Mayweather and Cory were getting into it big time. I did an interview with Cory in which he called Mayweather out in a major way, but since then Mayweather hasn't said much about Cory and that whole potential fight seems to have fizzled out. What are your thoughts on that?


KC: The way I see it, he's looking to go in a completely different direction. He doesn't want to fight Cory and I'm not going to knock him for that. If he could find a big payday that an easier fight, that's business. But I would love for him to move up to 147 so we could do this. He's going to do what's best for him and we're going to move on.


GL: I recently did an interview with Sharmba Mitchell who told me Kostya Tszyu would be his last fight at 140. He also said after he beats Tszyu, Cory is a fight he'd love to make. How do you feel about that fight, as well as the possibility of fighting Tszyu if everything goes his way on November 6?


KC: The two main guys who we're really looking to fight are Kostya Tszyu and Mayweather. Obviously beating Kostya Tszyu would put Sharmba in the mix. If Sharmba beats Kostya Tszyu it should put him into position to where he's a fight we want to make because there would be some money there. After the Judah fight, the marquee fights we were looking at were Mayweather and Kostya Tszyu.


GL: With Mayweather hoping to go the Gatti road, and Tszyu caught up with Mitchell in November, the only other really big fight at welterweight is the rematch with Zab Judah. So after you guys take care of business against Miguel Angel Gonzalez, how long do you think it'll be before the Zab Judah rematch takes place?


KC: We're looking to have another fight in late November or early December. Obviously Tszyu isn't going to be there, and Mayweather wants nothing to do with us, so there's a very good chance the Judah fight could happen before the end of the year. As long as the finances are right of course.


GL: Does Zab knocking Cory down in the twelfth round give him a mental edge coming into a rematch? Because Zab feels had the fight been a fifteen rounder he definitely would've stopped Cory.


KC: We've spoken about this before, all this if shit. He had twelve rounds and he didn't get it done, but he might get a second shot. I hope he does come in there gassed up trying to get started early. We'll do what we gotta do and deal with him however he wants to bring it.


GL: On the flipside, will that knockdown cause Cory to be more disciplined for the full 36 minutes?


KC: Absolutely. You see, he was winning so big that he got lax. He made a mistake and he paid for it. Now he knows there's no such thing as getting lax until that bell rings.


GL: The last time Cory fought a non-marquee fight was Rafael Pineda, a fight Cory didn't look good in. In the past you've told me he didn't train right and he didn't do a lot of the things in preparation that needed to be done in order for him to be successful...


KC: For that fight he didn't even go to camp. The main thing is, now he's already in camp and he's going to be busting his ass in the gym, something he didn't do whilegetting ready for Pineda.


GL: What's going on with the Alexander brothers?


KC: Vaughn is 3-0 with 3KO's, Devon is 2-0 with 1KO. Vaughn is going to be fighting on Cory's show and then the Trinidad-Mayorga fight and Devon is going to be fighting in an off tv fight on the Tyson undercard.


CLICK HERE FOR THE FULL EXCLUSIVE INTERVIEW WITH THE MOST UNDERRATED TRAINER IN THE GAME TODAY
Send questions and comments to: gleon@boxingtalk.net