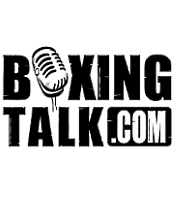 Jose Aguirre: What's the latest on Juan Diaz' career?
"I really don't know. Ever since he got cut befor ethat April fight on PPV everything came to a streaking halt. It's been awful."
Have you been in contact with Main Events to see why they are not promoting the youngest world champion in boxing today
? "Yeah, I have written them several times to see what the plans for Juan were. It's frustrating. He fought in Louisiana in July but that's it."
JA: How disappointing is it to see all the fight happening around him and him not knowing his next move?
WS:"Totally disappointing. You never see anything on Main Events' website or anything. It's just like he dropped off the face of the earth. He calls himself unemployed."
JA: How discouraged is he?
WS:"He's discouraged but the thing is I don't negative around him. I just tell him to keep his chin up and sooner or later something will happen. But as far as them calling me to tell me what the plans or goals are I don't ever hear anything. I don't even know if they have anything lined up for him or anything. I don't know. He has a mandatory coming up now. Ebo Elder fought Lavka Sim and now we have to fight Lavka Sim again and I don't know if my promoter is going to bid on it or what. Call them and ask them what they have planned for him because I sure don't know. I have told them if you can't promote a kid like Juan, who can you promote? He's the youngest champion in boxing, a college student and he's an action fighter and for him to sit on the sidelines I just don't understand it. Not so much that he's sitting on the sidelines but I don't see any efforts to get him off the sidelines. We tried to get him on the Arturo Gatti-Floyd Mayweather card and I tried to get him on the (Fernando) Vargas card in Chicago and they told me they didn't have any room so I got him the fight here in Louisiana just to keep him busy. As far as I know they don't have anything for him."
JA: Is there anything you want to say in closing?
WS:"You know, I don't like to bad mouth promoters or anything like that but Kathy Duva knows how I feel about Juan just sitting on the sidelines not doing anything. I don't know if they plan to find something for him or if they've turned down something for him. I did see somewhere that Square Ring reached out to him to put him on that Roy Jones card. I don't know if Main Events has a plan for him or anything. I haven't spoken to Carl Moretti in two months and Kathy Duva maybe once or twice in two month. I sound pretty dumb and that's because I don't know anything. (laughing)."
Send questions and comments to: onfireboxing@Verizon.net