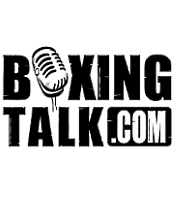 GL: Boxingtalk here at the post-fight press conference still bringing it to you hot. We have WBO president Francisco "Paco" Valcarcel with us. Can you give us your thoughts on Corrales-Freitas?


Francisco Valcarcel: Yeah, could be the fight of the year. My only comment is this fight could be the fight of the year. Let's wait and see what will happen in Puerto Rico on September 11th, but until now this is a strong candidate to be the fight of the year.


GL: Does it disappoint you in a way for Popo as a longtime.....


FV: (cutting in) No, no, no, no ,no


GL: (continuing) .... WBO champion to see him quit like that in a fight of this magnitude?


FV: No, no, no because Chico deserves to be a champion too. Popo has been a great champion. We're proud of Popo. Also, we'll be proud of Chico cause he did a great job tonight.


GL: After the DeLahoya-Felix Sturm fight there has been alot of controversy. Felix Sturm lost his belt, some felt unjustifiably so. What action will the WBO take to make sure Felix Sturm gets his just due?


FV: I cannot tell you anything about Felix Sturm just now but you will see in the near future something will happen. Anyway, they filed a complaint and the committee decided that they cannot substitute the judges decision.


GL: Do you feel DeLahoya won that fight?


FV: Really I didn't score the fight and I haven't watched the fight.


GL: Will the WBO mandate Sturm as the next fight for the winner of Hopkins and DeLahoya?


FV: No. He's number one. I don't know what will happen. DeLahoya is the WBO super champion and he got 18 months to fight. Hopkins because he got three or four belts he could be the WBO super champion and he got 18 months to make his mandatory. That means that they decide what they will do in the next 18 months.


GL: Bernard Hopkins last week, in a interview he did with me, told me that he has no intentions of keeping the WBO belt after he takes care of business against DeLahoya. He says it's nothing against you it's just that he already pays enough sanctioning fees. He plans on giving the belt right back to DeLahoya after he beats him. With that being said, lets say Bernard hypothetically speaking lives up to his word and doesn't keep the WBO title if he beats DeLahoya on Sept 18th. What then happens with the WBO title and how long before you guys sanction a fight for the vacant title?


FV: I respect Bernard Hopkins and any course of action he decides I will support him.


GL: At heavyweight James Toney is the mandatory challenger to the winner of Lamon Brewster and Kali Meehan. Will he be inforced as mandatroy immediately after that fight?


FV: Yea we sanctioned that fight in agreement with Dan Goosen who represents Toney and the winner must fight Toney before the end of the year.


GL: On Sept 11th you guys have a nice show in Puerto Rico, the WBO's backyard. Miguel Cotto goes for his first major world title on that show. How do you feel about that?


FV: It's a great show. We worked hard for that show. Pinto is a great fighter, he beat Cotto twice in the amatuers. Cotto has been tested too. He is a great fighter. I can't pick a winner. It's a pick-em fight.


GL: What do you feel about most people considering the WBO the fourth belt? How do you feel about that? The Undisputed Champion has to get the WBC, WBA and the IBF. How do you feel about the WBO not being recognized on that same level?


FV: I don't give a (laughs). I don't give a damn.


GL: What do you think needs to be done for the general public and the press to start recognizing it?


FV: Nothing because press like you know that the WBO is one of the strongest sanctioning bodies. And we got the champions, we got the champions.


GL: Ok. At 168lbs, Joe Calzalghe, they were talking about him going up to fight at 175. The fight with Johnson fell apart now he's coming back to 168 to defend the WBO title. Is that correct and what can you tell us about the discussion you've had with Frank Warren relating to Calzaghe's next fight?


FV: Calzaghe will be ready to fight in October. Now the interim champion is Mario Veit. He will fight Charles Brewer. They are working on a date on tv. The problem is DiBella has no date on tv in America. Peter Kohl has no date on tv in Germany. But I'm working both camps to try to put that show in a co-feature of any other title bout. Calzaghe sent me a letter, sent the WBO a letter that he will be ready to fight the winner of those two in October.


GL: What do you expect to happen in the Hopkins-DeLahoya fight?


FV: The best will win the fight.


GL: Hopkins is obviously a big favorite. Most people are picking him to win. Do you think after Oscar's sub par performance against Felix Sturm you give him a solid chance of winning that fight?


FV: Styles make fights. That's important. DeLahoya is a great fighter. Hopkins is a great champion. DeLahoya has been champion in a lot of divisions. He's so smart. In boxing anything can happen.


GL: How does Felix Sturm versus Jermain Taylor for the vacant WBO middleweight title sound to you?


FV: I didn't know that.


GL: I'm just asking.


FV: No. Not really. Not really, no because Jermain Taylor is number 5 or number 4 in the WBO and we have other fighters that....


GL: Let's speak in the hypothetical. Hopkins takes care of business against DeLahoya. Sturm is your number one contender. In terms of a middleweight fight that you could make to bring attention to your organization and the WBO champion, don't you think that's a fight that the public would love to see?


FV: I don't know what will happen. We'll talk after the fight because I don't know what will happen. Hopkins is my friend. DeLahoya is my friend. One of these guys will be the unified champion. The true champion. The Undisputed, ok? That's the first undisputed....


GL: ( Has a look of confusion and disbelief )


FV: ....and let's see what happens because we have alot of options. You know what will happen. I will tell you off the record because you're my friend.


GL: And since we're friends we're going to call it a wrap so we could find out what happens but we're going to bring it to you on the shhhh.


MEMBERS CLICK HERE TO READ THIS EXCLUSIVE
Send questions and comments to: gleon@boxingtalk.net