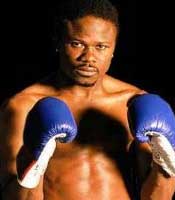 GL: What's good Vern, how are you feeling these days?
"Well, the shoulder is doing really good. It's feeling ten times better than it did before but it's still not 100%. I'm functioning around the high 80's right now, but it's getting ready every day and hopefully by fight time it's 100%."
GL: I know there were problems after the first surgery, but following the second surgery with Dr. Daly your rehab is going according to schedule, correct?
Vernon Forrest: "After the first surgery my arm felt the way it did before the surgery. It was like I never really got surgery. I tried to rehab it but it never got better. I was thinking to myself, I'm going to have to get another surgery, but before I did that I flew all over the country to see several different specialists to have them look at it. I got a lot of different opinions, but the consistent opinion was that the rotator cuff was still torn and I had cartilege damage. Then I got in touch with Dr. Daly, who is, without a doubt, the best surgeon out there."
GL: How does it feel to finally be coming back on July 16? Are you excited?
VF: "Absolutely. I can't wait. By the time July 16 rolls around, it's ring around the corner and I'm really looking forward to it. But at the same time I've seen a lot of different mistakes that a lot of guys make after being out for a while, and I'm definitely not trying to make those mistakes. I'm not jumping in there to pick up where I left off. Right now I don't think I have the confidence, more than anything, to contend with some of the best fighters in the world or compete for a world title. Hopefully about two or three fights down the road I'll be ready to get it on with whoever the best guy is going to be at that time."
GL: Do you have any idea who your fighting on July 16?
VF: "We're looking at a few guys. Some of the guys that we were looking at fell through. For me it's more important to get somebody that's going to go get me some rounds in. I'm not looking, after two years off due to injury, to get in there with King Kong."
GL: You're looking for a durable guy that's going to go some rounds in a fight that's very tough for you to lose.
VF: "Right, but I'm not looking for the Pillsbury dough boy either. I want someone who's going to give me some rounds. The competition will escalate according to my performances."
GL: A couple of the names that I've been hearing are Golden Johnson and Freddie Cuevas. As far as you know, are those guys in the mix?
VF: "Freddie Cuevas was never in my mix. Golden Johnson was, but I think he's got some legal issues that are preventing him from taking the fight. Cuevas is name that keeps popping up, but it's not in my mix."
GL: After July 16, how important will it be for you to stay busy?
VF: "It's going to be essential for my progression back to the top to stay busy. I'd like to get three fights in before the year is out. I'm going into the ring for this first fight with rust and the injury in the back of my mind. By the time fight time comes after July 16, I want to eliminate the injury thing and really concentrate on my skill. Then when it's time for me to contend with whoever is out there and I'm at 100% physically and mentally the fans are going to be in for a great fight."
GL: Since many other fighters have advanced their career's while you've been gone, do you almost feel like you're starting from scratch as far as getting yourself back into the mix for some of the biggest fights out there?
VF: "I'm a former two time world champion so I still have that going for me. For me to fall from grace it wasn't that far. Now it's just a matter of me getting prepared to get back in that mix again."
GL: At what weight will your first fight back take place?
VF: "I don't know yet. Right now I'm just working and draining my body. It's not a championship fight so I'm not obligated to be any particular weight. I don't know where I'm coming in at but it'll definitely be somewhere between 147 and 160."
GL: At 154 the big money is with Vargas and at 147 there's all sorts of interesting possibilities.
VF: "Absolutely. There's a lot of great fights out there for me. You got guys that are coming back from layoffs and you got guys that are doing really well, moving up and winning championships. When the time comes for me to fight the best out there, I just want to make sure I'm 100% prepared for it. Diego Corrales and Castillo put on a great performance. I don't necessarily fight like they do, but it was a classic fight and when you match the best with the best sometimes you get those all time classics. You know some guys were disappointed with the Winky and Trinidad fight, but I wasn't. I thought it was a great fight and Winky put on a great performance. He controlled someone considered to be one of the most dangerous fighters of all time with the most basic punch in boxing."
GL: When will you have your opponent nailed down?
VF: "I'm hoping within the next week. They're really narrowing it down and we're looking at quite a few guys out there, but as soon as I know you'll know."
GL: Is there anything you'd like to say in closing?
VF: The Viper is back on July 16 so expect some great fights in the future. This fight is for me to prepare myself for what's to come."
Send questions and comments to: gleon@Boxingtalk.net