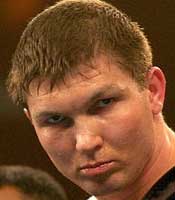 "I'm hungry for some meat!"
GL: What happened between you and James Toney at his recent fight with Rydell Booker?
"I was there to see the fight and see if we can make something happen, but he doesn't want to fight me again. He must have other plans. I heard he got hurt again, I don't know man, maybe he's getting too old for this. KGB, right now my manager's are just trying to make a fight. I'll be hoping they can make things happen early this week."
GL: Both you and Monte Barrett are promoted by Lou DiBella. Would that fight interest you?
Vassiliy Jirov: "Sure why not? Nobody wants to fight me so I got to fight somebody. I need to fight somebody. I want to get in the ring and fight. I'm a fighter not a waiter."
GL: What did you think about Roy Jones Jr.'s last fight?
VJ: "After getting knocked out it's tough to go back in the ring but he did. I think he did what he could but Johnson knew his head wasn't there so he started to pound him, he kept the pressure on and it happened again."
GL: Do you think he should retire from boxing?
VJ: "He's already made a name, he's a great boxer and people know him. He's made money and there's other things for him to do, I don't think he should continue after his last fight."
GL: Does it frustrate you that you've been out for so long?
VJ: "A little bit maybe, but I'm just laying back and working while my people work to make something happen. When the phone rings I will be ready. Right now I've been out for eight months, but I'm not worried, everything will be fine because once I get back in the ring I'm taking care of business."
GL: Chris Byrd Vs. Jameel McCline. Who do you like?
VJ: "Byrd is a very good boxer and McCline is a big fighter so it all will depend on how prepared they are mentally for the fight. Roy Jones might have been physically ready for his last fight, but mentally he definitely wasn't there. It's a tough call and the fight can go either way, this is the heavyweight division and anything can happen. Look at Tyson, he was supposed to be back better than ever and he lost to that guy. If I had to pick one I say Byrd would win.
GL: What about Ruiz Vs. Golota?
VJ: "I'll take Ruiz, Golota has a little bit of problems in his head. Ruiz will fight his fight and win."
GL: Is there anything you'd like to say in closing?
VJ: "Just give me anybody in the top ten, I want to fight the best and I'm ready for all of them right now. Show me the money and I'll see you in the ring. I'm hungry for some meat. Tell my fans to stay cool and stay sharp in their minds. Don't worry about things in life, know who you are and do what you want to do in life."
Send questions and comments to: gleon@boxingtalk.net