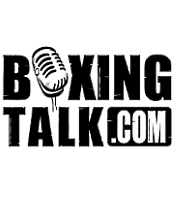 Greg Leon: Boxingtalk here with former heavyweight champ Iron Mike Tyson at the De La Hoya-Hopkins post-fight presser. Can you give us your thoughts on tonight's fights?
Mike Tyson:"I thought it was a great fight. We knew after the fifth round it was going to get pretty ugly. Oscar fought a very valiant fight. There's nothing to be ashamed of. It was a great evening. Now we're going to have some fun."
GL: One of the judges had Oscar up (on the scorecards). Is that something you could see? Is it conceivable to you?
MT:"I could see it because Bernard was just setting his punches up one at a time and Oscar was throwing combinations so they were probably looking at the velocity of punches that Oscar was throwing."
GL: How do you feel about this stoppage? Do you feel it was a devastating body shot or do you feel maybe Oscar saw that it  was going to get real ugly in those next few rounds?
MT:"I don't know. i don't think he would do that cause he was fighting too hard and he didn't have any signs during his whole career. We don't know if it was an accumulation of punches and that just hit him and finished him off or it was just a precise punch.  Maybe when he comes here he can give us an explaination of what truly was the obstacle."
GL: How do you feel about him taking the fight after he got his hand cut in sparring? He received several stitches in the hand. How much of a role do you feel that might have played?
MT:"It didn't seem like it was playing much of a role because he was punching pretty hard and he connected a few times."
GL: Anything else new since we last spoke? What's new with Mike?
MT:"Mike is just happy. Mike is just out here happy."
GL: Anything you want to say to the fans in closing?
MT:"I love you all. Thank you for supporting. Thank you.