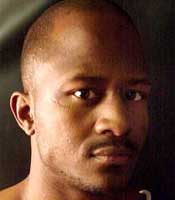 What's going on Trav?
"I've been training hard and I'm just ready to take Bronco out in impressive fashion and after I take him out I'm gunning for the winner of Winky and Shane Mosley. Bronco is definitely a top ten fighter, he's always in good shape and he comes to fight so that makes this match-up intriguing. But I believe his style will suit my style perfectly. Bronco has never been knocked out, but I plan on having a tremendous night on October 2, by knocking him out."
GL: What did you think about Bronco's performances against Winky Wright?
Travis Simms: "Again, I thought he was in good shape, but when he gets in there with guys who are much better than him he gets frustrated and looks for a way out. My plan is....wait a minute, I'm not going to tell you my plan, but people should look for a Tremendous night. We didn't have to fight Bronco McKart, but he's been in the top ten for a long time and he's just one of those type of guys that can help you take your career to another level and Travis Simms is ready to do that."
GL: Do you consider Bronco McKart a better fighter than Alejandro Garcia?
TS: "I think Garcia is a much better fighter than Bronco McKart. But as far as experience, Bronco has lots more experience than Alejandro but I think Garcia is the superior fighter because of his power, talent and elusiveness to get out the way of certain shots when you're trying to set him up. I'm not trying to take anything away from Bronco, he's been around and he's paid his dues, but I think he's in over his head right now. I'm looking for a great fight out of him but I'm looking to dominate."
GL: Will you come out boxing to feel him out, or will you look to outgun from the outset?
TS: "With my skills, speed and power, I think those three things are going to speak for themselves. I'm just looking to go out there and put on a great performance whether it goes twelve rounds or one, my talent is going to speak for itself. I am willing to do whatever it takes to win and I don't think Bronco is going to be able to prepare himself for a guy like me."
GL: Obviously you plan to use this exposure to make a statement to the winner of Wright-Mosley rematch.
TS: "Absolutely. That's basically what it is in a nutshell. This is my coming out party as a world champion and I will show everybody that Travis Simms is not a one night wonder and that Travis Simms is a fighter to be reckoned with on the pound for pound level."
GL: After all the time off, how did it feel when you first got back to the gym? Was there a lot of rust you had to shake off or were you always keeping yourself busy?
TS: "Since the win, I've never taken any time off. I was in camp with Robert Allen, I was in camp with Randy Griffin and now I'm in my own camp. The timing is great for me because I've had the time to take my conditioning to another level and get over some of the nagging injuries I had sustained. I've been having fun, and I'm getting a lot sharper, I'm just ready to take my career to the next level so these guys got a lot to deal with.
GL: You broke your hand on Garcia's face last December 13. How has the hand recovered and...
TS: (cutting in) "Going into that fight I actually had broken bones in both of my hands but it's not even something that's in the back of my mind. All of the things I had to go through for my last fight with the bad hands and the flu right before the fight, let me know that I could really take this to the next level when I come in at my best. I'm coming into this fight at 120% right now, I'm feeling great right now."
GL: Earlier you stated you want to become the first person to stop Bronco. Will that goal cause you to fight out of character?
TS: "Absolutely not! I would love to become the first person to stop him but that's not what I'm training for. I'm training to go twenty rounds if I have to. I just want to dominate him in a manner he hasn't been dominated before. I want to shut him out and do something Winky and those other guys who fought Bronco couldn't do. And I'm not looking past him or anyone else, I just want to show everyone that I am a force to be reckoned with and I am one of the best fighters in the world."
GL: How do you think Wright-Mosley 2 will play out?
TS: "I think Wright is going to beat him up again, he may even stop him this time. I think Wright is much bigger and stronger than Mosley. I respect Shane and he has a lot of heart, but his best asset is his speed and it's not the same at that weight. Shane is going to have problems with anyone with a little speed and good defense, so I just see Winky dominating again. Right now Greg, my whole thing is to dominate the entire junior middleweight division and then move up to the middleweight division to dominate up there."
GL: Would you immediately move up to middleweight if a big fight like Trinidad or someone else came into the mix?
TS: "Absolutely! If there was an opportunity for me to step up to fight the winner of Trinidad and Mayorga or Bernard Hopkins, those are opportunities fighters like myself look for. That's what we spend our whole career going after, a career defining fight. I would love that challenge and if something like that came up I would jump on it. The best middleweight is Bernard Hopkins, so you know I'd want to be fighting him."
"There's going to be fireworks on October 2. My man Zab Judah, we're both from the New York area, he says he stole the show in Atlantic City and he says he's going to steal the show this time, but I beg to differ with Zab because I'm going to steal the show this time. I'm going to electrify the Garden with this performance and I'm going to steal the show with my family, friends and the crowd behind me. It's going to be a major coming out party for Travis Simms."
MEMBERS CLICK HERE TO SEE WHAT ELSE ONE OF THE BEST JUNIOR MIDDLEWEIGHTS IN THE WORLD HAD TO SAY
Send questions and comments to: gleon@boxingtalk.net