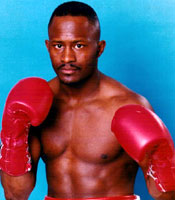 Simms wants Taylor!
GL: What's good Tarvis?
"Nothing much man, just enjoying the Holidays with my family, and keeping myself in fighting shape and training really hard. I'd like to start off 2006 with a bang. I want to give the people a big fight so for the fourth time I'm asking Jermain Taylor to make it happen. I was in the running to fight him four different times and he kept ducking and dodging. Now he's got what he was looking for so let's do it. We all got to eat and I'm looking for the opportunity just like him."
GL: Do you feel you've earned a shot at Taylor's crown?
Tarvis Simms: "I feel with beating Carlos Borjoquez and Frazier, two legit contenders who prior to me fighting them both fought for a world title. I'm ready and I want to see what I got."
GL: My understanding is that you and your promoter Joe DeGuardia haven't been seeing eye to eye and that's why you've been out of action since the Frazier fight. Are you and Joe getting along better these days and if so will that lead to fans seeing you in the ring more often?
TS: "I've put calls in to Star Boxing just to rectify the issue. They're in breach and they're not willing to cure the breach, but I'm just looking for the opportunity man. If I got to do the groundwork myself I'll do that. As you know I'm self-managed but Star Boxing has to resume that responsibility and do what they're supposed to do. Two years in a row they've been unable to get me the fights they were supposed to. I'm just looking to stay real busy, if I could fight five or six times this year, that's the kind of activity I'm looking for."
GL: Isn't Star Boxing still your promoter though? Anyone who wants to negotiate a Tarvis Simms fight must negotiate the fight with Joe, correct?
TS: "I believe I'm still under contract with them. My contract is up in August of this year. As of right now, they would have to go through DeGuardia's Star Boxing."
GL: So with that being said isn't important to rectify that situation ASAP to get the show on the road already?
TS: "Most definitely. Like I said, I contacted Star Boxing today and left them messages. I don't care about the problems that we're having, just fight for me and we could forget about everything. I just want the opportunity. I want to fight and I want to prove my worth, if Joe does his part I'm going to do mine."
GL: What leads you to believe you'd beat Jermain Taylor?
TS: "Coming up through the amateurs my brother beat Taylor and he isn't as strong as they think he is. Bernard Hopkins gave him too much respect and I'm telling you I would expose him."
GL: Is there anything you'd like to say in closing?
TS: :Stay tuned. Marvelous Tarvis is back and we're trying to crack this middleweight division. And if Jermain Taylor is willing to give me the opportunity we're going to make some really big things happen by any means necessary."
Send questions and comments to: gleon@Boxingtalk.com