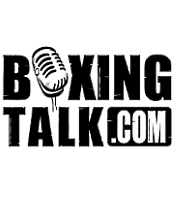 James Alden: What's the latest Stevie
? "Nothing much man just getting ready for the fight next Friday. I am training hard and I am ready to go."
JA: Tell us how training has gone for this fight?
 "This has been my best camp I think I have in a long while. It has been very good camp. I am walking around 142-143, so I am going to make weight easy for this fight. Like I said, I am in the best shape of my life and I am ready to go."
JA: Are you nervous fighting on a PPV card?
SJ: Little anxious. Like I said once I'm in shape all the nerves don't bother me. Right now I am in great shape so I am not that nervous.
JA: Did you get a lot of good sparring during this camp?
SJ: Yeah I got a lot of great sparring. I did some sparring today with a guy who is pretty tough. I have been getting very good work for my fight against Steve Quinonez.
JA: Do you know a lot of about Steve?
SJ: No I don't know a lot about him. I know that he is a southpaw and that he is about 5"7 or 5"8. Buddy McGirt knows a lot about him. I am just going to go off of what Buddy tells me to do.
JA: How has Buddy been in camp?
SJ: You know Buddy is Buddy, he is mister cool man. If you do what he is telling you to do everything is going to work.
JA: What is it like training in his gym?
SJ: It's an honor. He is one of the best; he has been there with a lot of World champions. Granted he is the best. I hope and pray that there are no other trainers than Buddy.  I pray to God that nothing happens between me and Buddy. I put it this way, the only trainer that I am going to train with is Buddy.
JA: What has Buddy taught you that a lot of other trainers did not teach you?
SJ: I was not using my jab and Buddy got me back to using my jab more. I work my jab and move my head a lot more; I am more of a smarter fighter now.
JA: Do you think that this is going to be the biggest fight of your career on January 27th?
SJ: Yes it is and that is why I am training my hardest because I know that this is the biggest fight of my career.
JA: Are you concerned that you might have to go out there and look impressive to possibly get a title shot down the line?
SJ: No, because if you think about it that is when you go out there and don't do good in the fight. I am just going to go out there and do what I have to do. It is going to be a tremendous card; everyone should come and check it out.
JA: Is there anything that you would like to say in closing to your fans out there on Boxingtalk.com?
SJ: I just want to thank my fans for all there continues support. Tune in because I am back!
Send questions and comments to: aldenjimmy@cox.net