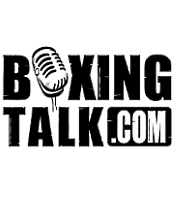 Undefeated featherweight sensation Steven Luevano faces tough Mexican fighter Aldo Valtierra tonight on a joint Top Rank/8 Count Productions Promotion from the Hawthorne Racecourse in Cicero, Illinois. Also on the bill are Oscar Bravo, Raymond Narh, Trinidad Garcia and Alfredo Cuevas. Telefutura airs the action live in the US on it's popular "Solo Boxeo" program starting at 9PM EST. Boxingtalk.com was able to speak with the Cameron Dunkin managed Steven as the talented Southern Californian was preparing to face the battle hardened Valtierra tonight in Suburban Chicago. Read on for an exclusive interview with the future featherweight champion of the world.
Steven Luevano has won all 25 of his fights, 11 inside the distance, so far during his pro career. The twenty three year old native of La Puente, California holds victories over Rodrigo Cerda, Armando Cordoba, Jose Luis Tula, and Freddy Neal while most recently posting a unanimous ten round decision last month over Cristian Favela. Tonight the rangy southpaw takes on Aldo Valtierra, 21-6 (11), out of Mexico City. Valtierra currently holds the WBA Fedcentro Super Feather title and has recorded competitive losses against Julio Pablo Chacon, Hector Acero Sanchez, Daniel Attah, Antonio "Chelo" Diaz and Oscar Sandoval.
BT: How do you feel about this fight?
SL: "I'm feeling good about this one. I really don't know much about the person I'm fighting but I'm ready and I've been ready. I fought about a month ago so it's not like I got out of shape or anything."
BT: Who have you been working with in preparation?
SL: "I trained out in Vegas and we were sparring with different fighters. Justin Juuko was one of them and a couple of other kids from a boxing club out there."
BT: As you likely have big fights coming soon, are you looking to send a message by knocking the opponent out or is it just important for you to get the win?
SL: "To me it's just important to get the win. I don't go into fights trying for a knockout or anything because a knockout doesn't always come. I just fight my fight and if the knockout comes, it'll come but I don't try to go looking for a knockout."
BT: You're 25-0 now. Do you feel that big fights will be happening in your near future?
SL: "Yeah, I don't see why not and I can see a big fight pretty much around the corner. Hopefully it comes a little sooner than later."
BT: You sparred with Juan Manuel Marquez not too long ago. That must have raised your confidence about your ability to compete at the world class level.
SL: "Yeah, the first time I went to his training camp to spar with him, it was a whole different thing to be sparring with the world champion at my weight. That let me know what level I was at. The second time I went there, I felt that I was a lot stronger than my first trip. Instead of him pushing me back, I was pushing him back. That helped my confidence a lot."
BT: Has anything been spoken about to you concerning a world title fight in your near future?
SL: "No, not really, not yet but my manager Cameron does tell me that I'm ready for a world title shot pretty soon, probably some time early next year."
BT: I know you're pretty tall for a feather and I was wondering how you're doing with making the weight?
SL: "Good. It's getting a little harder for me though, because I feel like I should go up in weight to 130lbs. I'm ranked at 130 anyway so I was saying to Cameron why don't we just move up, but he wants me to fight at 126, so that's fine."
BT: Are you working with a dietician?
SL: "No, I don't have one yet but Cameron does want to get me one and I know I'm going to start getting fights that are a lot closer to the featherweight limit. I'm ranked as a super featherweight because every time I fight it's at 127 or 128lbs."
BT: Has it been awhile since you've had to make 126 for a fight?
SL: "Yeah, it has, I haven't made 126 for awhile. The lowest was 127 and that was against Freddy Neal last July."
BT: How did you feel at that weight? Could you tell the difference even at just one pound under than what you had been fighting at?
SL: "Well, I felt good because I was training for two months and I was at weight a few weeks before the fight."
BT: What are your goals at this point of your career?
SL: "First to get this fight done with and then hopefully sometime early next year, in March or February, to be fighting for a title."
BT: Is there anyone in particular that you'd like to face? Injin Chi holds the WBC, Juan Manuel Marquez has the IBF and WBA, while Scott Harrison holds the WBO. Would you like to fight Marquez because of your experience of sparring with him?
SL: "Not so much Marquez because of we kind of know each other's styles as I went out to his training camp twice already. Cameron doesn't want me to fight Injin Chi either because he said that Chi is really awkward and difficult. To me it doesn't matter, it could be Injin Chi or Scott Harrison."
Boxingtalk.com would like to thank Steven Luevano, Cameron Dunkin and Lee Samuels for making this article possible.
Send questions and comments to: thomaspointrd@aol.com