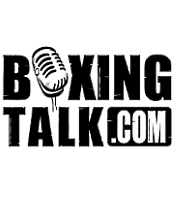 GL: I understand you recently signed a promotional deal with Joe DeGuardia's Star Boxing. How do you feel about that move?
"I feel great man. I think I'm finally going to get on track, get active and get back to the title shot."
GL: Were there other promoters interested in your services and why did you sign with Star Boxing?
Smoke Gainer: "There was a few people I was talking with, I just felt that Joe was the best person for me to be with. I believe in Joe and Joe believes in me, so it should be a good relationship. Plus, I feel he made me a fair offer."
GL: When can we expect your first fight with DeGuardia to take place?
Smoke Gainer: "I'm hoping to get back in the ring in February and like I said the main thing for me to get back to a title fight is to stay active. Any fighter will tell you it's hard to get back in there with top notch guys after you've been out of the ring for so log. My main focus is to be active and fight as often as I can."
GL: The WBA still ranks you at featherweight, is the plan to fight a comeback fight and then get into an eliminator to put yourself in the mix for a title shot?
SG: "Yeah, that's pretty much the plan and for me the move would be fighting for the WBA title. I'm still ranked there and I'd be ready to fight any of top contenders after I get a fight or two back in."
GL: Can you still make featherweight?
SG: "I think I can make featherweight once I start getting active. Not having fought since April, I don't think I'm going to make 126 in my next fight. It'll probably be at 130, and who knows? Maybe I'll feel really comfortable at 130 and want to stick around up there. I would love to stay active and fight any of them at 126. I'm keeping myself in pretty good shape, I just need to stay active. And I don't want to take any more trips overseas to fight guys in their backyard. 2005 hasn't been a good year for me, but I'm planning on getting it all back together in 2006."
GL: You have a good head on your shoulders, you're not fighting for the money right now, there's businesses outside of boxing that you're involved with...after two consecutive losses why keep fighting at this stage of your career?
SG: "I love the game and I love the sport. I'm not the type of fighter that's goin to keep on fighting and fighting. If I get defeated on this next run, that's definitely going to be it for me. I just still have the desire to compete. I have other things that I'm in to and it's not about the money, it's just the love I have for the game. My head is in the right place outside of the ring and as long as I'm injury free I'll be fine. I just miss the game and I feel talented enough to get back to that point."
GL: Will Buddy McGirt still train you?
SG: "Definitely. I'll be going down to Vero very soon after the Holidays to go back down. Like I said, hopefully we get something lined up with Joe for February and take it from the. The activity is what I missed so I'm just looking forward to a busy 2006."  
Send questions and comments to: gleon@Boxingtalk.com