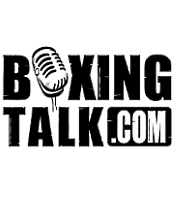 Heavyweight contender Shannon Briggs (47-4-1D-41KO) sat down with Boxingtalk and discussed his third round pounding over Chris Koval (23-2-0) this past Wednesday evening, in New York's Hammerstein Ballroom. Briggs continues to mow down his opponents one by one, increasing his record to an impressive 47-4  41KO's. Briggs speaks on his knockout style, and is not concerned with what some of his critics say concerning his conditioning. In this interview, Shannon Briggs basically calls out the entire list of top ranked heavyweights.
BT - What's up Shannon, where you at, it's noisy there ?
SB - Brad, I am literally in Times Square NYC right now.
SB - I stayed at the W last night, they gave me great accommodations at the W, this is where I stay at when I fight here.
BT - Congrats on your impressive win over Chris Koval.
SB - Thanks man, I appreciate that.
BT - Shannon, you made short work out of Chris Koval, give me your thoughts on your performance.
SB - Well I wanted to knock him out in the first round, but he survived until the third round. He survived the onslaught, and he was able to make it until the third round. I wasn't disappointed, I got him out of there within 3.
BT - Talk about what Jeff Mayweather brought to you for this fight, and did you notice a big difference?
SB - If you looked at my jab, you saw it was there, and it was fast, and on the money. Jeff added to my game, and we worked on my straight punches, and he made me a much more defensive minded fighter after I punch.
BT - How did you feel your conditioning was for this fight Shannon ?
SB - It may have seemed like I was getting tired, but I really wasn't. Brad this is the bottom line, and this is my theory on how I fight, I fight to knock people out. I didn't come back to boxing to win by decision, I came back to knock people out, that's what the people want. People want to see me decapitate people, Chris Koval got decapitated. Fans don't come, and pay 500 dollars a seat to see a Heavyweight go to a decision, they want to see people get knocked out. My weight was up for a reason, I get in there to knock people out, and I want the fans to know that.
BT - Talk about Wladimir Klitschko, your name has been mentioned as a possible next opponent.
SB - I would LOVE to take that fight, I am very interested in that fight. That fight is a great fight for New York, we would sell out the Garden. Brad let me tell you something I am not going to stop doing what I am going to do. Every small fighter that I want, and I got like 7 right now, I will dispense of regularly. I will be fighting again in like 45 days, 60 days, 90 days, I am not going to stop what I am doing. I am not going to stop and wait for the phone to ring for one of these big name guys to call, and pretend like they want to fight. I have been the most active Heavyweight out there, I am back in the gym on Tuesday.
BT - Chris Koval did some disrespecting Shannon, what's up with that ?
SB - Chris was trying to intimidate me, and taunt me, blah blah blah, but it was a matter of time man. I dropped him with a body-shot, and then a big right hand. This guy knew Shannon Briggs was coming to knock him out, there wasn't going to be no later rounds man.
BT - Shannon, this is a whole new Shannon Briggs this time around isn't it ?
SB - Yes, this is it, I have a great opportunity. My manager Scott Hirsch recognized my talent, and my potential, and I am in the best shape of my life. I have a real force behind me, and there is no reason why I won't be the Heavyweight Champion of The World.
BT - When do you see yourself in big title fight ?
SB - Line them up tonight, I don't have a scratch on me, I'll fight them tonight.
BT - When can we see you back in the ring Shannon ?
SB - About 45 days, I'm going to keep busy.
BT - Shannon, anything you would like to say in closing ?
SB - I want to thank Boxingtalk, and I want to thank you Brad for all of the support, and all of the other writers such as yourself out there. I appreciate the help that the writers have given me, it helps make my comeback a true dream. I am not getting much air-time, so the only way people know about  my fights right now is by people reading about me here on Boxingtalk, and other boxing web-sites. My hats off to the writers out there for their support.
Send questions and comments to: bradcooney1@bellsouth.net