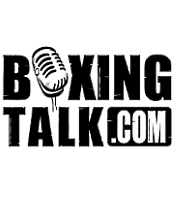 GL: To rule at light heavyweight, the man to beat is Tarver. Do you see a fourth fight in your future or will you go another route?
 "I will definitely fight him again, I ain't going to retire before I fight him again. I can tell you that now."
GL: I was surprised that you weren't throwing punches and trying to dictate the pace.
Roy Jones Jr: "Well that comes from not being in the ring for a year. But it's all good. I don't cry over spilled milk. I feel like I've made progress and I had to re-establish some things. Now that I've done that, I'm good to go."
GL: In the eleventh round he hurt you with a crisp counter right hook...
Roy Jones Jr: (cutting in) "Yep. But I wasn't going nowhere. I knew the uppercut was coming and said to myself, I'm hurt that bad and he hits me with that I should go, but wham he hit me with it and I ain't go nowhere so I started to back at his ass then. To come back and go back in there and have all that confidence like you're the man, only God can give that to you. I am human though and I had to back out there and test myself to see what I had first."
GL: Some people feel that you weren't there to win, you were there to survive. Can you explain to us why you feel that certainly was not the case?
Roy Jones Jr: "That definitely was not the case because if I was in there just to survive I would not have engaged him at all. I would have just moved around and stayed away from and not looked to take the lead for twelve full rounds, but that was not the case. People don't realize what I was up against, what I was coming of off and what I was going through. If I would looked at that fight as all or nothing, I have to win this or I'm through then I would have fought differently. This wasn't an all or nothing fight for me. This was a fight for myself to prove that I ain't through yet, I could go twelve rounds and I could go a good twelve rounds. And ain't nobody going to ever knock me out if I don't want them to touch me. He was thinking he was going to be able to hit me with one big shot quickly and it would be over with, but that wasn't going to happen. My thing was, I was going to fight smart. Of course I don't want to be the one taking all the chances. My corner told me not to take chances, but I took some because I wanted to get him out of there too. I never come to survive, I always come to win. I just didn't want to take a bunch of chances because last time I took all them chances look what happened."
GL: Coming off of two knockout losses was a new experience for you too as well.
Roy Jones Jr: "Exactly, and it's easy for a person to try to look in and talk about it. People could walk around and talk about getting shot all they want, but once you get shot, you start respecting those guns a little bit differently."
GL: Superhuman speed and cat like reflexes have always been your trademark. Do you feel that your reflexes and speed have slowed a bit and if so, is that the reason people are catching up to you now?
Roy Jones Jr: "My speed is back, but my reflexes have slowed a little."
GL: Do you feel like you have to fight more fundamentally sound as a result of that?
Roy Jones Jr: "I fight a litle more settled down now but I wasn't really having that much fun in the ring. Now I'm starting to have fun in the ring."
GL: You always give me something juicy. Last time we spoke we broke the news of your hand injury. Did you really hurt your hand or was that an attempt to get in Tarver's head?
Roy Jones Jr: "Oh no, that was serious."
GL: So when are you looking to get back in the ring?
Roy Jones Jr: "January."
GL: Have you already been in touch with HBO?
Roy Jones Jr: "No not yet."
GL: It's still good to be Jones because you know they're going to give you a date once they know you want to fight.
Roy Jones Jr: (laughs) "They may or they may not, we'll see."
GL: If you acknowledge that Tarver is a stylisitc problem, why would you want to fight him again?
Roy Jones Jr: "Because I know I can overcome that. I know I can overcome that."
GL: Do you believe that you're going to be able to maintain that level of intensity that you showed in rounds four and five against Tarver over ten or twelve rounds?
Roy Jones Jr: "To maintain it for ten or twelve rounds, that what's the whole point is. I know I got something to work with.
Send questions and comments to: gleon@Boxingtalk.net