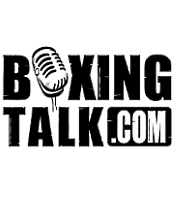 JA: Last year was a big year for Jason; do you feel that 2006 will be a bigger year for him?
 "Last year we gave all you guy a little taste of what's too come from Jason. This year where going to do a lot better and 2007 will be our big year where we plan to make a mark on the heavyweight division."
JA: What are some of the goals that you have for Jason in 2006?
RE: Where looking to get out of the year 12-0 that is a goal that we have. We are moving Jason fast and we want to have Jason fight guys on his level. We never turn down fights, if the fighter was ranked in the top 10 or 20 then we might turn it down, other than that we will take any fight.
JA: There is going to be a big crowd in Providence on February 12, do you think that will be the stage for Jason's coming out party?
RE: That's what where looking for. It's going to be a nationally televised card, I do not think we will be on the national TV but you never know. I expect to see 8-9,000 fans at the Dunkin Donuts center and all those fans we would like to win over.
JA: Do you feel that Jason is going to have to win impressively to win over those fans?
RE: I think that Jason looks impressive in all of his fights but it also has to do with the fighter that you bring in, some fighter's styles may make you look bad. Skill wise, Jason is impressive. The way that Jason throws his punches and the quickness of his combinations it's hard not to be impressed. A lot of times people forget that Jason is a heavyweight.
JA: Do you think that Jason will have to win by Knock out to look impressive?
RE:  We would love to knock everyone out but if the knockout comes, it comes. His quick combinations are usually what knock people down [or out], we can do that and try to please the audience but we tried to stay away from that. I never taught Jason to be the kind of fighter to go out and get knockouts, are goal is to win every round of every fight.
JA: Any idea of who Jason might be fighting on February 12th?
RE: We thrown out some names for the fight, we tried to get Robert Wiggins but they turned the fight down. We are looking for guys with name recognition, but it won't be a big step up for us, we want to make it gradual. We do not want to get stuck on fighting fighters who are 1-5 or 1-10, we want to fight guys who have good records and a name to go along with it. Jimmy and I look at fighters who are 18-4 or 20-4, records like that. Looking at names doesn't mean nothing right now until somebody wants to fight Jason.
JA: How's Jason training for this fight and what's his mood like?
RE: We started training camp on Monday. We started the serious workouts and the three a days on Monday.
JA: I know you advise Matt Godfrey, what do you expect out of Matt this coming year?
RE: Matt has the same problem that Jason has with finding fights. Matt has the same problem with guys who don't want to come here and fight. Matt is beating really good opponents right now and the word is getting out that he is so it's been a problem finding Matt fights.
JA: With guys not coming here would you go to the bigger stage to make the big fights?
RE: We would. We have a promoter in Jimmy Burchfield and we would have to all sit down and discuss it. Whatever Jimmy arranges that is fine, whether it be in California, Florida, we would not have a problem with that.
JA: What are your thoughts on the February 12th card, do you think that it is going to be a dynamite card?
RE: I think that it is going to be one of the best cards Rhode Island has had in a long time. If you think about it, every fight is going to be worth watching. I am going to have a hard time getting Jason ready because I want to see all these great match-ups [laughing].
JA: How many times would you like to see Jason fight this year?
RE: I would like to see him fight 4 or 5 times this year. He has fought 5 since he turned pro, he fought 4 times last year and the one fight he had in 2004. We had a lot of fights fall through, we should have had a couple more fights but either the guy pulled out or we couldn't find anyone for Jason.
JA: Do you calculate for that?
JE: Anybody who you talk to who turns pro would love to fight 10 times a year but it never turns out that way, especially if you're a known fighter coming through the ranks. Every time you have a show you never know if your opponent is going to show up, if they're going to be over weight, if there going to demand more money at the last minute. Of course you would love to fight 10-12 times a year, but sometimes it doesn't work out like that.
JA: How do you see the Pemberton-Manfred fight going?
JE: I seen those two guys spar 100 times and it's going to be real interesting how the fight turns out. You know I am going to be pulling for my man Peter, but I like Scott and Scott is a good friend of mine and I wish Scott a lot of luck. Here is a guy who has put a lot of time into the sport of boxing, and he deserves all that he gets out of boxing. He has given us a lot of great fights with Omar Sheik and some other fights before that. You always know that Scott Pemberton is going to come to fight and there are a lot of variables with this fight being at 168. Scott knows Peter very well and on the other hand Peter knows Scott very well also. Peter, Matt and Jason all came up together and I known Peter since he was a little kid training so you know I am going to be pulling for my man Peter.
JA: Is there anything that you would like to the readers out there on Boxingtalk.com?
RE: I want too thank Boxingtalk because you guys have been great to Jason and my self. I want to tell all you too expect big things from Jason in 2006 and 2007. All the other prospects that are coming up right now, we would love to fight all of them! That's how we feel; we want to fight all the top prospects. But if they want to wait for the money that's fine because a lot of these prospects may not be prospects in a year. Jason dominated the juniors, he dominated the amateurs, and very soon Jason is going to dominate the pros. Just give us a little bit of time and Jason's name is a name that you are not going to forget.
Send questions and comments to: aldenjimmy@cox.net