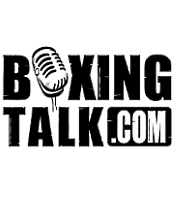 Have you been wondering where Robert "The Ghost" Guerrero has been as of late? Well Boxingtalk just caught up with Robert, and got the update on what he's been up to for the past several months. The Ghost has been missing in action since December 2005 after losing his NABF title to Gamiel Diaz. Robert has a date set for his next battle, and it's set for May 18th, 2006 at the HP Pavilion in San Jose California, The Shark Tank, home
of the San Jose Sharks. No opponent has been named as of yet, but according to Robert Guerrero, it doesn't matter, he's just ready to get back into the ring. Robert also makes it known that the arbitration has been settled, and it's all behind him now, and he's ready to go.
BT - Robert, you have been missing in action since December of 2005, what's been going on with you?
RG - I am in Los Angeles right now taking care of some business. I have been back home taking some time off. I have been in arbitration, and I am just glad that it's all over, and I am ready to go!
BT -  When can we see you back in the ring?
RG - I will be fighting May 18th in San Jose at The Shark Tank, I will be the main event there.
BT - Are there any opponents being talked about ?
RG - Not that I know of, I am just going to be ready for whoever they put in front of me.
BT - Are you concerned with ring rust at all being off so long?
RG - No, I am not concerned with ring rust because I have stayed in the gym this whole time. I have been keeping my timing, and strength right up to speed.
BT - Robert so what are up to right now?
RG - I am in Los Angeles and working out at The Wild Card gym. I am with John Bray, my trainer and I am putting in good gym work. Looking back at the last fight, we are making some changes. I am going to be in top notch shape for this next fight. I will be at The Wild Card for the rest of next week.
BT - Robert you lost your title to Gamiel Diaz, what have you most learned from that defeat?
RG - Well I learned that you should never look past nobody. I may have done that, may not have but you have to be ready for everything. I got caught up in trying to be too slick with my game. I learned a lot from that fight, so now I am in Los Angeles, and I will be the Robert Guerrero that every body is used to seeing, throwing punches in bunches, electrifying, body shots, and speed.
BT - How hungry are you Robert?
RG - Just feeling defeat, and losing my title makes me on fire right now. I can't wait to get back into the ring, and right now I am ready to step back in that ring, and make that push.
BT - What course do you think you will take Robert, do you avenge your loss and rematch Diaz? or do you cut your loss there, and go for a bigger fish?
RG - It all depends on what Shelly Finkel has planned for me. If it does go through Gamiel Diaz, i would love that, that's what I want. If it's another route that goes past Diaz, and to a bigger fish, then I will love to take that route too, I would take advantage of that opportunity.
BT - What do you want personally though? Do you want to avenge the loss, or go for the bigger fish?
RG - You know? I want to avenge that loss Brad. It's kind of heart breaking for me to know that I had an off night. When you have an off night in boxing, it's done. In baseball if you lose a game, you can make it up the next night. For me, losing that title, and not giving my best, makes me want to jump into the ring right now and fight him.
BT - If the Dodgers lose 5 in a row, they have the rest of the season to make that up, if a fighter loses 5 fights in a row, their career tanks.
RG - That's how I am looking at it. In baseball if an infielder misses a grounder the outfielder will pick it up, but in boxing if you miss that grounder? somebody is picking up your mouth-piece, or  picking you up (laughs).
BT - Since losing to Diaz, did you guys go back to the drawing board and find things that you can work on?
RG - A lot of stuff, for instance, circling the wrong way, having my stance too wide, I can go on. A loss can be a good thing, because the bad things that I did in the ring, I have learned from.
BT - You have your fight coming up in May, where do you want to see your career by the end of 2006?
RG - I want to see myself where I was at before I lost to Diaz. I want to jump at a title soon, I have been a pro for 5 years, so it's time to make that move.
BT - Robert, concerning your arbitration with Goosen Tutor, what is the status right now?
RG - Everything is going well, they set me up with a fight in San Jose, and that's one thing I wanted. My promoter is getting me back in the ring right away, and that's another thing that I wanted. I am happy right now, I am just ready to go now.
BT - Talk to your fans Robert.
RG - Robert "The Ghost" Guerrero is back! stronger than ever, smarter, wiser, and ready to go. I am not taking nobody light, nobody. I am a pit bull ready to go!
BT - Robert, Boxingtalk is like a ghost buster man, there hasn't been a ghost sighting in awhile, and we caught you (laughs)
RG - (laughs) Yep, you got me.
BT - Good to have you back Robert, looking forward to seeing you back in the ring soon.
RG - Like I said, I am ready to go. I want to show that my last fight was not me. Action speaks louder than words though, and I look forward to proving that in May.
Send questions and comments to: bradcooney@boxingtalk.com