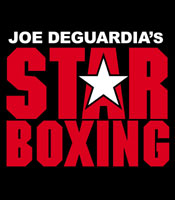 JA: How is everything going Roberto?
"Everything is going great the crowd and everyone was great. I felt good and it's just another win that's how I look at it."
JA: Did you do everything that you want to do in the fight?
RB: Yeah I did but I know that there is always something more that I could have done to add to my arsenal. I did see some little mistakes that I need to work on but other than that I am happy with how things went in the fight. I did think that the guy could have lasted a little bit longer than 2 rounds but I guess my strength made it a short night.
JA: This was your first card with Star boxing; did it live up to the hype?
RB: Yeah he treats me well just like his other fighters. He was very impressed with my performance and I had a lot of supporters in Florida cheering for me and I am not even from Florida. Fighting in Florida was great and it seems that wherever I go I make fans. I met a lot of people that enjoyed my style. I was the last bout and a lot of people thought that the fights were over but when they made the announcement that there was one more fight they all stuck around and watched it. The ones that left lost out.
JA: Are you back in the gym training?
RB: Oh yeah I am working on some of the things that I thought I did wrong. I am in the gym just keeping sharp but when I get another fight date is when I will pick it up my training.
JA: When would you like to fight again?
RB: I would love to fight as soon as possible. I could have fought the next day, fortunate for me that I didn't receive any injuries during the fight.
JA: Is there anything that you would like to say in closing?
RB: I just want to thank all the fans out their for supporting me, I really appreciate that. I want to put a plug out for my website
www.robertobenitezonline.com
and you can check out a lot of cool things on their. The site is currently under construction so keep checking day to day for new cool features.
Send questions and comments to: bradcooney1@bellsouth.net