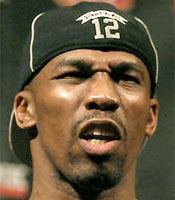 "I'm just excited about the new elements and the growth and confidence and everything about me."
Robert Allen (36-5, 27KO's) spoke with Boxingtalk.com about his future plans in the sport of boxing. Since his failed attempt to capture the undisputed middleweight championship, a fight he has yet to watch, Allen has reinvented himself.  "I'm about to move up. By the end of the year I'll be making my claim." he stated. Trainer Byron Oglesby then joined in and had this to say about Allen and his difficulty making weight, "That was the roughest time in his whole career in trying to make weight."
Jose Aguirre: Boxingtalk and boxing fans around the world want to know what's going on with Robert Allen.
Robert Allen:"I'm back in the gym. Moving up to super middleweight. I'm about to move up. By the end of the year I'll be making my claim, my steps, that's about it."
JA: So you have no plans to fight at middleweight anymore?
RA:"No, I'm moving up to super middleweight. I can't make middleweight no more. I can, but I don't want to. It's time to move on."
JA: Do you feel stronger at super middleweight ? Do you feel super middleweight is where your calling is?
RA:"Yea, as my body took on a bigger phase."
JA:What do you think about the champions at super middleweight? Guys like Jeff Lacy, coming off his impressive win over Sid Vanderpool, Joe Calzaghe and Manny Siaca ?
RA:"Anybody could be beat. Everybody has their day. Everybody has their time. You put two guys on top you're never going to know what might happen. Everybody's good until they get hit."
JA: Did you get a chance to look back at the fight with Bernard Hopkins and if so what are your thoughts on the fight now?
RA:"I haven't watched it yet. I never watched it. I'm more conditioned to take punishment than give it out. I took a little punishment but I wasn't able to dish it out. Probably because of the weight, I needed to move up. I struggled to make the weight. I was a little flat so I wasn't as explosive enough to give out the punishment I wanted to. He did what he had to do."
JA: Any idea when we can expect to see you back in the ring?
RA:"Can you hold on one second?" (Allen returns and both he and trainer Byron Oglesby are now on the phone) "I got my trainer on the phone, my man."
JA: Byron, how long has Robert been back in training now?
Byron Oglesby:"He's been training now about three or four weeks. Getting back in the flow working on some new things."
JA: You've worked with Robert Allen in fights and in the gym making weight. Who's idea was it to make the move to super middleweight?
BO:"I had it in the back of my head in this last fight. It was like the hardest it's ever been for Robert to make the weight. We were just talking, wasn't even talking about the weight, and Robert said he couldn't make that weight no more. Then I agreed right away. That was the roughest time in his whole career in trying to make weight. He's just gained to much muscle and it's just gotten hard hard times in making that weight."
JA: Robert Allen has not watched the fight with him and Hopkins. Did you watch the fight and if so did you learn anything in terms of Robert Allen from that fight ?
RO:"Myself, I haven't even watched it. Other people I know have watched it. You can look at the negatives, this and that. That wasn't the best Robert Allen. That was Robert's night. We knew that Hopkins wasn't going to engage Robert. And irregardless of the talk he knows what his head feels like when he gets hit by Rob. He fought the fight I knew he would, a smart technical fight. The positives coming out of the fight are Robert Allen isn't no Trinidad, isn't no Joppy and isn't no De la hoya. At sixty percent, he's better then those guys. That's one thing to take out of that fight. Other than that I think the weight had alot to do with it. He went into the fight with an injury. He had a groin injury going into the fight. We can go back and forth saying we could have done this better, could have done that better. All in all it is what it is. Can't cry over spilled milk now. It's tiime to move on. Glen Johnson moved on. Some of Robert's best performances haven't even been seen on tv. The best of Robert Allen is still to be seen by guys in boxing. You do like Glen Johnson, you move on. Johnson used to be a sparring partner for Robert Allen."
JA: Byron, what do you think about the top fighters and champions at 168 ? As a trainer do you think you can devise a plan to topple one if not all of the 168 pound champions ?
BO:"First of all, anytime a guy steps in the ring he's coming to win. I don't have any doubts about taking a fight with any of those guys. Rob is still in the position where at sixty eight, there are no name guys. You can go down the list, who's there?"
JA: Mads Larsen, Calzaghe, Danny Green, Lacy...
BO: "Lacy's there. He's fighting Omar Sheika?"
JA: Correct.
BO:"I mean, Omar Sheika is probably the most recognizable of the names in the sixty eight pound division. Most of the guys are overseas. Robert has more credibility and name recognition, irregardless than the Danny Green's and all the other guys. A fight with any of those champions is a natural fit. Those fights have to happen. You have a guy in Robert Allen who has risen to number one and fought for the world title three times. Interim Champion. Held every other national belt, international belt that could be held by a  fighter. Lost a twelve round decision to Hopkins going into the fight with an injury. Hard time making the weight. Robert Allen is still one of the best boxers into boxing, period."
JA: Any idea when we could expect Robert Allen in the ring?
BO:"Soon. We're just going to work deligently. Next time he hits the ring and you see him in a title fight we have full intentions of taking that belt home. He already has a place for another belt on his mantle piece so we're trying to fill that spot."
JA: So Robert, how are you feeling at sixty eight?
Robert Allen:"It's like I done got over the Hopkins fight. I had the whole summer to clear that from my mind and refocus and now it's time get a fresh start. It's all about getting a new start and coming out, new place, new guys. A whole new element in front of me, that's all it is. I'm just excited about the new elements and the growth and confidence and everything about me. Ready to take it to the next phase of my career. That's all it is, that's where I'm at"
JA: Anything you want to say in closing to your fans?
RA:"I'm going to 168 and anybody that wants to see Robert Allen, I have my mind made up if you have yours, I'm ready to take on new challenges. New phase of life for boxing for me."
JA: Robert, Byron, thanks for your time.
RA:"Thanks"
BO:"Alright, thanks alot man."
CLICK HERE FOR MORE OF THIS EXCLUSIVE INTERVIEW
Send questions and comments to: onfireboxing@verizon.net