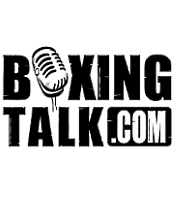 Hatton Takes Aim At Stewart For #1 Spot
Undefeated British WBU titlist Ricky "Hitman" Hatton faces American hardman Mike "No Joke" Stewart this Friday in a scheduled twelve round clash for the IBF Junior Welterweight number one challenger position. London based promotional outfit Sports Network puts on the show, taking place at the huge Manchester's Evening News Arena (MEN). Also on the bill are WBU Super Featherweight king Michael Gomez, as well as Matthew Hatton, Steven Bell, Paul Smith, Michael Jennings, Steve Foster Jr., Andy Morris, Tony Quigley and Matthew Hall. Sky Television will broadcast throughout Britain on SS1, starting at 10PM BST. Boxingtalk.com had the good fortune to speak with Ricky and his trainer Billy Graham about this fight and the Manchester body puncher's brilliant career prospects. Read on to get the inside view on this exciting light welterweight who has captured the imagination of the British public, as he looks to this challenge posed by the hard as nails Mike Stewart and the possibility of facing the elite of this most competitive weight division's.
Since turning professional at seventeen years of age, Ricky Hatton, 36-0 (26), has dreamed of facing the world's top 140lb fighters. After eight years, that lofty ambition may become a reality. But standing in the way is Dover, Delaware native Mike "No Joke" Stewart. While Hatton has seen prospective bouts with current IBF Interim titlist Mitchell and WBA beltholder Vivian Harris fall through, the IBF has declared that the winner of Hatton - Stewart will face the victor of the Kostya Tszyu - Sharmba Mitchell rematch set to take place on November 6th. As much as he would like that opportunity, Hatton isn't making the mistake of looking past Stewart, 36-2-2 (20), a tough, tenacious product of Philadelphia's legendary gyms. The American has been to Manchester before, losing a previous IBF title eliminator to slick southpaw Sharmba Mitchell this past April, and provided Hatton with a good look at what he'll be facing on Friday night.
"The best way I can describe Mike Stewart is that he's a lot better than his performance against Sharmba Mitchell would suggest," declared the WBU strapholder. "Some fighters have to be in a certain fight to show their best. Micky Ward is a prime example. He would knock out anyone who stood toe to toe with him, but having said that, Micky lost about twelve or thirteen bouts and all of them were to guys like Zab Judah and Antonio Diaz, people who wouldn't come near Micky. Nigel Benn was another one. He could beat Gerald McClellan, he could beat Doug DeWitt but he couldn't beat Sugar Boy Malinga in their rematch. Certain fighters have to be in certain fights and that's the message I'm trying to get across; Stewart will be a lot better in this fight against me than he showed against Sharmba Mitchell."
"Mitchell's style didn't suit Stewart and to be honest, Mitchell's style doesn't suit most people. The last thing someone who fights like Mike Stewart wants is to be in with a boxer of Mitchell's style. I think that my style will definitely suit Stewart better, but I think his style will definitely suit me. I've seen tapes of Stewart and he punches to the body well, and he's a good all around fighter. I think he has to be in a certain
type of fight to show that and I think this fight will be more up his street than the Mitchell fight. But, I believe that my boxing ability will serve me well on October first."
Hatton's trainer Billy Graham has studied tapes of Stewart as well and agrees with his fighter, expecting a different opponent than the one that fought Mitchell back in April. While he certainly respects the American, Graham thinks that a reinvigorated Hatton will be too much for Stewart to handle in the ring."For the first time in a while Ricky is enjoying himself in the gym again," said the trainer. "His weight is fine and he's been preparing properly. He's doing all the little sneaky stuff again, screwing shots up and all of that. He's really back on track but there's still more to come in that department."
"Ricky and I sat down after his most recent fight, when he faced Carlos Vilches in June, and we talked. We compared his situation to how Mike Tyson deteriorated, well before the heavyweight should have been past his best. We used to talk about what Tyson was doing wrong years ago when he was just starting to slip and we felt it was because Mike wasn't doing the little smart things that he normally did during fights. So, when we sat down, I just reminded Ricky of what happened to Tyson and Ricky knew what I was talking about. I told Ricky that it isn't just the fact that he's a pressure fighter and that he's very strong, but what makes Ricky great is all the other stuff. It's all the different things, the angles, the punch selection, and Ricky knew exactly what I was talking about because he's very smart and we've been together a long time."
Hatton's focus and dedication to boxing began to slip after the WBU titlist defended his belt against a dangerous former world title challenger in December of last year. The twenty five year old had hoped afterward to step right into bouts against the light welter champions or the top contenders but felt adrift when those big fights failed to materialize. "This is the first time since I fought Ben Tackie that I feel there's an incentive behind the fight," said Hatton. "I know Mike Stewart is a good fighter but before this fight came up I wouldn't have said that his was one of the names on my hit list, if you like. But now that it has come along and it's been made an IBF title eliminator, it's obviously become a very, very big fight for me."
"When I fought Ben Tackie, he had a reputation of being very highly thought of and I felt there was a hell of a lot to gain by winning that fight. But then I fought Dennis Pedersen and Carlos Vilches, and those were no win type situations for me. They were very hard for me to motivate myself for. It was very frustrating because I wanted to be fighting the champions of my division. To be honest, I hadn't enjoyed my training and boxing was really, really getting me down since the Tackie fight. I thought that would have been the springboard and if anything, it seemed to have sprung me back (laughs)."
"I know that the Pedersen fight couldn't be helped as Kelson Pinto pulled out and we just saw Miguel Cotto put on a fantastic performance against Pinto for the WBO title. I had hoped that I would have had the chance to burst Pinto's bubble and then had the WBO belt, but that wasn't the case. After the Pedersen fight Vilches came along when I really had hoped I would've been fighting Sharmba Mitchell instead. That fight fell through when Sharmba asked for double the money he earned for fighting Kostya Tszyu. Because of these things I haven't enjoyed boxing full stop. I'd been going through the training for the fights but it was hard to motivate myself, as deep down in the back of my mind, I'm thinking that I didn't want to be fighting Pedersen and Vilches."
This matchup against Mike Stewart continues the trend of prospective Hatton fights with name opponents falling through and being replaced by lesser known foes. While there is the possibility of meeting either Tszyu or Mitchell should Hatton get past Stewart, the Manchester native remains bitter about not being able to meet his original opponent for October 1st, WBA titlist Vivian Harris. "Vivian made all the right noises, saying that he was going to come to Manchester and knock me out in four rounds," said Ricky. "My promoter Frank Warren spoke to Harris' people and offered him $750,000 to fight me. That's $400,000 higher than what he previously had been getting. But then Harris changed his mind and wanted the fight to go to purse bids."
"I was very, very disappointed with Vivian Harris. I understand that he's the champion and the champion should get more money than the challenger and I was willing to do that. I know the Vivian Harris fight would have been the biggest payday of my career but I'm realistic and was willing to take the fight on less money than what he would have made. I would have looked at that as taking one step backward to go three steps forward."
"Although he's the champion, I would have expected a certain amount of money, however. If the fight had gone to purse bids, I think the way it would have worked is that he would have gotten 70% and I would have gotten 30% of the purse, something like that. I think Vivian Harris is a great fighter and the WBA Champion but I feel that the WBA belt is the only thing he brings to the table. I don't think he's as big of a name as what he thinks he is and I think a 70-30 split would have been a little bit of an insult to me, really. I am still hoping the fight can be made, though."
With the WBO recently naming the British fighter as Miguel Cotto's mandatory challenger to go along with the IBF situation, Graham sees all the hard work he and Hatton have put in over the years finally coming to fruition. Graham, who also trains Michael Gomez, Ricky's younger brother Matthew Hatton, Paul Smith, Steven Bell, Matthew Macklin and Patrick J. Maxwell, feels that these future incentives for his fighter spells trouble for Mike Stewart. "It's a fantastic situation we have right now for Ricky, with how he's ranked on the world level." said Billy. "I don't think Stewart does anything extraordinary, in that he doesn't have an unusual style, so we're basically fighting a well schooled but orthodox fighter. Stewart goes to the body well, he takes a good shot and he can punch a fair bit. I think it's going to be quite a physical fight but I'm expecting Ricky to be way too smart and eventually in the end, too powerful."
"We've been putting things right in the gym again and I think it'll show in the fight just how we've been working on a lot more variety, particularly with the left hand. We've been working on the jab, screwing it up and mixing it a bit. We've worked a lot on that and it's showed up really well in sparring already. I'm expecting Ricky to outsmart Stewart early on and then I think he'll be too intense. I think he'll stop Stewart to be honest. We're not underestimating Stewart by any stretch of the imagination, as we never do with Ricky's opponents, but the object for Friday is to look good and impress the Americans if they get a tape of the fight. We want to prepare for the winner of the Kostya Tszyu - Sharmba Mitchell fight as we've been
promised that will come off should Ricky beat Stewart, and the best way we know how to do that is by impressing everyone and getting to the next level."
The long awaited rematch between former unified but often injured champion Kostya Tszyu and his southpaw nemesis Sharmba Mitchell looms large over the Hatton - Stewart matchup as well as the rest of the light welterweight division. Tszyu, who held the WBC, WBA and IBF titles simultaneously until he was stripped of the first two organization's belts for failing to defend by their timetables, hasn't fought for over two years. Since stopping veteran Jesse James Leija in January 2003, Tszyu has been forced to scrap two meetings with Mitchell, whom he stopped in their first fight in 2001, due to injuries of the shoulder and Achilles heel. While the Russian born Australian transplant has been inactive, Washington, DC based Mitchell has been busy, winning all eight of his bouts since the loss to Tszyu. Many in the sport and in the media speculate that the once dominant champion could be prevented by ring rust and age (35) from repeating his seventh round victory over the already difficult American. Regardless, the winner of the November 6th rematch between the two will largely be considered the number one light welterweight in the world.
Ricky Hatton burns with the ambition to prove himself against just such an opponent, as well as budding Puerto Rican superstar Miguel Cotto. Hatton and Graham both feel that a Hatton - Cotto showdown will be the fight at 140 and will be better left down the road should the two fighters find their way through the lethal minefield of top contenders and titlists such as Floyd Mayweather Jr., Arturo Gatti, and Vivian Harris. Hatton sees nothing but opportunity ahead, but experience has shown him that promised made are not always promises kept. "Should I beat Stewart, I hope I get the full backing of the IBF in regards to facing the winner of Tszyu - Mitchell," he said. "I hope they don't a double shuffle, as seemed to have happened a little bit ago when one of Kostya Tszyu's titles was made vacant. At that time Gianluca Branco was in the number one position and I was number two. I expected that I would fight Branco for the vacant title when all of a sudden, Arturo Gatti had leapfrogged me in the rankings and boxed Branco for the vacant title."
"Gatti had been ranked behind me after he beat Micky Ward in their second fight. Then I beat Vince Phillips and Gatti beats Micky Ward again in their third fight. All of a sudden Gatti is ranked ahead of me and I was a bit pissed off about that. Don't get me wrong, Gatti's second win over Ward was a fantastic victory but he had already beaten Ward in the previous fight. Governing bodies seem to be able to do, in many respects, what they please and I hope the IBF sticks to their guns that when they say my fight with Mike Stewart is a final eliminator, I hope it stays that way. All I'm asking for is to just be given the chance. Everybody is saying that they rate me and that they think I'm a good fighter, so just give me the chance to prove that what I've been saying I can do all along."
"Right now I think that I'm ranked number four or five by the WBC, I'm the mandatory for Miguel Cotto's WBO title, I just stepped down from the WBA mandatory position and if I win this fight, I'll be the mandatory for the IBF title. Also, I believe I'm ranked number two in the independent rankings. No one could have, out of all the ruling bodies, a better ranking then myself at the minute. But for some reason, I don't feel in the mix. I don't know if that sounds daft but I feel as though other boxers like Gatti and Cotto are getting rave reviews by fighting top contenders or very good people and I'm not fighting any of those type of opponents. I don't know for whatever reason that is, I mean, I really don't know. I think my ratings situation right now is absolutely fantastic as there are so many options for me, but I just don't have a lot of confidence at the minute of those fights being made. I can't be any higher up in the rankings than I already am and I don't know what more I can do to get a title shot."
"I think the winner of the Tszyu - Mitchell fight will be considered universally the best in the division and hopefully the IBF will stick to their guns and keep the winner of my fight with Stewart as a title eliminator. That would be a great opportunity for me to become number one and I think that is the way for me to go right now. Miguel Cotto is obviously the new kid on the block, he's getting all the rave reviews and rightly so. With the opportunity that I hope to earn, to face the number one light welter in the world, I think that I'd be a fool to fight Cotto and pass up the shot to fight the winner of Tszyu - Mitchell for the undisputed title. Having said that, If I can beat Mike Stewart, then beat the winner of Tszyu - Mitchell, at that point a fight against Cotto becomes even bigger, a super fight, if you like."
"What I need to do is take one of the major versions of the title and then I can go to the table and people will want to fight me. I'm not saying that I'm being avoided but people know that they're going to get one hell of a tough fight from me and that I'm a hurtful fighter. I'm a dangerous body puncher, I'm young, I'm unbeaten and that's the last type of fighter a lot of people want to fight. The champions out there have what I want, they have the belts, and they're thinking 'why should I fight Ricky Hatton?' They have everything to lose and nothing to gain because they already have the belts. I'm not stupid and I know the way things work; I'm not saying that Kostya Tszyu is avoiding me, but why would he want to fight a young big punching body puncher who comes at you for twelve rounds? These fellas aren't going to fight me unless they have to. Hopefully I can become the IBF mandatory and they'll keep it that way, so the winner of Tszyu - Mitchell will have to fight me."
Everything that Ricky Hatton has worked for as a professional fighter rides on the outcome of this Friday's matchup with Mike Stewart. A loss would bring about swift and certain condemnation from an already skeptical press, particularly in America where Hatton is largely seen by the boxing media there as an overprotected and over-hyped commodity who doesn't have the confidence to fight outside of the familiar confines of his native England. For the twenty five year old former amateur standout and father of a three year old son, this fight will hopefully allow him to begin the process of dismantling what he feels are misconceptions surrounding his career. "This fight against Mike Stewart, I'm really looking so forward to it, I'm really looking to put on a job," said Hatton. "I feel like it's my debut all over again. I've totally got my hunger back one hundred percent."
"I've read a few articles in the papers here in Britain that were saying that I was quitting and all that rubbish (laughs). That was really blowing out of proportion what I was saying, which was that boxing was getting me down because I had put my heart and soul into it and I wasn't getting my just deserts. I wasn't getting to show what I'm all about, really but hopefully opportunities against top opponents will come now. What I'd really like to say to my fans is what really upsets me is when I read on different websites or in magazines, things such as 'Ricky Hatton doesn't want to come out of Manchester'. Or that 'Ricky Hatton doesn't want to go to America' and that 'Ricky Hatton doesn't want to fight the best'. That is more painful to me than all the punching, because if I was to drop down dead on this spot, I'm telling the truth when I say that I will fight absolutely anybody, absolutely anybody in the light welterweight division. I am just itching to show what I can do."
"My two most dangerous fights have been against Vince Phillips and Ben Tackie and those have been my two best performances. I feel that I perform worse the worse the opposition is and I think that says something in that the better the fights are, the better I'll be in them. I need the big fights to bring out the best in me and I'm certainly not scared. It just gets me down to read the articles that say I'm being protected and that I don't want to fight this fella and that I don't want to fight that fella. But if I drop down dead on this spot, that is one hundred percent not true. I'm just getting frustrated and I'm lashing out at everybody lately. I even fell out with my promoter Frank Warren for the fact that I want these big fights made."
"I just can't stress enough to the fans, 'don't believe what you read, don't believe what you see in magazines'. Because you can hear it from me, right from the horse's mouth I want to fight everybody and I'm scared of no one. One of my best attributes is fearlessness. I'm fearless and my attitude is exactly the way my fighting style is. I don't want to be a guy who sold loads of tickets, had an exciting style but didn't want to fight anyone. Don't think for a second that I want to be labeled like that. Hopefully I'll get through Mike Stewart and I'll get to take on the best. A lot of people say that I'm a throwback, but I'm not just a throwback in my fighting style. I want to fight the best, but due to things being beyond my control, that hasn't happened yet. But those fights will happen because I will just make sure that they do happen."
Boxingtalk.com would like to thank Ricky Hatton, Billy Graham, Frank Warren and Richard Maynard for making this article possible.
CLICK HERE FOR THE FULL BOXINGTALK.COM EXCLUSIVE INTERVIEW
Send questions and comments to: thomaspointrd@aol.com