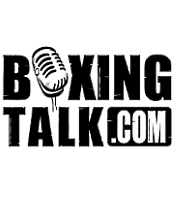 GL: What can you tell us about this whole Cunningham-Purlette situation?
"They wanted to spar and we said no problem because we'll spar with anybody. I don't hide from anybody and good sparring makes your fighting better. This guy said he was handling Steve though? No way! For the three days we sparred with him we handled him everyday. We went two rounds with him and then brought in someone else. He was a good tough guy and he gave us good work, but we handled him. Then they said Steve is running, but he's a boxer-puncher and we've seen him use his skills to shut numerous guys out. He starts everything with his jab and works from there to take control of the fight. They stood toe-to-toe for a while and Steve stood there with him and came out as the winner. If Steve was nothing, they wouldn't be talking about us. In sparring we do our job without bragging. Everyone knows I don't have to lie, my man does most of his talking in the ring."
GL: Is there any chance of Cunningham and Purlette fighting in the near future?
RG: "Fuck no. First you have to go through the ratings like everyone else does. The guy ain't even rated. Why wouldn't we want to fight an unrated fighter? We wouldn't because he means nothing. We're trying to get a title fight but they don't want to pay us for it. Bell pulled out on us, we were supposed to fight Jones last Saturday. We're looking at a championship fight not a unrated guy. We were thinking about using him as a sparring partner for our next fight, so that should give you a pretty good idea of what we view him as. The bottom line is let him fight somebody and earn his shot and then we'll gladly fight him."
Send questions and comments to: gleon@Boxingtalk.com