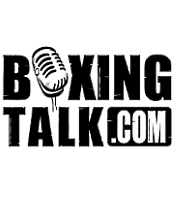 GL: Tell the world who Richard Brown is, what you're all about and what made you decide to get into boxing? "
The fact of the matter is, I'm one of the best athletes that ever walked on this planet man and it's that simple. God chose me, I'm one of God's people and I follow the rules of God. I've played football and I've played big league baseball with the New York Yankees. Athletic talent has never been a problem of mine, a couple of personal decisions and injuries sent me on a different path, but without trying to be cocky I feel I'm one of the best athletes to ever walk this planet. I'm ready to hit the boxing scene because that's what God chose me to do."
GL: You're going to fighting as a heavyweight, what do you think of today's division?
Richard Brown: "I don't want to disrespect anybody but there aren't very many athletes out there. The division needs more athletes. I'm not trying to belittle anyone because it takes a lot of balls to get into the ring. But the division needs some good heavyweights, it's that simple."
GL: You have no amateur background...
RB: (cutting in) "But I've been in and out of gyms since I was twelve years old. I used to mess around with Razor Ruddock a little bit. I was always into boxing but I got drafted by the Yankees coming out of high school and it was immediate money so I chose that route. Then I went back to UF and played some football and got my education in the process. I have Roger Bloodworth as a trainer, he's a world class trainer and if he didn't see I have the talent he wouln't be putting his name with mine. With the athletic ability I have and the world class people I have behind me, I'm confident we're going to be just fine."
GL: Are you concerned that you might have to get moved along more rapidly since you're 28 years old? Or would you prefer to take it slowly?
RB: "Whatever my people think is best. My people have been in the business a lot longer than I have so whatever they think is best is what it's going to be. I'm just going to focus on learning everyday. I have faith in God that I have the right people around me. Whether it's a fast or slow I'm going to be ready, athletically I'm in superb shape. Look at Bernard Hopkins he could fight until he's 50 if he wants to because of how he lives his life."
GL: When can we expect you to make your debut?
RB: "I'm training now and we're hoping for me to debut sometime in mid-July."
GL: Other than athletic ability what can we expect to see once you step through the ropes?
RB: "Pure heart. I'll do whatever it takes to win, within the rules of course. I'm six foot one and 225 pounds, so I'm a smaller heavyweight but I don't think there's anyone around me who feels I hit like a small heavyweight."
Send questions and comments to: gleon@boxingtalk.com