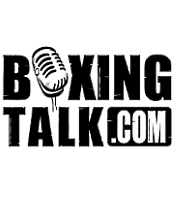 "Only thing that I want to do, being that I'm so excited, is to not be so anxious."
Four time Golden Gloves Champion Raymond Biggs make his pro debut Tuesday, September 14th when DiBella Entertainment and Sal Musumeci's Final Forum present Home Cooking at The Atlantic Oceana in Brighton Beach, Brooklyn. Boxingtalk.com caught up with Raymond Biggs as he shares his thoughts about the difference in training for the amatuer and professional ranks, debuting in his hometown of Brooklyn and some things in between.
Jose Aguirre: Tell us a little about your amatuer background.
Raymond Biggs: "I won the Junior Olympics twice and the under-19 once. I rated second in the country as a senior in amatuer boxing. I won the New York Golden Gloves twice and the Wisconsin Golden Gloves twice."
JA: Tell us what the difference is, if there is any, in training for an amatuer bout as opposed to preparing for a professional fight?
RB: "As far as preparing for an amatuer bout I've always felt training in the amatuers everything is fast, fast, fast. The time is so compact. You don't have much time to think. In terms of the training as a professional now, things are drawn out more. It's not as fast, the fast pace. It's more longevity now. You have to b able to go the long haul."
JA: Who are you working with trainer-wise?
RB: "Right now I'm working with Tommy Brooks."
JA: The son-in-law of Lou Duva?
RB: "Yes."
JA: Does Lou Duva have anything to do at all with your day to day training or give you any advice? Anything of that sort?
RB: "Yea, he's always there. He's always in the gym. He watches over me and Tommy and him talk all the time so actually he's very involved."
JA: How excited are you to be making your pro debut in your hometown of Brooklyn?
RB: (quickly)"You can't get better than that. You can't get better than that. That's a dream. Every fighter wishes that. Look at him (Salita), he has what eighteen fights and he's just now getting it."
JA: What will be your mental gameplan for the fight? Any added pressure being that you're fighting at home?
RB: "I feel no pressure. To me a fight is a fight and it doesn't matter. Only thing that I want to do, being that I'm so excited, is to not be so anxious. Just do it as I have been doing everyday in training. The main thing that I'm focusing on is making sure I'm in shape and make sure that my anxiety doesn't take over. Perform to my best ability but without being over anxious. That's when I feel I won't perform as good.
JA: What kind of fighter can we expect to see in Raymond Biggs?
RB: "Very versatile, always willing to learn because everyone doesn't fight the same. Always willing to learn to adapt to whoever I'm fighting or whatever style I'm fighting."
JA: Im going to make it a little odd for you. You're fighting on the undercard of a fighter, Dmitriy Salita, whom you defeated in the amatuers for the Golden Gloves title. What could you tell us about Dmitriy as a fighter?
RB: "Dmitriy as a fighter, is a solid fighter. He's a focused fighter. He trains and is very focused. He's not as strong as he could be but he's a sound fighter."
JA: Is there anything you want to say to your fans or to those who are not familiar with you as of yet?
RB: "The main thing I want to tell them is for those who are for me, continue to have my back because you're going to see a whole lot of me. Same thing for people that aren't for me. You're going to have to deal with me because you're going to see me regardless. I have plans to always be on top and the best thing to do is if you can't beat them, join them. Alot will join me.
JA: Thanks for your time. Good luck and looking forward to seeing you in action.
RB: "Thank you."
CLICK HERE FOR MORE OF THIS EXCLUSIVE INTERVIEW
Send questions and comments to: onfireboxing@verizon.net