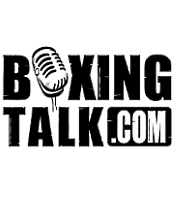 JA: What's good Peter? You're out in California how is everything going out there for you?
  "'m out here; everything is going great with training and sparring. I'm starting to get sharper now, getting in excellent shape, probably the best shape of my life. Now that I'm working with Freddie Roach I just love it, it's just a different experience and I'm definitely looking forward to the fight on October 15th. I'm hungry, I'm mean, that's the type of attitude that I should've had when I fought him back on May 24th.  Obviously that's in the past; I just got to move on."
JA: Tell us a little bit about that fight with Sergio back in May. What was going through your mind? It didn't seem like you were the Peter Manfredo that where normally used to seeing.
PMJ: Right. Basically it was all in the training camp. We stopped filming "The Contender" in September. When I went back home in October I was messing around, a couple of days in the gym. Then I started to get serious the first of the year. I thought I might have over trained for the fight, I really didn't know how to calculate it because I never had that much time between fights. There were also a lot of distractions, people wanted me to sign autographs when the show was going on, people meeting me here and there, going to bars and watching the show. There were a lot of distractions, a lot of people would come to the gym, my mind wasn't focused on Sergio which it should have been. I felt I was going to knock him out and I was taking him too lightly. I think that's the mistake that I made in the finals; I thought I was going to knock him out so easy because I saw him on the Contender. He had trouble with Najai, that fight could have went either way. Ishe he beat. Jesse he beat, but Jesse had fought 2 days before; he really didn't have time recoup and that fight was close and I know that he had Sergio hurt a couple times in the fight. I know that I took him too lightly. While I was goofing off doing autograph signings, he was up in Big Bear training for me. He was getting ready and he was hungry and that's what happened on May 24th, he was defiantly the better man that night. You could see that I was dead tired after the 3rd round and I really didn't have nothing left, he probley could have went another 7 rounds. I am not going to let that happen this time. My wife's pregnant and I left everybody back home. I'm out here in L.A, I'm paying for my own place out here, I'm paying for everything so I can get ready to show the World that I'm better than Sergio. We have so many great fans in Rhode Island and in New England and they deserve a champion. That's what I'm out here trying to do.
JA: You seem so Intense on proving the whole World that the last time was just a fluke. Are you out to prove to the World that wasn't the Peter Manfredo they were supposed to see on May 24th?
PMJ: Exactly. Not only that, I really don't feel like I have anything to prove. If anybody saw me fight before they know that wasn't the real Peter Manfredo that came to fight that night. People that saw me fight Sherwin Davis and the fight with Anthony Bonsante they saw that I was a beast and a killer for 10-12 rounds. That's another thing too going down to 5-7 rounds, a lot of people don't understand unless you're in the boxing world or a fighter, to fight 10-12 round fights and then go back down to 5-7 round fights it's a whole different kind of fight. Sergio never went passed 8 rounds. But this time I want to go in there and scratch all that and show the World the real Peter Manfredo. Right now I'm real sharp in the gym; I'm doing real good sparring. Truthfully in the last training camp I didn't think I had an excellent day in the gym, where I thought I looked really sharp. Even in sparring I never felt like I was real sharp, but this time I feel sharp I feel like the Old Peter Manfredo. I'm in shape,  I feel great.
JA: Is that one of the reasons why you left Rhode Island?  Rhode Island is the smallest state in the World. It seems once you get noticed around here, everybody wants to come up to you and hang out with you and get your autograph. Was that one of the reasons why you left here and went to California to train?
PMJ: Defiantly. Not to say anything bad, but it's just normal for people in Rhode Island to get excited about a good fighter that they have or some body that can make it. They don't see that many great fighters; the last great fighter they had was Vinny Paz, they haven't had a champion since then. So it's only normal for the fans to want to come around and for parents to show there kids a good fighter, a popular fighter that can become World Champion someday. All champions get away and seclude them selves to training camp and they think nothing but the fight and how to win the fight and I want to get to that level; and that's the sacrifice that I'm making. I'm fighting on October 15th and that's going to be the easy part, I'm going to go in there and do my best and come home with the victory. But this is the hard part right here the sacrifice , not being  with my wife, dieting, training like an animal; this is what I chose to do to win the fight.
JA: Now you didn't have to take the minimum for the fight. You didn't have to go out to the Staples Center to fight.  It seems that you wanted the fight just as badly as you wanted that second fight with Alfonso.
PMJ: Yes I did. At first Alfonso wanted me to make 154 and I told him no way. Maybe I will go back down to 54 but right now it's hard for me to say, it's for me to make 160 now because I haven't did much in a while now. Alfonso just fought at 160 why doesn't he want me to fight him at 160, and they said no he don't want to. So they put me in there with Sergio and I said I will fight Sergio for free I don't care. I just want to get in there and prove that I'm the better man. I will fight him in his back yard, what ever it takes for me to get in there with him. Sergio agreed with the fight, I'm here in L.A in his backyard. He's the favorite I'm the underdog. I like that better because theirs no pressure on me, there was a lot of pressure on me in the finale. My style should of beat his style, every body thought I was the better fighter, there was a lot of pressure on me to win, people putting bets on me to win. This time I don't feel like there is any pressure because he's the champion. The fight is on ESPN and I'm undefeated on ESPN. I feel like the fighter of old, I got that hunger!
JA: What has it been like to be training with Freddie Roach? What has he brought to your game that hasn't been brought before?
PMJ: It's kind of hard to say that he's bringing something new to my game that hasn't been brought before. He's been training me real hard; I've been having really great workouts. Everyday he's telling me things that my father would have told me, but the difference is he's not my father. It's tough when it's father and son because you don't agree with your father all the time. With Freddie I respect him so much he's had all these champions, he's been to the top and he knows what it's like for me to become a World Champion. I'm just trying to impress the guy too, the guy like I said has had so many great champions in the gym, I want to impress him and show him that  I can become a champion and want him to be happy of me. It's working out great; I think it's one of the best moves that we made. The reason I say we is because my father agreed to step aside and let Freddie help us, my father is not cut out in any way, Freddie is just here to help assist us. He wants to get better I want to get better; we all want to get better.
JA: Now have you looked at the fight with Sergio and did you think the fight was loser than it was?
PMJ: Well the way the judges had it, most defiantly. I think I went into that ring losing the fight unless I knocked him out no matter what. Because the way the judges had it scored I couldn't understand it. My father watches it every night, he tells me he had it tied 3-3 going into the last round, he felt I lost the last round and lost the fight 4-3. One of the judges had it 7-0, the other judge had it 6-1 and the other judge had it 5-2; now 5-2 I could see maybe because he was stealing a lot of rounds at the end. To give him every round, no way. He didn't dominate me like that in the fight.
JA: Even though you lost the fight. Sergio received 21 stitches in the fight and you were tired after the third round. Do you feel that you can knock him out this time around?
PMJ: Most defintiely I can knock him out!  Am I going to try to go for it this time no. I think I tried to go for the knock out last time and it got me tired. With all the pushing on the inside and trying to push him back to the ropes. I thought I had the wrong strategy. I'm a better boxer than he is, better puncher than he is, I have better combinations than he does. He's awkward, he hard to train for with the style that he has because he doesn't have any style. He switches left, he switches right, he jumps in with his punches, that's why he doesn't have any power on his punches. But ya I defiantly feel that I can knock him out, like I said Am I going to go for it no. I'm just going to box and do what I been doing before I went on "The Contender". The knock out will come.
JA: How has your conditioning been for this fight? You feel more powerful, do you feel more ripped. Are you guys making weight at the pace that you want to make it on?
PMJ: Yes defintely. Everything seems to be clicking together, everything is coming perfect just like it used to. I'm making weight fine, I'm sharpening up more. My  body is there, my legs are there my stamina is there, how can't it be with Freddie here. When I go in that ring that night I'm not going to get tired no matter what. I'm not going to let him out hustle me like he did the last time. No way, not this time. Believe me my hand will be raised at the end of that fight.
JA: Is there anything that you would like to say the Boxingtalk fans reading this interview?
PMJ: I would just like to thank all my fans. I appreciate them staying strong with me and being real with me. I'm sorry I let them down in the finale. Even though I did lose, I know I can still win the fight. Now I have a second opportunity to prove that I'm going to win and I'm going to be the Contender! I will show them that on October 15th. Same goes for the boxingtalk fans.
JA: I know that you have a website out there, now's your chance to plug it in!
PMJ: Ya everybody can check out my website
www.manfredojr.com
. You can buy souvenir t-shirts on there, programs, hats. Just check it out for the updates and you can write to me and I even right back.
www.manfredojr.com
go check it out.
Send questions and comments to: aldenjimmy@cox.net