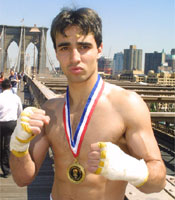 BT: In a recent Boxingtalk interview with Lou DiBella, Lou told Greg Leon that the weight-class issue was the reason why you did not make [ESPN's upcoming boxing reality show] The Contender. A few people in the boxing industry have informed me that you were very upset about not making it onto the show. Can I have your comments on that?
PM: The thing is, I told Lou about it and I do not want to step on anyone's toes or anything because he is my promoter. My promoter knows what happened and he can say whatever he wants to. He is going around telling people it was about the weight.  Well, it was not about weight. I do not know if he has a personal beef with The Contender, but he did not let me do it for his own personal reasons. I cannot really talk about the situation too much because I am under contract with Lou and I do not want to burn myself. I have a fight coming up on February 10th [on ESPN vs. Donald Camarena], so I am putting all The Contender stuff behind me right now.
BT: Were you disappointed because The Contender may have wanted you badly?
PM: I was definitely disappointed about not being on the show, but at the same time I have a career in front of me that I have to focus on, that is what happened and I am not going to cry over spilt milk. It did not happen.  It was beyond my control, that prevented it from happening. Like I said, I have a career that I have to focus on.  I am going to have a big year in 2006 because I have to make up for lost time [Editor's note: Malignaggi has suffered multiple hand fractures].
BT: Did The Contender come at you hard in trying to get you?
PM: Oh yeah. They were making a lot of exceptions just for me that they would not do for anyone else. They were all very nice to me. I was disappointed that it did not happen but like I said I do not want to cry over spilt milk.
BT: You said you have a fight coming up on February 10th. Can you talk to us a little bit about that?
PM: Yeah I am fighting Donald Camarena and it is going to be for the WBC Continental America title. It is going to be good to get me a title that is going to help jump me back high in the ratings.   
BT: Are you coming back with a lot of vengeance…
PM: (Cutting In) I think people are thinking that the talk is getting old because when I do talk, the hand breaks and I cannot look spectacular as I want. I am going to tell you what's going on. In the gym I have been throwing my right hand harder than I have ever thrown it before. I am letting my hand go harder now because the right hand is not bothering me. I am bringing back the old Paul Malignaggi which the boxing world has not seen in a while. I know people are going to write me off and I expect that. Donald Camarena is coming in with a good name, great record and he has the title. I came to long and too far to let anything bring me down right now. I am the healthiest I have been in a while and the strongest I have been. I feel like my prime years are in front of me, and with my hand holding up like it has in training camp, it is perfect timing. 2006 is going to be a big year for Paul Malignaggi.
BT: Last time I talked with you Paulie, it seemed like you were a little bit down. Now you sound like you are more upbeat. Is that because the hand is feeling better?
PM: Exactly. That is what has me so upbeat because I am throwing my right hand with bad intentions. I have great sparring in the gym, I have Luis Collazo and Vivian Harris here sparring, I did about 20 rounds alone with both of those guys. It has been hard, intense sparring and I have been able to do it because the fact that my hand is doing so good. Being able to throw my right hand the way that I want to throw it brings the confidence right back to me, my confidence right now is at its highest.
BT: The last time we talked you touched on the fact that when you were going into a fight you were a little afraid that you might break the hand again. Are you going into this fight thinking like that?
PM: My last couple of fights, I knew that the hand was going to break because it was bothering me so much in training camp. Luckily my last two fights have not been on national television because they were poor performances compared to my standards. This time it is not like that because I have the utmost confidence that my hand is going to hold up, I know it is going to hold up because I have been throwing the right so hard. It is perfect timing because the fight is going to be on national television. I have not been on national television since 2004 when I fought Ramiro Cano [He won unanimous decision] on Shobox. That was a great performance on my part and I actually hurt my hand in that fight. If I do not hurt my hand, Camarena is going to sleep and you can bank on that. I seen him fight and he is a good fighter, he has very similar style to me but I do everything better. I am faster, slicker, everything he does, I do better. He is a lefty, I am a righty, but everything else is in my favor. I have never lost to a lefty in my life. I do not have a problem with lefties, I deal with them very well. My speed makes up for everything anyways. Donald Camarena has never seen anything like me, I do not care who he is sparring with. They say that he is sparring with Floyd Mayweather.  He can do what he has to do, but in the end, the better fighter wins and the better fighter is Paul Malignaggi.
BT: Does he have the perfect style for your comeback fight, Paulie?
PM: No, I would not say that he has the perfect style because a fighter like me would want someone aggressive. Camarena is anything but aggressive. I saw him fight on ESPN2 and he has a slick style but not the perfect style.  He has a style like myself but I do everything better. Another reason why we took a southpaw fighter is because we want to show everybody that the right hand is excellent, the typical punch for a southpaw is the right hand. I am going to show that the right hand is good when I knock it off his head a few times.
BT: Are you going to come out in this fight nervous? Are you going to try to impress everyone in your first fight back?
PM: There is never any pressure to look good because I know I will look good. I always rise to the occasion and with a nationally televised audience I will definitely have my A game on. I thrive on these types of situations, I am at my best in these types of situations, and it will be just another day at the office for me.
BT: If you were on The Contender, do you think that the world would see the best Paul Malignaggi?
PM: If I was on The Contender, the world would see the best of Paul Malignaggi, also they would see the personal side of me. They would definitely see the best of me and it would have been great to do the show for reasons like I just said. That is the reason that The Contender wanted Paul Malignaggi was because I have those personal characteristics with me. I can fight, I am a good looking guy and I am a very smart individual. That is what The Contender looks for.
BT: Are you anxious to get back in the ring?
PM: Yeah I cannot wait man. Like I said I thrive on these situations. A lot of people have written me off. I can not wait to get back in the ring against a formidable opponent like Donald Camarena.  He is at the top of his game right now and I am coming back against a very tough opponent.
BT: How many rounds is this fight going to be scheduled for?
PM: I think it is a 10 rounder but it could be a 12 rounder. I am not sure if it is 10 or 12 rounds, it does not really matter anyways. I have no problem with conditioning and with the way that I been throwing the right hand it will probably not go the distance anyways. 
BT: What are some of your goal that you have for 2006?
PM: I never look past my opponents but 2006 is going to be a very big year for Paul Malignaggi. 2005 was a disaster year for me because the time off, the injuries and breaking the hand. 2006 is definitely going to be a year where I am going to make up for lost time and I am going to explode back on to the scene. A lot of people probably have forgotten about me because I have not been around in a while. 2006 is going to be my year.
BT: What do you think of the 140-pound division? Everyone seems to be moving up to 147.
PM: It's mine for the taking. I match up well with all the fighters in the division. I think all the fighters in the division are great fighters don't get me wrong. A lot of the fighters have too many flaws in there style. The 140 division is mine for the taking and Donald Camerana is going to go first.
BT: How many times would you like to fight in 2006?
PM: As often as I can. We are fighting in February, then in May or June I would like to fight, then another in the fall and one more in the Winter. Hopefully, I'll fight 4 or 5 times this year.
BT: I know you have a lot fans out there Paulie. Do you want to say anything to them in closing?
 PM: For all the fans out there I really appreciate all the support that you have given me. I thought that a lot of people hated me and I know that a lot of people do hate me because I can be cocky and arrogant at times. I did get a lot of love during my time off with the injury when I did go to the fights, the fans came up to me and asked me how I was and to get back soon and I just want to thank them for lifting my spirits up when I was down. Now that I am well again I am going to make them proud of me. 
Send questions and comments to: gleon@Boxingtalk.com