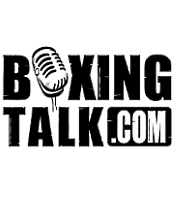 "If Bernard goes 40mph, we're going 60. If he goes 60, we're going 80!"
Boxingtalk just caught up with Jermain Taylor's chief trainer Patrick Burns. Patrick spoke candidly about the showdown between current World Champion Bernard Hopkins and boxing's premiere Middleweight Contender, Jermain "Bad Intentions Taylor". You don't want to miss what the Jermain Taylorcamp had to say about this epic upcoming fight.
BT - Patrick, first of all thank you very much for taking some time out of your busy schedule to talk to us, I know how busy you are about now.
PB - No problem Brad.
BT - Patrick, give me your thoughts on this fight.
PB - Well I think its a great opportunity for Jermain, Brad I am very suprised that Bernard Hopkins took this fight against Jermain, there are lesser type guys out there where he could have gotten three more fights out of, but instead stepped up and took this fight against Jermain. Jermain has wanted this fight for over a year now, and in Jermain's world there is absolutely no intimidation, and no possibility that Bernard can win this fight, that's how confident Jermain is right now.
BT - Patrick, what kind of training camp did Jermain have on the way up to this fight?
PB - We had a great camp, we had about 12 different sparring partners, his weight is perfect. We had a nutritionist in camp, and Jermain didn't lose any mass at all, we had a great camp.
BT - Patrick, Greg Leon (Boxingtalk Publisher) and I were in conversation and he was wondering if Jermain is ready for a Bernard Hopkins kind of fighter at this point of his young career?
PB - Oh absolutely, the kid has had 22 fights, and there just isn't anyone else to fight. Delahoya turned him down, Trinidad turned him down, all these guys turned him down while Bernard was giving it some thought, and finally he accepted it. Jermain has been fighting since he was 12 yrs old. Jermain has been on center stage many times, he is a 2 time National Golden Gloves Champion, a US Champion, Olympic Trials Champ, Olympic games fighter, and I think it is his destiny to be a World Champion.
BT - Patrick, Greg Leon (Boxingtalk Publisher/Owner) feels it's very important for Jermain to jump out early on Bernard, and NOT get into a thinking game with the Champion Bernard Hopkins. What are your thoughts concerning Jermain's gameplan going into this thing?
PB - Well, Jermain is prepared to fight 25 rounds, he can fight Bernard and then if Trinidad or Delahoya wants to step in after that, Jermain can do that too. To us it's very simple, if Bernard wants to drive down the interstate at 40 MPH, we will go 60 MPH, if Bernard goes 60 we will go 80, and that's where Jermain's  youth, and strength will come into play, plus Jermain is a very talented fighter, and can bang hard. I think Bernard has totally underestimated Jermain, plus his tenacity. Jermain is a real sweet kid outside of the ring, but inside of the ring he has such a mean streak, and arrogance about him that Bernard hasn't faced in awhile.
BT - Patrick, so you feel as if Bernard Hopkins has underestimated Jermain Taylor?
PB - Well it's the way he is talking, making all of these comments saying that he is going to Knock Jermain out within 5 rounds. When you make those kind of comments, you got to be in another world. We know Bernard is the master of disguise, and he's going to talk alot of stuff. We don't read into this stuff. We just do what we need to do, and all the talk will go away right after the bell in the first round.
BT - Patrick, Bernard talked some smack about Jermain on the HBO trailer saying there is no way he can lose to someone from Arkansas (laughing)
PB - Yeah, we heard that but the boxers in Arkansas put their pants on the same way they do it in Philly. Besides, there are alot of tough-guy's out there in numerous sports from Arkansas.
BT - What are your thoughts about the reports out of Little Rock that numerous movie theaters are being leased out in order for people to come watch the fight, it appears Little Rock is pretty hyped up about this fight.
PB - I think that is wonderful, Arkansas has supported Jermain from way back in his amateur days. We fought 5 times in Arkansas, and between 7 and 9 thousand people would show up, and basically shut the town down. We also heard that we will be having a huge contingency coming to Vegas from Arkansas, we estimate about 3000 people. It should be like a hometown fight, it's big.
BT - Patrick, on behalf of all Boxingtalk staff we really appreciate you talking to us this late in the game before this fight.
PB - Brad, it's always my pleasure.
Questions/Comments
bradcooney1@bellsouth.net
PURCHASE MY NEW BOOK, BRAD COONEY'S LET'S TALK BOXING    
http://www.authorhouse.com/BookStore/ItemDetail~bookid~26398.aspx
HBO's Harold Lederman " There isn't a boxing fan out there that shouldn't have this book"
CLICK HERE FOR THE FULL MUST READ INTERVIEW
Send questions and comments to: gleon@Boxingtalk.net