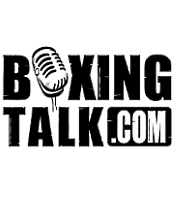 GL: Since the last time we spoke the interim fight with you and Rock is signed, sealed, delivered and approved by the WBC. Can you give us your thoughts on the fight becoming official?
"The good thing is that it's for the interim title which I look at as a championship. This is a championship fight as far as I'm concerned and I knew it was going to get done. Don King makes the impossible possible, he makes miracles happen and I just knew it was going to be a matter of time."
GL: How do you feel about HBO not wanting to buy the fight for July 23?

Monte Barrett: "That's the politics of boxing. I don't really focus on that kind of thing, but it's politics. We all know that Klitschko is their golden boy. I would have thought that HBO would have wanted to buy a fight like me and Rock but like I said the politics ain't my forte. I just focus on getting in their and doing my thing."
GL: I spoke with Rock recently and although he wouldn't flat out say that he's going to knock you out, he said he was going to be the winner and the fight wouldn't go the distance.
MB: "Well we agree on one thing. This fight definitely ain't going the distance, but I'm going to win. I have a lot of respect for Rock so I'm not going to get into it with him. He's cocky and confident and I'm cocky and confident. But I'm focused. This is my time, to me the result is inevitable. I'm feeling myself in a big way because of the work I've put it. What you put into it is what you get out of it and I'm giving 100% of myself to this fight. I'm not even concerned about what Rock's going to do, I know what needs to be done and I'm coming to take care of business."
"On July 23, I'm going to fight the fight of my life. I'm a versatile fighter that can do it all. I can throw em straight, I can throw em at angles, I could box and I could bang. I bring a lot to the table and my arsenal will be on display on July 23."
"Right now I'm in the zone, I'm eating, sleeping and shitting Hasim Rahman. This is going to be the best performance of my career and you won't want to miss this fight on July 23. I'm so focused it's not even funny. Ya boy is for real. I'm refuse to lose and I will become the heavyweight champion of the world."
GL: Is there anything you'd like to say in closing?
MB: "All of my fans continue to support me. I wouldn't be where I am today without your support. I've got my own webpage coming out, so stay tuned to my man G. Leon on Boxingtalk.com the best boxing website hands down. Holla!"
CLICK HERE FOR OUR RECENT EXCLUSIVE INTERVIEW WITH HASIM RAHMAN
Send questions and comments to: gleon@Boxingtalk.net