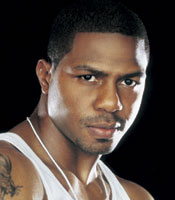 "It Is My Destiny To Beat Vitali Klitschko!"
GL: What's the deal Monte? Everybody is buzzing about the possibility of you fighting Vitali Klitschko next. What can you tell us about that?
"Everybody is buzzing, our people have been talking but nothing has been signed yet. I hoping the deal gets done soon because I feel that this is my time. This is it for me. I'm 33, I got 33 fights under my belt, Jesus died when he was 33, my lucky number is 33, so it's just the perfect time for me to acheive my goals." Click here to see what else this outspoken heavyweight contender had to say.
GL: I 've been hearing that December 4 is not going to be available for Madison Square Garden. Is there any chance the date gets pushed back one week, because that's something else I've been hearing?
MB: "I can't comment on that, but you're not getting bad information."
GL: You haven't fought since March, does nine months off in between fights concern you considering you seemed to be in a great rhythm after your eye openining performance over Dominick Guinn?
MB: "I'm still as focused as ever before. Time is just time. I'm more mature and more experienced that I ever have been so I know how to go about things. I put on some additional weight but I'm not becoming heavy."
GL: Some people feel that Klitschko is not looking to take on the best out there by fighting you. How do you feel about that?
MB: "Everybody is entitled to their own opinion, just like I feel I'm the best heavyweight in the world. James Toney is a fighter who deserves the shot, but I'm in a better position than Toney is right now and we're going to roll with that. Byrd has his own problems with Don King. Ruiz has his own problems with King, Brewster's getting right for somebody and this is the fight for Klitschko and this is the fight for me. When things are they way they are, you deal with them...it was written that way. Most people had Gomez ranked ahead of me and look at what happened to him. It is my destiny to beat Vitali Klitschko!"
GL: The worst night of your life came against Wladimir Klitschko. How has Monte Barrett improved as a fighter since then?
MB: "Just look at me then and look at me now. I was just a baby. I didn't have 100% motivation, time and effort for it like I do now. I live, eat, sleep and shit boxing. I love this sport and I'm in love with it. And that's a major difference when you're fighting with passion as opposed to just fighting for money. I'm fighting for glory, so it's a big difference in my attitude, my way of life and my walk in life and the way I approach in general."
GL: Would you say some of the personal growth you've experienced over the last four years is as important or more important than some of fine tuning you've done to your game?
MB: "That's in everything. I've always had to improve to become a better athlete, but I had to grow as a person first. Know thyself and all shall follow."
GL: Uh-oh, now you sound like the oracle from The Matrix.
MB: "I'm like Neo because I'm the one. I just needed to experience the growth and now I'm improving myself everyday."
GL: When will the official camp for your next fight begin?
MB: "Probably around the middle of September."
GL: When will you definitely know what you're next move is going to be?
MB: "Two weeks tops Greg. I'm going to keep it hot and I want all of the boxing fans around the world to know that the best is yet to come."
SEE WHAT ELSE THIS OUTSPOKEN HEAVYWEIGHT CONTENDER HAD TO SAY
Send questions and comments to: gleon@boxingtalk.net