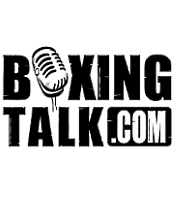 NBC's Contender Alfonso Gomez had to pull out of his scheduled bout due to flu symptoms, so in steps NBC's Contender Miguel Espino. On February 12th 2006, at The Dunkin Donuts Arena in Providence Rhode Island Miguel Espino ( 10-2 4KO) will face the tough Dorian Beaupierre (12-4 2KO). Espino is coming off of an exciting 5th round TKO against Jonathan Reid, and looks to show the nationally televised audience on ESPN that he is the real deal. Boxingtalk.com sat down with this Middleweight prospect and discussed his upcoming fight against Dorian Beaupierre, and we touch on his experience being on The Contender as well.
BT - You have a nice opportunity to show the boxing fans what you're all about. Alfonso Gomez comes down with the flu, and this provides you with the opportunity to get a nationally televised fight on ESPN, talk about that.
ME - Yes, it's very exciting for me to this opportunity. I have seen my opponent Dorian Beaupierre a few times on Showtime, and on ESPN, he's a tough kid, and he is going to try get the upset against me. It's going to be an exciting fight for ESPN.
BT - Miguel, this is a nice opportunity for you to get the national exposure.
ME - Oh definitely, I am super excited. Unfortunately for Alfonso, he was the Co-Main Event, and he got the flu so they bumped me up. They bumped me up from a 4 rounder to the Co-Main Event.
BT- Yes it's unfortunate for Alfonso to get sick like this, he's a good kid and a good fighter. With that said, it's an opportunity for you to shine.
ME - Yes, stuff happens and Alphonso has had enough exposure by now, he can share a little love this way (laughs).
BT - What can you tell us about your contender experience?
ME - Over-all it was a great experience, I lost a very close fight to Peter Manfredo Jr. The exposure that I got from The Contender, and the fans that I have gained from being on television has been awsome, and I am still riding the wave from that.
BT -What can you tell us about your trainer John Bray?
ME - John is a great trainer, he's an up and coming trainer, and he will get a lot more fighters coming to him in the near future.
BT - Talk about that very exciting 5th round TKO over Jonathan Reid, that fight was crazy.
ME - Oh that fight was crazy bro, I had a great camp. The day before Jonathan fought Jesse Brinkley on The Contender, he had done the Rose Bowl, we had to run up and down the bleachers like 12 times, while Jesse just stood on the sidelines, because he knew who he was going to fight, he picked Jonathan Reid. This time, he had no excuses because he sparred with Sergio Mora, he was in great shape. The first few seconds of the fight, Jonathan Reid comes running out and hits me " one, two BOOM ". Jonathan dropped me immediately! It was the first time I got dropped. I looked across the corner and the guy looked like a cartoon character bro, he looked HUGE. The referee was counting, and it sounded like it was in slow motion. I was looking over at Reid, and he was looking at me like I was a  piece of meat! I was like, shit! Then I hear the ref yell "box" , Reid sprints towards me, and I was like OH SHIT! I started moving my head, and grabbed him, he threw like 12 or 13 punches at me but all of the sudden I start to hear him breathing hard, real bad, sucking wind bro. Then I was thinking in my head, OHH HE'S TIRED! IT'S ON NOW! So the tide turned, and I stopped him in the 5th round, it was awsome.
BT - What has being on The Contender done most for you?
ME - I think more than anything it has given me maximum exposure. When I go spar at Freddie's ( Wild Card ) , they know I can fight. Some people think because I was on The Contender they talk smack, but the real people in boxing don't say anything negative.
BT - If you had to do it all over again, would you do The Contender again?
ME - Yea, definitely I would. I would handle things differently in the house, and do some things differently.
BT - What advice to you give to the new Contender fighters?
ME - I saw a few of their fights already, so when they ask me that I tell them to just relax, and be yourself. I tell them to not be fake, be yourself because on the first Contender some of them acted fake on not real. I tell them to just be real, and people will love you and respect you for that.
BT - What got you into boxing Miguel?
ME - Well when I was a kid in the 6th grade, this kid named Oscar brought all of these trophies to school for show and tell. When I was in school I wanted to play football, baseball, any sports. My dad would ask me how much this cost, and how much that cost, and so on. Then one day at show and tell in school Oscar brought these trophies in, and talked about boxing, and that he gets these trophies everytime he fights. I asked him, 'dude, you get one every time you fight'? he was like, ' yeah'. I was hooked from there on, I talked to the coach and learned how to box.
BT - So you were intreaged by how many more trophies boxing gave out than other sports, and that's what got you hooked?
ME - Yea, it totally got me. I asked my friend, ' Are you sure every time you fight you get a trophy' ? he was like " yeah ". So I was like, cool I am down for this (laughs).
BT - How long was it before someone saw your fights and realized you had a lot of potential?
ME - Well I was lucky because my very first tournament was The Silver Gloves. I made it to the finals at the National Silver Gloves, so about 13 or 14 yrs old is when they noticed I was pretty good.
BT - What are your goals for 06 Miguel
?
ME - Well definitely to stay more active, I want to fight a lot more in 06.
BT - Talk to the boxing fans Miguel, tell them what they can expect on February 12th at The Dunkin Donuts Arena against Dorian Beaupierre.
ME - Well I have a great deal in store. I want more TV fights for sure, and I want people to know that I come from a humble upbringing, and I want people to know that what you give is what you get, and I will be ready on Sunday. I am an exciting fighter to watch, and I look forward to this next fight on ESPN!
Send questions and comments to: bradcooney1@bellsouth.net