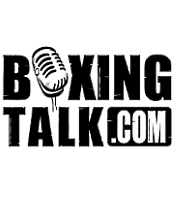 Greg Leon: I'm here at the post fight press conference for Lamon Brewster and Kali Meehan, Cory Spinks and Miguel Angel Gonzalez. We're here with former welterweight king Ricard "El Matador" Mayorga. Ricardo can you tell us what the last few days have been like for you?
Ricardo Mayorga:"Eating, training, talking to my family. Relaxing also. Thinking about the money I'm going to make after the fight after I knock him out. He's not the type of boxer that can stand in front of me for more than ten minutes."
GL: This is the most important fight of your life. There's alot of money on the line. Were you ever concerned when you were sitting in that cell that you might not be in America anytime soon let alone two days later?
RM:"The only thing that's going through my mind is how Tito's going to fall. I'm here to fight him. I'm not here to retreat or do anything else but train and fight him."
GL: Will you be staying in the states until Oct 2nd or are you going back to Nicaragua anytime soon?
RM:"No, we're staying here until the day of the fight. We trained already out there and now we're doing our camp here."
GL: Everybody knows you have alot of love in your heart for Nicaragua. Do you feel that maybe it's time for you to base yourself out of the United States to prevent any extracurricular activities from happening?
RM:"We're here to train as I've said before. This is basically the ending of our camp. Everything is cleared up down there so of course I'm going back to my beloved Nicaragua and just keep on with my life."
GL: If there's one thing you can tell Tito Trinidad since this whole thing has happened in the last few days what would it be?
RM:"Like I always said I'm going to knock him out. I'm here to fight him. And like he said I hope he keeps his word. I told him I was going to take home the hundred thousand dollars. I hope he keeps his word and I hope he brings that pack of Marlboro Red that I want for after the fight."
GL: Recently you said that in the first round of the fight you're going to put your chin out there and show him that he can't hurt you. In the first round is when a fighter is at his freshes and at his best. Are you still going to do that? Is that the case?
RM:"Yea I'm still going to do that. I want to do it in the first round when he's at his strongest point in the fight. I'm not going to do it in sixth, seventh or eighth round because by that time he's going to be knocked out. But I'm going to do it, of course. I'm a man of my word and I always do what I say."
GL: How do you feel about fighting in a hostile enviroment. The Garden is going to be packed with Puertoricans. It's Tito's first fight back in two years. Does it concern it you that you're going to be fighting in front of a house that's going to be chanting "TITO, TITO"?
RM:"That's going to motivate me even more because when I hear that the crowd is calling my opponents name I just press and I fight even harder."
GL: Based on the fact that it's going to be Tito's native turf basically, it's going to be like fighting him in Puerto Rico. Do you feel that you need to knock him out to win the fight? And if it goes to the scorecards do you feel like you can get a fair decision?
RM:"Never,never. I feel like I'm going to knock him out. I feel like the fight is not going to go twelve rounds but if it does get to the twelfth round I'm going to be so far ahead in the fight because I'm going to be knocking him down in every freaking round."
GL: Is there anything you want to say to your fans in closing?
RM:"That again I thank the American public. I thank all the spanish speaking people that live in the United States. I thank Don King and I thank everybody that has supported me throughout my other fights. I just want to let them know that I love them very much too as much as they love me and I'm going to win. I'm going to knock him out. Thanks you for your support."
GL: Thank you.
CLICK HERE FOR THE REST OF G. LEON'S EXCLUSIVE INTERVIEW WITH EL MATADOR
Send questions and comments to: gleon@boxingtalk.net