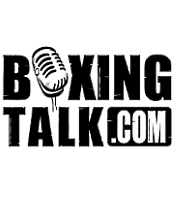 JA: Do you know who you are going to be fighting next? "
Yes, I am going to be fighting Ernest "M16" Mateen. He is a fighter that has pretty much fought everybody, he fought James Toney, Vassiliy Jirov and in his last fight he stopped Uriah Grant. He is definitely not the person to look past."
JA: Do you feel that this is going to be a big step up for you skill wise in opposition?
MG: It definitely is going to be a big step up for me, with a guy who has fought so many times he knows how to use the ring and he has a lot of ring savvy to him. It definitely is going to be a big step up for me and of course I look forward to being victorious at the end of the fight.
JA: The Dunkin Donuts center is going to be packed on February 12th, are you going to have a lot of nerves going in there?
MG: Not at all. I don't let the hype get to me. Once you step through the ropes and it's just you and him, sometimes you don't even now that the referee is there. I don't let the people outside of the ring distract me when I fight.
JA: How has training been?
MG: Training has been going great. I been taking baby steps in December, I have been doing a little bit each week and I will definitely be in tip top shape come fight night.
JA: You're training now with Roland Estrada. With Peter gone in California, is that going to affect you in training?
MG: Not at all. I tell a lot of people this; Roland Estrada has been in my corner up until I turned pro. There will definitely not be any discomfort with Peter gone, he has always been there and always been the voice that pushes me.
JA: Have you seen any footage on Ernest fighting?
MG: I have actually seen Ernest fight live. He was giving Rich LaMontagne a hell of a fight until he got caught with good shot. I want to say that I seen enough tape on him to know all about him, but we will definitely take a look at another tape from the past.
JA: How many rounds is this fight going Matt, 10 or 12?
MG:  I wish it was going that many rounds, its going 6 rounds. It's going to be on the contender under card, but we are trying to push for an 8 round fight.
JA: It's almost like a give or take thing with the contender. You're going to be on the show but you have to take this many round fight.
MG: Yeah pretty much. I get to be in front of my own home town and hopefully we sell out the Dunkin Donuts Center. Hopefully everyone can come out and see us fight.
JA: What are some of your goals for 2006?
MG: Just to keep stacking up the wins. I take each year as a learning tool, I keep learning until I can't learn no more, but there is always something to learn. 2006 is going to be another learning year for me. Hopefully I have 5 fights this year and I hope to continue the win streak.
JA: Do you think that going 6 rounds is going to affect you when you have been fighting 8 and 10 round fights?
MG: No I don't think that it is going to affect me because to be honest, I think that I should be at this stage right now [fighting 6 round fights]. I went from fighting 4 rounders to fighting an 8 rounder then jumped right too 10 rounds, that was a big jump up for myself. My last fight went 6 rounds and now this fight is going to go 6 rounds. At this point in my career I should be fighting 6 and 8 rounders.
JA: We have a new Undisputed Cruiserweight champion in O'Neil Bell. Did you catch the fight and what did you think off the fight?
MG: I was there at the fight. I expected Bell to die down after a few rounds but he was in tremendous shape and showed great heart. He pulled off what a lot of people thought was an upset.
JA: What do you think of the Cruiserweight division? Do you feel that there is some spark there?
MG: Definitely. When ever you have a universally recognized champion, everyone else has to look up to him and it gives us someone to shoot for. I'm not going to say that its bringing back because it never had it, it's getting more exciting than the strawweights and bantamweights (laughs). The cruiserweight division is certainly on the way up.
JA: With a big crowd expected to be at the Dunkin Donuts center in Providence. To win a lot of the fans over that night you have to look impressive.
MG: I think I pretty much won a lot of the local fans over. If you're not familiarized with New England Ringside voted my self and Eric Harding co-fighters of the year from New England. I cant worried about what everyone else is going to be thinking that night, I have to get in there and take care of my business. I can talk to the fans after the fight.
JA: Are you going to be going out to California and train with Peter?
MG: I am going to be doing all my training here. I am very comfortable working here with Dr. Estrada.
JA: Is there anything that you would like to say in closing Matt?
MG: Just keep watching me, I improve by the second. I just hope every one can come out on February 12th and watch this great show. If you want to know more about my self you can go to
www.mattgodfreyboxing.com
.
Send questions and comments to: aldenjimmy@cox.net