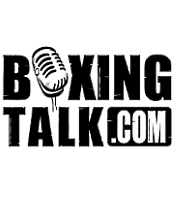 Kalie Meehan Trainer
Jose Aguirre: How are you ?
Mark Janssen: "Good, good."
JA: How did you become involved in boxing and eventually become a trainer?
MJ: "I boxed all my life. I had my first fight when I was six as an amateur. We moved to Australia when I was ten years old and I probably had eighty amateur fights and then turned professional. I had twenty three professional fights and when I retired from boxing I just became a coach. I had a gym and I coached fighters and went from there."
JA: As a trainer what are some of the things you try to instill in your fighters?
MJ: "Balance. Balance, distance. Every fighter has a different style. Not every fighter can be an upright fighters, not all fighters can be brawlers. It all depends on the fighter you're training. What I do is try to instill and perfect every single basic punch there is in boxing. I always go over and over those all the times. We always work on perfecting the basics whether that a jab, whether that's feinting, whether that's head movement and defense, ecetera. Working on balance, footwork. We have skills sessions, stamina sessions and we have strength sessions. They are the three things we work on every day of their lives."
JA: In your own opinion what sets you apart from other trainers?
MJ: "Oh, I don't really know. I think as a fighter I had a great trainer back home in Australia and he was absolutely a brilliant trainer. I went through my career undefeated and alot had to do with his teachings. I had eighty amateurs fights and I thought I could fight until I went to his gym and actually learned how to fight properly. Also, I've been a fanatical boxing fan. I study every fight. I don't watch fights, I study fights. If a see a big puncher I look where his feet are, I look where his balance is. Why could Thomas Hearns punch so good with the right hand? Why does Tyson hook so hard? Why did Ray Robinson have such great leverage in his left hooks, all that sort of stuff. I look at it and I study it then I try to bring that out in my fighters."
JA: How's training coming along in preparation for the fight on Nov 13th?
MJ: "We prepared for the fight over in Australia. We've been over here for a week now. The preparation went good. We had some good hard sparring. We sparred a couple of guys back home and it was awesome, probably the best sparring Kali's ever had. Tough, hard sparring to harden him up for someone like Rahman. We're really happy with that and now we're just tapering off and just doing a bit of sharp shooting. Keeping him sharp until the fight. Freshening up a bit."
JA: Speaking of Hasim Rahman, what are you expecting from him and what are you going to have Kali Meehan doing to offset what Rahman is going to do?
MJ: "At the end of the day I expect Kali's all around skills. Kali's quite a good fighter. He was exceptional against Lamon Brewster but he was at about seventy percent for that fight. he's going to pick up another twenty percent for this fight. He had been out for two years. It was a tough task for Kali after two years to do that but now he has the twelve rounds under his belt. We're just relying on Kali to have better speed a dn keep him out with the jab. And Kali punch like a mule. I know they talk about Rahman's big right hands, lets see what happens to Rahman when Kali lands his big right hand."
JA: I take it after his performance against Lamon Brewster, how's Kali Meehan's confidence is high.
MJ: "Very high. He's super confident on winning this fight and giving Rahman a boxing lesson. And he's even boxing in the gym. Right after the Brewster fight we had a couple of weeks off and then we got back in the gym. He's just doing stuff I've never seen him do. One of the things I try to work with Kali is that at times he throws punches in ones and twos. One thing I beleive in is he's got to throw them in threes and fours when the time's right. And trying to get Kali to do that has been very hard. Not against ordinary opposition but against elite oppositions it's very hard. We took a giant step in fighting Lamon Brewster. We went from fighting at a lower league and all of sudden we come over here and we're fighting at a different level. It's a confidence thing and now he know's he can. Much easier in the gym, sparring some really good guys."
JA: Did anything change in training for a fight with Rahman?
MJ: "We worked on tactics. Just different sparring partners. We probably got sparring partners that are a bit stronger. We've been sparring a guy that's two hundred and sixty pounds. He punches hard and he punches fast. He just won the Pan Pacific IBF title back home in Australia. So mainly it was the different sparring the emmulate Hasim's style more. And the style of tactics. Kali's a sharp shooter, that's how he fights. he fights from the outside and he punches fast and I believe he can outbox anyone in the division. Every fight we have we're not there to be hit and we work on not getting hit and we work on hitting. We just perfect our basics and we work on that with every single guy. We just work the fundamentals of the sport. We always work on improving those. Defense, we work alot on defense. If it be defense with your hands up, defense catching punches, defense slipping punches or defense using distance from the outside or crowding him close so he can't get his shots off."
JA: Does Team Kali want to go out there and make a statement as big as the Brewster fight?
MJ: "I think everyone wants to shine on that night because at the end of the day everyone wants an opportunity. With Don King hopefully unifying all the title, everyone wants a shot at the title. From what I hear our fight is a WBC eliminator. And a WBA eliminator also. For us there's everything on the line, for Rahman there's everything on the line. As it is for Holyfield, Byrd, McCline, Ruiz and Golota. They all looked in awesome condition. I just think it's going to be a great night of fights."
JA: Thank you for your time Mark.
MJ:"Thank you for the interest."
Send questions and comments to: onfireboxing@verizon.net