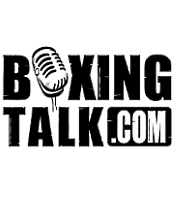 Boxingtalk.com recently spoke to former 1984 Olympic Gold Medalist and former two time WBA world champion Mark Breland, who currently works as an assistant trainer along side Ronnie Shields, with previously highly touted Heavyweight prospect Dominick "The Southern Disaster" Guinn 25-2(18). In this one on one exclusive, he gives us his thoughts on Guinn's most recent loss to 1996 Olympian Serguei Lyakhovich 22-1(14). Considered the greatest amateur in American History, Breland also gives his opinion on some of the sports most talented up and comers.
RC: What do you think or Last Friday's fight?
MB: He jus didn't do anything, all we can do is keep telling him what to do and hopefully he would execute it, but it just didn't get through to him. He did everything we wanted him to do in camp, but for some reason what he had did in the gym wasn't there in the fight.
RC: From your experience, what do you do in a case like this where everything is good in the gym, but not in the fight, where do you go from here? And what can be some of the reasons as to why he didn't execute?
MB: Sometimes it is just a mental thing, some guys go through that. Dominick sometimes….well like with the Monte Barrett fight, I would say that is more if a s thing of being home and fighting in front of your hometown, but this one here, man I have no clue. Honestly, I am really clueless on this one, because this is a fight that he had the guy beat, and all he had to do was throw punches. He hurt him and every time he hurt him he backed up, I don't know what that was about. He said he hurt his left hand which is ok, but we really wanted him to throw the right hand.
RC: What did he say to you guys after the fight?
MB: Nothing really, he said it was his fault.
RC: In your opinion, from your experience, where does he go from here?
MB:  At this stage of the game, as far as boxing, in that division right now, that division really stinks. The heavyweight division is wide open now, the only problem with that is,  he is going to have to fight…..well I don't think it is a problem but in order for him to really come back he has to fight somebody with a name. It doesn't make sense for him to fight these same guys again. But he needs to come back and fight somebody else with a name.
RC: Do you think right now it is a good idea for him to jump right back into the mix rather than take a couple lesser quality…
MB: (Cutting in) I think you have to because we can't….you know in the state the division is in right now, you have to fight. Regardless, everybody is going to be a little hungry, because the division is weak. Now if he starts back at the bottom again, who knows what is going to happen when he gets back to that certain stage. 
RC: From working with and knowing him personally, I'm sure there is some type of bond between the two of you as an assistant coach to fighter, did you see any signs at all going in Friday's…
MB: (Cutting in) Nah, going into the fight everything was fine. He is very laid back, and I am too…..He was hitting the pads good and everything and he was like "I'm ready to go". You can see he did good then and then he just stopped, when he hurt the guy he just stopped.
RC: Did Serguei Lyakhovich show you anything in that fight the fight you guys didn't prepare for?
MB: No, I mean he is the typical European fighter, the only thing he didn't do is keep his arm out. But other than that he did everything we thought he was going to do, it's just Dominick didn't do what he was supposed to do.
RC: It seemed like every time Guinn took a shot to the body, and Lyakhovich applied a little pressure, he didn't seem to react well, he'd just pretty much back off..
MB: Nah, he was in good shape. In the gym he was getting hit with good body shots, but it never affected him like that. In my opinion this guy was throwing shots that you can see 100 miles away, and he was trying to block them but those are shots he should been able to hit him with, that is the part I didn't understand.
RC: Now they say the trainers if anyone can start to notice sudden fading of a fighters abilities, You said that you can pretty much see the shots coming from 100 miles away, so can it be that after such a long and extensive amateur career and 27 fights as a professional, do you all the years of boxing has caught up with him? Or maybe he just doesn't want it enough?
MB:  It's up to Dominick; he has to figure out what he really wants to do.
RC: (Cutting) wasn't that the question after the loss to Monte Barrett? Then he decided he is going to be a monster, returned against an aging opponent in Phil Jackson, whom he stopped in one round back in July. But…. then he gets into the ring with a step up in Lyakhovich and he seemed more confident than ever going into this fight, and even went as far as predicting he was going to end things early. From your experience as a fighter, do you think he actually felt that or could he have been talking to be talking?
MB: You have some fighters who just…… (Slight Pause) Fighters are funny (Says it with a little laugh). You can feel one way, and things just go the other way which is weird but it is enough to boggle a person. 
RC: So what does Mark Breland do now a days when he isn't working with fighters?
MB: I still go to the gym, I work out myself.
RC: What do you think about the state of boxing right now? And give us your thoughts on in 2000 Ricardo Williams getting $1.3 Million after winning a silver medal, and this year our Olympic Gold medalist receiving less than 10% of that?
MB: You know a lot of the fighters today coming out of the Olympics can't even fight. I mean if you look at the 1984 team, look at the 1996 and then you look at these guys coming up half of them don't even know how to jab yet. Like you said the kid from Cincinnati Ricardo Williams, I mean they gave this kid one point something and now he is doing time or after him or something like that. But I mean they are giving these guys all of this money and they haven't even developed yet. 
RC: Well why do you think that fighters aren't being developed like they were back in the days?
MB: Money, money wise they have so much money out there. If you gave me 1.3 million dollars as a young kid growing up, I will fight a few fights but then I'm going to say ooh hell I am already getting paid, there is no reason for me to work hard and struggle.
RC: Now I want to ask you this next question, because if there is anyone that can speak on this it should be you, reasoning being, you have already been through it and obviously by winning a gold medal and a world championship, you know what it takes. If you had to decide how these fighters are to be developed, what would be the solution?
MB: They have to make these guys prove themselves; the T.V. market is so big on fighters right now. It is to the point where I am waiting for a fighter to come flying into the ring in a parachute in a minute, it is becoming like wrestling. The networks believe that as long as it will sell, they will put anything out there.
RC: Going through what you went through, and knowing how hard it was for you, does it bother you how they had it so easy, and the way everything is messed up right now?
MB: It doesn't bother me, that is how it is. I am happy for them, I mean if they can beat the system knock yourself out.
RC: (Starting to laugh) I guess you aren't one of the old timers that hate on the young kids…
MB: Ooh not at all (starts to laugh) like Jamie Foxx make it do what it do.
RC: Name me three young fighters in your opinion, amongst the young fighters out there that you feel are the truth and explain us why you feel that they are?
MB: The kid Juan Diaz is pretty tough, young too, he is 20 years old or something like that and he works really hard. That Kid Rocky Juarez isn't a bad fighter, Rocky is a good fighter, I mean these guys, now don't get me wrong they got paid a little bit of money but not that crazy money, and they are willing to sacrifice for what they have to do. These guys' work ethics are tough.
Jermain isn't looking bad, he is looking ok. At first I didn't really think much of him but he is starting to come along much better.
RC: How about IBF Super Middleweight champ Jeff Lacy who was a member of the 2000 Olympic team?
MB: Lacy is more like a Joe Frazier type of guy; I think a good boxer will give him problems. Because I mean Omar Sheika gave him a fight, and I thought he was going to knock Omar out, but don't get me wrong he is not a bad fighter, but I think he learned a lot last Saturday night.
CLICK HERE FOR MORE OF THIS EXCLUSIVE INTERVIEW
Send questions and comments to: rayocampbelljr@hotmail.comBoxingtalk.com recently spoke to former 1984 Olympic Gold Medalist and former two time WBA world champion Mark Breland, who currently works as an assistant trainer along side Ronnie Shields, with previously highly touted Heavywei