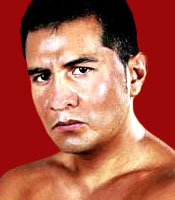 Boxingtalk was able to sit down and talk with Mexican Legend, Marco Antonio Barrera shortly before today's press conference. Marco touches on his next fight with Jesus Chavez,  in which he look to become the first Mexican National fighter to capture a major world title in four weight divisions. Barrera also talks about Manny Pacquiao, and Erik Morales. You don't want to miss what the Mexican legend had to say in this BOXINGTALK EXCLUSIVE interview
BT - Marco, first of all thank you very much for talking to Boxingtalk, it's an honor to have you here.
MAB - My pleasure Brad, thank you for having me.
BT - Marco you have a big fight coming up against Jesus Chavez, what are your thoughs on this fight?
MAB - Well I am not taking this man lightly, I know right away that it is going to be a very hard fight, he is one of the best 135 pounders in the business.
BT - Marco after the tragic news that Leavander Johnson had passed away, do you feel Jesus Chavez may have some difficulty dealing with that, and do you feel it will impact him in the ring?
MAB - No I don't think so, right after the fight we both traveled in the ambulance together to the hospital, and under the circumstances, he was very tranquill about it. I think Jesus will be ok and focused for this fight.
BT - Marco what is your opinion of Manny Pacquiao as a fighter at this time?
MAB - VERY explosive fighter Brad, but he was very good in the past too, not just now.
BT - Marco after your last fight with Manny Pacquiao there was talk that you had distractions going into this fight, what if any impact did that have on your performance, or was Manny Pacquiao just that good? Manny Pacquiao said his distractions definitely impacted him the first Morales fight.
MAB - Everybody saw the results of that fight, I will not say that my performance had anything to do with my distractions because then people will say that I am making up excuses. Manny Pacquiao said he had distractions before he lost to Morales, well that's him, I have no excuses.
BT - Marco what went through your mind when you saw Manny Pacquiao knock Erik Morales to the floor for the first time in Erik's career?
MAB - SURPRISED! that's the first thing, I was surprised. Then it all sort of hit me at once, it was sad to see such a warrior, and a fellow countryman go down. Erik Morales is a great fighter, a great fighter and I felt sorrow when he fell.
BT - Marco do you want to fight Manny Pacquiao again, and if so when?
MAB - Right now I am not contemplating that because I am only focused on Jesus Chavez in March, I do not want to look past this man.
BT - Marco do you feel any responsibility to restore or re-take the Mexican pride in the Featherweight Division after what Manny Pacquiao has done to the great Mexican fighters?
MAB - Yes, that is a thorn in me that I will want to deal with but right now I have to stay focused on the fight at hand, and that is with Jesus Chavez.
Send questions and comments to: bradcooney1@bellsouth.net