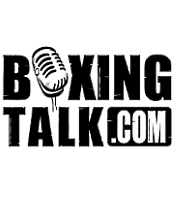 BT- Lucian, you are well known in Montreal and most of Canada itself, but here in the states only hardcore fans have heard of you. Tell the people that don't know, just a little about yourself. "
Well, I have been fighting a long time. I was a member of the national team in Romania, amateur team. I had 300 amateur fights and lost 15 out of those."
BT- Do you know what is next exactly for you? I heard that your team was talking about a Lolenga Mock fight but is not solid yet. Are you still fighting on March 24th?
LB- I am fighting on March 24th, on a card to be put together at the Bell Center in Montreal. I am still not sure of who my opponent will be as of yet, there has been talks of certain names but we have not found an opponent yet but I am set to defend one of the titles that I hold right now. I have the NABA, NABF and WBC Continental of America's titles at 168 pounds.
BT- Supermiddleweight is a very solid division right now.
Most of the fighters are not very well known with the exception of Jeff Lacy and Joe Calzaghe and most are from foreign countries but have very good records and actually have shown some very good skill. With champions like Lacy, Calzaghe and Kessler and prospects like unbeaten Chad Dawson, Allan Green, Jackson Chanet, Carl Froch and Librado Andrade who is fighting Otis Grant very soon, do you plan on sticking around in the division since you actually started fighting at Light Heavyweight? And do you think that Super Middle may be the next "Golden Era" in the boxing game?
LB- My plan is to stay at 168 and rule the division.
I am prepared to fight any body at Super Middle, any of the champions or any one else who wants to put together a fight.
BT- You are a very popular fighter in Romania and Canada "Especially Montreal". Do you have a time line for yourself on when you want to make your breakthrough here in the states, or do you want to leave it up to your management and be patient about it?
LB- My goal is to become a known name in the states as well, hopefully it is going to happen this year if my promoters can put together a fight, if not probably next year. But definitely I want to be in a position by the end of 2006 to attack one of the titles.
BT- Do you think that only being 15-0, despite your extensive amateur background that a lot of fighters are looking past you already even though you think you are ready?
LB- I feel that they are not looking past me but avoiding me.
Given my record, 15-0 15 KOs, but I want to be in a position soon that the best fighters in the world have no choice but to fight me and prove themselves. My goal is to become the number one challenger in the WBC or WBA, where I am already ranked.
BT- We mentioned already about unbeaten Librado Andrade fighting fellow Canadian fighter in Otis Grant. I know you and Otis are friends but if he can beat Andrade would you fight him? Be a huge fight in Montreal.
LB- I'll fight Otis Grant anytime! I know Otis but I can't really tell if we are friends, we are not training in the same gym and have different promotional companies.
BT- Back, sometime ago when you first were coming on the scene in Montreal, fellow Romanian in Leonard Dorin made some statements to the press and was not impressed by you and seemed to have some type of a grudge for some reason. Has the emotions changed between you and Dorin, do you still have problems?
LB- As a matter of fact, when I was on vacation in Romania last month I actually met with Leonard at a function. I was declared the boxer of the year in Romania and he was at the ceremony.
We actually talked, I don't know what was in his head when he made those statements then but that is the way he sees my career. But I am going to continue to fight and not going to worry about what other people think about me.
BT- Congratulations on being named the Romanian boxer of the year, you were also named Canadian boxer of the year as well.
LB- Yes, I was named Canadian boxer of the year as well, thank you!
BT- Lucian, what does your nickname mean?
LB- Which one? (Laughs) They are always throwing different ones at me (Laughs).
BT- "Le tombeur"
LB- I kind of has a double meaning. It means "The guy who always knocks out his opponents" and it also means "The guy who is very smooth with the ladies" (Laughs).
BT- Do you like that nickname or does he have another one that he prefers?
LB- As a matter of fact I am looking for another nickname. That was something that my promotional company got for me when I first started, but I am not really comfortable with that.
And I am looking to find another nickname.
BT- You are not comfortable with being "Smooth with the ladies"?
LB- (Laughs) It's not that, it's just in Romania that name is very close to another meaning.
BT- Now I understand (Laughs). I'm not even going to ask.BT-Before we close, can you give some words to your fans from Romania and Canada and maybe a message to the American fans on what to expect from you in the near future.
LB- I want to tell my potential fans in America that my dream is to come and fight in your country and become a HBO fighter.
I want to fight for my fans and fight for my public that is my goal.
And I really think that the fans are going to decide what kind of name I am going to make for myself in the boxing world, when they see me in the ring.
I want to assure everybody that I will never disappoint my fans.
I will always fight hard for my fans and do the best that I can do in the ring and I really feel that you will hear big things from me in the future.
Special thanks to David Messier, Francois Picanza and Christian Ganescu.
Send questions and comments to: mkydos@yahoo.com