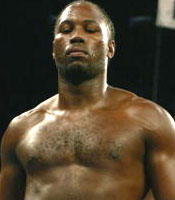 Over the weekend, Boxingtalk.com spoke with former heavyweight "emperor" Lennox Lewis. Lewis, who is currently enjoying the retired life, took some time out to speak with Boxingtalk and give us his take on several intriguing topics. In this MUST READ exclusive interview, Lewis squashes any rumors of his return to the ring, while explaining the motives behind his retirement. Lennox also analyzes today's heavyweight division, the Vitali Klitschko-Hasim Rahman fight and much more. If you're not a Boxingtalk member yet sign up now! It's no coincidence that
ALL
of the biggest names in boxing can
ONLY
be found at one place!
GL: What's going on Lennox? How has retirement been?
Lennox Lewis: "It's been good. I'm just taking it easy taking care of my family life and sorting out the business around Lennox Lewis."
GL: A couple of weeks a British tabloid reported that you were considering coming back to the ring. We published your statement which explained that you're still retired and staying retired. Can you reiterate why that's still your M.O.?
Lennox Lewis: "Yeah it is. I don't really need to come back. I feel that the heavyweight division needs Lennox Lewis but I don't really need the heavyweight division. Klitschko needs me more than I need him. I already went out there and did what I needed to do."
GL: During your title reign people in boxing recognized you as a great champion, but the American public never seemed to demand while you were on top as much as they do now that you're gone. Will your retirment from boxing be forever filed under, 'you don't realize what you've got till it's gone.'
LL: "Definitely. That's how I went out. I was there and they couldn't get rid of me. They couldn't deny me. I had to kick down certain doors, they froze me out for a while but I still came back and basically beat everybody that beat me, and now winding down to my twilight years, in my retirement. And I'm retired. They can't believe it because I don't need to accomplish anything.
"My whole focus was to accomplish goals. I realized being heavyweight champion of the world wasn't going to be an easy road. There's going to bumps, curves, hills and even some pot-holes. But in the end of it, I made it till the end and that's all I wanted to accomplish. Now it's time to set other goals for myself and go out and accomplish those.
"Money doesn't motivate me. I do things for the glory."
GL: What kind of other goals have you set for yourself now that you're not boxing?
LL: "I definitely want to be a great father. I want to be able to teach my son different values, you know, the right's and the wrong's, the do's and the don'ts. Anything anybody sets their goals on, they need to recognize the sacrifices involved and just go out there and try to obtain them. There's nothing that can't be obtained."
GL: When you retired you said it was time for the next era to begin. Did you ever imagine that it would be nearly two years since you've retired and the next era hasn't really begun yet. Based on his recent PPV #'s it's obvious the American public hasn't bought into Vitali being the man yet...
LL: (cutting in) "I mean, the problem with all of that is, they're trying to bring an instant champion back again. And you can't do that. You cannot be great instantly, you have to work at it. If you look at Muhammad Ali's history, he wasn't loved in the beginning but they grew to love him just like they grew to love me in the same way. In a sense, you can't just demand all of a sudden for people to love you."
GL: I feel you would have stopped Klitschko had it gone a few more rounds, but he gave you a pretty tough fight while it lasted. After being in there with him and reviewing the tape of that fight, did you think he would have been able to elevate himself in the past two years to where he was already perceived as the man by now?
LL: "Here's the thing, he had a good fight with me but it wasn't pretty. If anyone analyzes the fight, they'd say that my punches were more solid and my movement was more correct. I'm a seasoned professional. He still has amateur things, he's excited and he's young. I was on my way out and I wasn't even thinking of Klitschko.
"My aim was (Mike) Tyson. He was the one who was staying away from me for so long talking about eating my children and all that. Finally, when we got him into the ring, I felt I couldn't retire without fighting everyone, and Tyson was my last hurdle.
"Klitschko just came along the other day...
GL: You were scheduled to fight Kirk Johnson and wound up fighting Klitschko on short notice.
LL: "Yes. I only had four rounds of sparring before the fight. It wasn't a fight I was preparing for. Klitschko's been training for two years for me and I only trained a week for him. (laughs) Listen, it was a year after the Tyson fight, I was celebrating, I said Kirk Johnson would be my warm-up fight, I'll fight Klitschko at the end of the year. You know what happened. Kirk Johnson hurts his elbow or something like that. I said, 'boy, I'm not fully in effect but I'll take the fight. I'll go from knocking out Tyson to knocking out Klitschko.
"I basically showed them that he basically can't take the pressure. He does have a weakness and I exposed that. That's why it was so easy for me to retire because I know what would have happened in the fight. They stopped the fight to save him and how everything was looking. In the end, I wasn't boxing for no points, so they could talk about points all they want because I was boxing for the knockout, straight from round one."
CLICK HERE FOR MORE....IT'S GREAT TO BE A MEMBER
Send questions and comments to: gleon@Boxingtalk.net