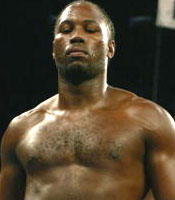 GL: Lennox, can you give us your thoughts on the John Ruiz-James Toney fight and what do you think about James Toney as a heavyweight?
"You know what I don't really want to comment on that fight, because I've never been too pleased with John Ruiz's boxing. What can you say about him? He's not fun to watch. I think James Toney is a flavorful fighter. Do you know what a flavorful fighter is? Someone who has so much experience in the fight game that he knows how to deal with certain situations. I think the Ruiz situation won't be hard for him to figure out because Roy Jones was about to do that." 
GL: Hasim Rahman feels that James Toney has always been a heavyweight killing himself to fight at middleweight, super middleweight and cruiserweight. Do you agree with him or do you consider Toney more of a blown up middleweight?
Lennox Lewis: "He's definitely blown up. That's why we have different weight classes. Yes, there's some people in the heavyweight class that can definitely be deemed blown up middleweights and James Toney is one of those people."
GL: Were you surprised that he handled Evander Holyfield easier than anyone else has?
LL: "It's funny you say that, I never seen that fight. All I did was hear about and I shook my head. But really, when Holyfield was on top of his game there's no way Toney would have beaten him."
GL: What do think about Vitali Klitschko-Hasim Rahman?
LL: "Good fight. Rahman definitely has the talent and know how to win. The only thing about Klitschko is, he has an awkward style and his longer arms could serve as a problem. But if Rahman can get into his belly and throw some wicked, hard shots, he'll be good. Klitschko hits his wall in about the fifth round, so if Rahman is in good shape he should be able to take him."
GL: So you think that if Rahman comes into this fight in the same kind of shape he was for Kali Meehan, he's going to get the best of Klitschko?
LL: (laughs) "You know, I never saw that fight and I don't know who Kali Meehan is. But I did see that Rahman has been in better shape than usual and I think he's taking this seriously, so that's why I'm giving him some good marks."
GL: It seems that Vitali Klitschko mentions you in every one of his interviews. Does that frustrate you at all, or do you get a kick out of it, since he, for the most part, seems to be talking more about Lennox Lewis than Hasim Rahman?
LL: "Like I've said many times before, my time is over now. It's time for the new era to begin."
GL: And we're still waiting.
LL: "But the fact that he mentions my name is quite the compliment and it helps my publicity."
GL: Do you think Vitali Klitschko will ever be able to reach the level that you did as a heavyweight champion?
LL: "Well he's going about it the wrong way at the moment. The fact that I beat him and that I'm better than him shouldn't be clawing at him. He shouldn't be trying to pronouncing himself on the champion because of what could have happened. He should go out there and have the people know him. And the only way we're going to get to know him is by seeing him perform, and seeing him try to get out of different problems that may occur. Because there's still a lot of unanswered questions about him. And these questions should be answered. He should be out there trying to get these questions answered instead of crying over spilled milk."
GL: How do you see the Lamon Brewster-Andrew Golota fight playing out?
LL: "I think that's a fight that I would want to see. Golota has come to his old self. The fact that he took some time off is certainly good for him. And I think that Lamon Brewster is definitely out there and he wants to be heard and seen. I think it's going to be and interesting fight and I think it's going to be an exciting fight for people to watch."
GL: Did you see Golota's fights with John Ruiz and Chris Byrd? If so, do you think he won both of those fights, one of those fights, or none of em?
LL: "I thought the Byrd fight was definitely closer than they had it."
GL: Lennox, they had it a draw. Are you saying Golota won?
LL: "From where I was sitting on the outside, it looked like Golota won. There was moments when Chris really stood out. It seemed like he was losing it and then Chris would come back to hit him with combinations."
GL: When you faced Golota, you destroyed him in the first round. Do you think he's a better fighter now than he was when he faced you
?
LL: "Yes. Most definitely. He came out against Chris (Byrd) and he didn't get frustrated like he has in the past. I thought Chris would have frustrated him even more but he's grown as a boxer and a person to overcome all of that."
GL: What do you think about Wladimir Klitschko keeping an HBO date to face Eliseo Castillo after his potential fight with IBF champion Chris Byrd collapsed? Do you think it's proper for HBO to be recylcing Wladimir again before giving that date to Chris Byrd?
LL: "First of all, I think Chris Byrd made the right the decision. There's absolutely no way he should have gone to Germany for the fight. It's evident and obvious why this is coming about. They're doing this because of his brother. End of story. His brother is saying, 'I'll fight for you, but you have to give a date to my brother.' And that's the reality of it."
GL: According to what I've been hearing you hit it right on the head with that one.
LL: "Let me ask you a question, have you been watching the Contender?"
GL: Yep.
LL: And what do you think?
GL: I think it's horrible. I think they're creating their own reality and making up their own rules as they go along
.
LL: "I think you're right about that. But you know what I like about it? I like the drama. I think a lot of people don't see the drama that boxers go through, and I think the fact that they bring the family aspect into it, because most people don't know about that. The last thing people usually see is you in the ring. They don't know what it takes for you get there or what you're going through. I like the drama of it all, but as far as going into the people with the show, no comment."
Send questions and comments to: gleon@Boxingtalk.net