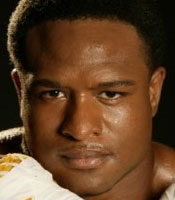 "Meehan Will Be Tougher Than Klitschko!"
GL: What's good L? What have you been up to?
"I've just basically been starting working on the fundamentals preparing myself for camp. Instead of waiting to get to camp to get in shape, which I feel is a mistake a lot of fighters make, I'm trying to prepare myself as much as possible. This way when I get to camp I can focus more on the fight itself instead of conditioning myself properly.
GL: Can you give us your thoughts on Kali Meehan?


Lamon Brewster: "He's a tough dude man. He's got good reflexes, he's got a European style and he's only lost one fight. He's got a good right hand and I believe this will be a tougher fight than Klitschko. Meehan is going to move, he's quicker and he's got much better reflexes. I take fight just as seriously as I would Klitschko. Meehan is a guy who is getting his first shot at a world title, so you know he's going to be hungry and in the best shape of his life because this is his big chance. And if it doesn't make the most of it, it's probably going to be his last chance. So I know to be ready for anything and I need to make sure I'm on top of my game for him.


GL: Meehan got knocked out in 32 seconds by Danny Williams, who is about to fight Mike Tyson. When you look at that does it make it difficult for you not to come into this fight over confident?


LB: I've seen Meehan in action so I know how good of a fighter he is, and I'm definitely not going to take the guy lightly. Sometimes in boxing it's not about who the better fight is, it's about whose night it was. That was a fight where he just got caught, and those things happen in this business, but he's won every other fight he's been in, so the guy knows how to win. My job is to make sure he doesn't come September 4. This is a guy, who like myself, has been boxing to become a world champion from day one. So he's taking this fight very seriously and he's coming for my throat. I'm taking this fight as seriously as a Klitschko fight. I know people are going to be counting him out, so he's going to be vicious and hungry by the time we fight. He's a dangerous opponent, and he's not one punch knockout artist. He's a very skilled fighter and if I'm going to continue on my journey to become the undisputed heavyweight champ, I've got to continue fighting high caliber fighters and that's exactly what Kali Meehan is. This fight will not be easy, but at the same time it's going to prepare me for bigger fights like Vitali Klitschko. He's European, he's big and he's got skills.


GL: There's a saying in boxing that when a guy wins a title he becomes 25% better Do you feel any different since becoming champ?


LB: I do feel the difference, I don't know what the percentage would be, but I definitely feel more confident and I'm definitely hungrier than ever. One of my partners, Mark Thompson, said it to me best. He said once you sign to defend your title, the title isn't yours anymore because until your hand is raised the title is up for grabs. I am the champion of the world, but the title is up for grabs so to speak. Through my hard work and determination I am confident that my hand will be raised on the night of September 4, so long as its God's will.


GL: When you fought Klitschko you brought the fight right to him. Since you feel Meehan has better movement than Wladimir, as you stated earlier, will you go into this fight as aggressively as Klitschko?


LB: The thing of it is, my style is formless. It's going to depend on what he shows me. I might be surprised and he might come out and attack me. I like reacting better than making a plan because if the plan falls apart than you start to fall apart. I'm going to train hard, I'm going to study tapes of his, analyze his strenghts and weaknessess and see what needs to be done to take this guy apart.


GL: I know you're not taking Meehan for granted, but other than the Klitschko's who else in on your hitlist?


LB: G, I can't see nobody else but Klitschko. I sleep, eat and drink Vitali Klitschko. Who has he beaten? He beat a dude that wasn't in shape. I would love for somebody, anybody, one of his followers to show me something he did that was impressive. Just one. Can I see one thing he did impressively? I would've been a lot more impressive against Sanders because I wouldn't have sat back and waited. When you see a guy out of shape, you stay in his face and make him pray for the right hand. I'm not trying to take anything from Vitali's victory because he won and I commend him on that, but what did he do great that won the fight for him? He did nothing but try to hit him with one big punch and lay on the ropes. All he needed to do was be in shape and wait it out.


GL: Do you think KO over Wladimir led to Vitali fighting tenatively against Corrie Sanders?


LB: I don't know. For me to know that I'd have to be in his head. I think he knows that Sanders had a good punch and is dangerous. We talk about shining light on boxing, well, I've got a lot of respect for Corrie Sanders but I lost some respect for him by allowing himself to come into the ring looking like that.


GL: James Toney feels he's the best heavyweight in the world. In your opinion, is he the best heavyweight in California?


LB: I definitely wouldn't say that because that would be saying he's better than me. I will say this about James, James Toney has been an idol of mine my whole life. James may or may not be the greatest fighter in the heavyweight division, but he will not take my title. I'm not going to get into the, 'oh, I'm going to do this or that' because me and James are good friends. I'm just going to tell you like this, I don't care whose title he's going to get, it won't be mine. But I got nothing but respect for that dude.


GL: You know, Toney is your mandatory, how do you feel about the possibility of that fight if nothing gets done with the Klitschko's after September 4?


LB: He got a family and I got a family, so if makes dollars it makes sense. As long as at the end of the night, it's some money where we can say that we're doing it for personal reasons to take care of our families. But to fight him just because he's the mandatory, it would be stupid to do that if there wasn't no real money on the line.That's not even a fight I would look for, but if the fight was ever made, it would be the best fight in the last ten years because James Toney is a dog and I am what I am. The people would be getting something special so they would have to put up some special money to make it happen.


GL: How do you feel about unification bouts against either of the other two champs Don King is promoting?


LB: I feel strongly about it. Not just because Don promotes them, but because I feel I can be the undisputed heavyweight champion of the world. I'm not too hungry to fight Chris Byrd though because one, we're related. Two, Byrd is a very awkward fighter and it might not be a fight the public embraces and I feel there would have to be some real compensation for us to make that happen. And as far as John Ruiz, I don't have any remarks to make about him because he is a champion and he's in the Don King family so he's not going anywhere. My whole mission right now it to get one Klitschko after the other.


MEMBERS CLICK HERE TO SEE WHAT ELSE THE WBO HEAVYWEIGHT CHAMP HAD TO SAY
Send questions and comments to: gleon@boxingtalk.net