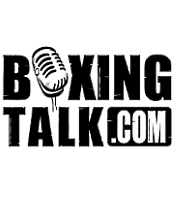 Holt looking for big fights in '06 at 135, 140 or 147lbs.
RC: What's going on Kendall?
KH: Basically I have just been training, trying to get a fight. I had a couple of different dates but I don't know what is up right now. Dino (Duva Kendall's promoter) said that he had offered a fight for February 25th for Ben Tackie on ESPN, he offered it to Americo Santos and nobody is taking the deal. Nobody wants it, so right I am just training.
RC: Do you still have the February 25th date?
KH: From what he told me, the network was pressed on getting the date filled. So I don't know if I still got it, or if they were going to give it to someone else or if they were going to give us more time to find an opponent. Dino gave the network a lot of opponents and they turned everyone down, at least that is what he told me. So in other words, he threw a bunch of names at them and the two that they did accept was Americo Santos and Ben Tackie, and to the best of my knowledge their people hasn't responded yet. So I am just waiting for either one of them to take the fight
RC: If that doesn't come to fruition, are their any other possibilities?
KH: Those are the only other possibilities I knew of. As far as an actual fight I don't know. Just to keep busy, I might just take an off-TV fight with a lower level opponent until we can get something where we can show the public a good fight on T.V.
RC: So what else have you been up to? From what I understand you made an appearance a couple months back on B.E.T., tell us a little bit about that?
KH: I hired a publicist because I feel like I am that person everyone needs to know. I am going to be a boxing champion, I am already a stepping stone champion but I am going to be world champion and more than that I want to do a lot more in the entertainment business. I love acting, and I love music so I hired a publicist so that can help me develop more of a fan base.
RC: What kind of things have you been doing?
KH: I have been doing a lot of things, I have got offered a few movie parts and I have a couple of (music) videos that people want me to come through for. I have been doing a lot of meet and greet. I am going to be in an up and coming magazine called Game Sports, I think Zab is going to be in the same issue as well. They covered a lot of Football and Basketball players, and now they are doing boxing. I have also been talking to the people from F.E.D.S. magazine; I am going to do something with them at the end of this month. So besides doing things for boxing, I am doing a lot of thinks in the entertainment business.
I was supposed to do a couple of AIDS benefits, but that fell through, and there was another event I was going to be working with, it was called free throw for AIDS out in New Jersey but somehow I got the dates mixed up and I wasn't able to make it. I have just been staying busy and letting people know that I am a human being and even though I don't have much, I still try to help out where I can. So if anybody needs me to anything for events or anything like that, whether it be hospitals to visit sick kids I will do that. I met with a couple of people from D.C., and they want me to go down there and talk to kids at the detention centers. They are still setting that up but I will be doing that pretty soon.
RC: That's a great thing your doing, how does it make you feel to be able to help out a young troubled teen at a place like a detention center, where possibly your testimony can inspire them to change his or her life around?
KH: It is cool for me because I know exactly what….. any problem that those kids have, or most of the problems that they go through, I can relate to it. I have gone through so much in my life that a lot of people don't know about.
RC: Like?

KH: I have grown up in institutions and foster homes and group homes. So the way they are feeling about not being around their family, the way they feeling about anything, I done been through it. Like growing up in the street, I grew up in the street. Shooting guns and doing stupid things like that, whatever, anything that they have been through. Selling drugs, messing up in school, I done did it. I done been through it. I graduated High School, it took me five years but I did it. So you know I can lend some advice and minister to any of those kids because I done been through it already. I have dealt with the consequences, positive, and negative of most of the actions that they are going through.
RC: I think it's great that you are doing all of those things to help out, but are you going to be able to focus on your boxing career while doing all of those above mentioned things?
KH: I have been doing a lot now, because I don't have a set fight. But it is not like there is something I do everyday. For the last month I haven't done any events and I have just been in the gym the entire time. Then they are days that I have done events and have done meet and greets and stuff like that, but I still went to the gym before or afterwards. So I still find a way to get the gym in there. I mean I haven't done any intensive workout as if I had a set date; I am just in the gym working on some things to keep the rust off, and on getting my timing right
RC: What are some of your goals for 2006?
KH: At the end of 2006, you are going to hear Kendall Holt won all of his fight that he can get. You are going to hear a lot about Kendall Holt. I feel like I am ready to step up, I am ready to fight Ricky Hatton. I am ready to fight the Monsters of the division, and I am ready to become a monster myself in this division. Not just in the division, but in this game. If I had to move up to Welterweight, or if I have to move done to Lightweight or if I have to maintain at Jr. Welterweight, I am ready to fight and become an Icon in the division, I am ready to become that dude.
RC: Kendall can you make Lightweight?
KH: Yup. I believe I can. I haven't tried it, but I know I could. If I don't train for two weeks, I will come in the gym 142lbs but say if I do train for two weeks then I will come in the gym at 147-148 lbs. Because I guess when I train more, I eat more, and I think if I get on a strict diet and follow a plan, I probably can make it.
RC: Which way do you plan on going; I mean do you foresee any possibilities in the back of your mind that might make you want to do so?
KH: The way I see it, I think it may do me good just to maintain Jr. Welterweight, because with Floyd Mayweather is going up to 147 to challenge Zab (Judah), Ricky Hatton is going to be moving up soon because he cant maintain the weight and he wants the winner of that fight. So in a little while, the Jr. Welterweight division is going to be wide open. Then you got the Diego Corrales' or the Castillo's' they may move up and I may take on one of them. Or if it better suits my career I can move down. I will be a big lightweight, but I know I can make it. I don't want to kill myself or loose any type of muscle with that, but wherever the best opportunity presents itself that's where I am going to be. If I have to move up, if I had to move down, or just maintaining just a little while longer before I get my shot, I am going to do that. I am going to be right here.
I got one "L" and basically I got the "L" but it really aint supposed to be there so I consider myself virtually undefeated. I am here to do whatever I can do, I am here to achieve all of my goals, and everything starts with the success of boxing.
RC: Is there anything else you'd like to add in closing before I let you go?
KH: I told everybody in my previous interviews when I lost, and when I was undefeated. I am not going anywhere until I get what I came for, and that is to become a world championship, an undisputed world champion. 
Send questions and comments to: ray@boxingtalk.com