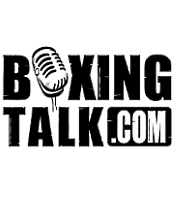 Tapia still feels he has a lot of fight left...takes on Bentz tonight!
Many of us have been wondering about Albuquerque's hometown favorite Johnny Tapia. Will he ever fight again after his stunning lost to Las Vegas NM's Frankie Archuleta?  Is Johnny Tapia's retirement in his future? Will he ever be the same after all his problems outside the ring?  Boxingtalk.com was able to get a few questions with the 5 Time former World Champion before his upcoming fight tonight with Mexico's Nicky Bentz. The fight will be in Hidalgo, Texas, and promoted by Albuquerque based promoter Lenny Fresquez.
AL:  Johnny, first things first.  It was said that your loss to Frankie Archuleta was because of an illness (bronchitis).  How is your health now? Are you feeling and performing better for this fight?
JT:  First of all Antonio, I want to give my best to Frankie. I did what I could on that fight. Yes I was sick with bronchitis, but that's nothing to blame for. Every fight I go in with what's in me and what is in my corner. He won fair and square; I'm not going to say I lost because of an illness.
AL:  Nicky Bentz, coming from Mexico we all know they train brawlers. You can expect him to fight differently than most. What are you going to do in the ring to win the fight? Do you know his style of fighting?
JT:  You're right about Mexico having brawlers. But honestly, I don't see him any different than anyone else I've fought before. I've never been knocked out, or hit in the face that much, I don't plan to with Nicky either.
AL:  It was talked about in an article in The Ring Magazine that you should retire.  Why haven't you?  What makes you fight today and give you best in the ring?
JT:  Retirement is something that's not in my future. I fight today because of the people. The people give me every reason to put in 100% for every fight. It's not the money either, I have plenty of that. For being from a small part of Albuquerque, I want to make sure I keep them on the map.
AL:  Everyone's wondering about a rematch with Frankie.  Is this something that's in your future?
JT: Definitely.  Its already being talked about as we speak It was a hard lost for me too, I can be honest there. He's a good fighter, one of the toughest I've went against.
AL:  Will this be a fight held here in your hometown this time?  The people would like that a lot.
JT:  Well, its in the works like I said, I know if it is held here, where ever it would be, the place would sell out. But even if it's in Vegas NM, I could expect the same.
Johnny Tapia also extended a big thanks to all his New Mexican fans and to wish him the best on his fight this weekend at the Dodge Arena in Hidalgo Texas.
Boxingtalk.com would also like to thank Johnny Tapia for him time with our interview.  We would also like to wish him the best of luck with his fight and keeping New Mexico on the map.