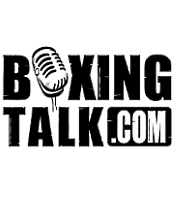 For the sixth time in as many professional fights, Irish born Jr. Middleweight prospect John Duddy made quick work of his opponent, stopping Sardis, Mississippi's William Johnson last Thursday night in a key support bout on Lou DiBella's latest "Broadway Boxing" installment at the Manhattan center in New York City. Over the weekend, Boxingtalk.com was able to speak with Duddy about his most recent performance and future plans. Read on to see what else one of the sports most exciting prospects had to say.
RC: John, there isn't really much to talk about when you stop a guy in :39 seconds of the first round, but for those, like myself who might have got up to get something to drink, or wasn't on hand, tell us what you can of your most recent performance?
JD: I know what you mean, my girlfriend missed it also. She turned around to talk to someone and when she turned back around, the fight was over. There is not much I really can say at this point about the fight. I felt like I was back home again. I had been away for seven months, I am just glad and hopefully we can as many fans involved again like I did before I left in January.
But as far as my performance, I am just thankful because Harry Kiet my coach, he is working with me, and has me going through a lot of stuff now that I m back. Everything just seems to be coming together a lot quicker than what I thought it would be at this point.
RC: After making such consistent progress in your career, and stepping up your level of competition with each outing, even taking on another undefeated prospect (Light Heavyweight, Victor Paz) three weight classes north of your usual, why take on a guy like William Johnson with a 1-1 record going into that fight?
JD: It was really wasn't up to us; it was up to the promoter. They actually had two or three other opponents they were trying to get for me, but that was the guy that took the fight. I don't know what happened with our original opponent, but I just get into the ring to fight anybody even though it was a drop compared to my last fight against Victor Paz, but like my coach said to me "Just keeping doing your job, it doesn't matter who it is, or what record they have and let the rest take care of itself"
RC: You previous fight took place at the Orange County Fairgrounds in Middletown, NY, and this past Thursday you returned to NYC for the first time since November of last year, what was the feeling like after all that time?
JD: Ooh it was fantastic, just looking around…..before the fight I don't really realize just how many people are cheering, it is when the fight is over, and I am standing in the middle of that ring looking around and I am seeing a lot of familiar faces as well as people you don't know going crazy, it is a good feeling and hopefully I can keep it going.
RC: When can we expect you back in action?
JD: We are shooting for mid December; we are trying to get a fight done before Christmas. I am not too sure though. When I do fight, I guarantee you the competition will be much better than my last opponent, and probably have a winning record.
RC: Is there anything else you'd like to say to your fans out there in closing?
JD: It's good to be back.
CLICK HERE FOR MORE OF THIS EXCLUSIVE
Send questions and comments to: rayocampbelljr@hotmail.com