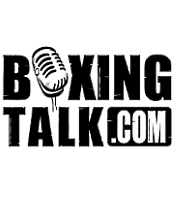 Boxingtalk's James Alden caught up with CES top dog Jimmy Burchfield. Burchfield continues to explain what we should expect from his talent, gives us his thoughts on his former fighter Peter Manfredo Jr., and provides with his predictions on several upcoming fights.
 JA: Peter Manfrtedo Jr is on the contender, how exciting is that for you? .
JB: Peter Manfredo Jr. and I worked out a situation where in 18 months he's 21-0.
 JA: He beat Anthony Bonsante.
JB: Ya, I'm going to give you something I think you might like to have! He beat him right down here in Providence. 
(He gives me a credential from the fight)   
JA: Getting back to Peter Manfredo you were saying that you were very excited for him.
JB: I'm very excited for him; we were able to give him this opportunity to try out for the contender, because we had to give permission for that. I really think he's the whole package and I'm glad he has a great chance and I'll be glad to give him a second chance. He has a great chance to win the whole thing. He's a good kid, he's very respectful, you can't under estimate his punching ability. I think if his father was with him for the first fight at the contender, I don't think he would have got beat.  
JA: You think so?
JB: Positively, he would have never gotten beat.
 JA: How much does his father play into his boxing career?
JB: A Trainer and a boxer, there aren't too many father son relationships that work. But a good one you can?t beat it alright and you know you think certain things. The chemistry between a trainer and a fighter, they pretty much live together. There together 3-4 hours everyday and it?s like a hunting dog listening to his master alright if you ever see that. I think that they have an unbelievable relationship. You see with Senior he don't take any bologna , I mean if Peter Jr says ?My arm hurts today, I don't want to spar today?. He will tell him go home and don?t come back tomorrow neither . You know its one of the father and son relationship that is working and that I think will work. That combination together, once they allow Peter Sr over there I think you going to see some good stuff.  
JA: A lot of controversy about him coming back on the show. What?s your take on that?
JB: Well I don?t think that it was something that was planned. If Frasier didn?t get the chicken pox or whatever he had. He doesn?t get that opportunity to come back. People think that it?s part of the drama for him to come back. No it wasn?t. And he got lucky; they voted him 7-4 to bring him back. So I think that he?s going to make them fighters realize that they made a big mistake bringing him back.
 JA: Do you have any Contractual rights to him due to the contender?
JB: (Cutting in) That's a damn good question. That's a very good question. In order to give him this opportunity to fight on the contender. We had a 3 year contract. The only way they would allow him, a little selfish on their part, but the only way that they would allow him or any other fighter to fight. We had to relinquish are contract to them.  
JA:  (Cutting in) I was thinking about that because Sugar Ray has a promotional business ?
JB (cutting back in) He's out of the promotional business, but we still have an itty bitty piece, but not of the decision making. One of the things that I wanted to do was if Peter got fortunate and got big time. Was to bring him back to Providence to fight one more time. And they wouldn't agree with that. Im not saying they wont. But It was something that we couldn't get done.
 JA: Is that frustrating for you.?
JB: Well the thing was this, there was a time when Vinny Paz was going to retire and get his 50th win. And we had a wonderful ceremony where Vinny passed the torch to Peter and Peter was our man. Peter was going to be our captain, he was going to take over everything. There?s a little disappointment. It sort of stalled our program a little bit but then there's the enthusiasm and love for Peter to have this opportunity.  
JA: You could have been a real jerk about the whole situation
JB: I could have been a real jerk; I could have been a terrible jerk and said no. I could of said no I did all the work , We made you the NABO champion, we had you number three in the world in the WBO. No I'm not going to do this, there were some people, some other promoters that would not let there fighters going on there. And you know what Peter tells me at least once a week?  
JA: What does he tell you?
JB: Thank you Mr.B. I know I couldn't be here with out you.  
JA: Does that mean more to you?.
JB: I think that respect means an awful lot to me and he will always tell me I will never forget where I came from. The thing is in this business you need champions and as you build up contenders you need that guy over here that can take the main event. Television wants that fighter that can fight. I feel that Peter Manfredo Jr can be the marquee fighters like the Boom Boom Mancini's, Sugar Ray Leonard and  the Vinny Paz's that network television made. Im telling you that Peter would eventually have sold out this Dunkin Donuts center. And it would have been great for our team because the rest of them would be fighting on the card. But to answer your question, yes it has made me satisfied. But that means we have to work a lot harder with the rest of our team.
JA: You think Chad Dawson can be that marquee fighter?
JB: I think Chad Dawson has the, The world is his, if he pays attention. The world is his. He will be a marquee fighter in boxing. There's no doubt in my mind.
JA:  How much longer do you think it will be for Peter or Chad to fight for a World Title?
JB: I think the contender program has some rules in there. The loss that Peter had over there, even though it was a 5 round fight it still counted as a loss against his record. But that's not for me to say for Peter right now .I won't be in the decision making. With Chad I can say it; I think maybe a year, year and a half away from being there.
People are really seeing that he's for real. You know he's seen it all he's got knocked on his rear and he got up and knocked the guy out. But I don't care if a fighter has a lost a few times. Its just there ring generalship, holding you, pulling off tricks. Chad Dawson didn't let Carl Daniels pull off any of them tricks. He couldn?t do any of that stuff .
JA: (Cutting In), kind of like the Roy Jones vs. John Ruiz fight
?
JB: Exactly, this Chad Dawson is devastating, with his body punches and his combinations. The quickness and the speed. He's got it all
JA: Does CES have any upcoming cards in the works?
JB: Ya, we have a couple of big things. We have big fight in the works, where  very close, I can't talk about the specifics. We got a real big fight for the #1 in the WBC with NABF Champion Scott Pemberton. We will be announcing in the next 5 days. Major Major fight. We will be doing a fight sometime in the latter part of may and there is defiantly a card on June 17th, than there is a card August 12th, also October 14th or 28th, and a card either December 9th or 10th. Now with that where looking to put together a couple of Show Box cards and a couple of ESPN cards. So there will be a very aggressive schedule actually.
We're working harder than we ever have. You know because our stable is growing and this is a business where you have employees you have to keep them busy and that?s what we have to do.
JA: Can you give us your thoughts on the Ray Oliveira -Ricky Hatton fight ?
JB: Yeah, it was too much weight for Ray Oliveira to lose. He hadn't fought at 140 pounds in 2 ½ years. He had to lose almost 29 pounds to get down to 140 and he just left it all in the gym.
JA: Can I get your opinion on a few fights that are coming up ?
JB: Sure
JA: Winky Wright vs. Tito Trinidad
JB: I think there both great fighters. I think Felix Trinidad, every decade you have a fighter come up such as a Felix Trinidad. With out underestimating Winky Wright I think Felix Trinidad is a little too much
JA: James Toney Vs John Ruiz
JB: Well James is a good fighter. Being that Johnny Ruiz is a friend of mine I have to feel that every time he's the underdog. I think that your going to see Johnny Ruiz pull off another upset because  I think its impossible coming up them weight divisions and fighting as a legitimate heavyweight.
JA: Floyd Mayweather vs. Arturo Gatti
JB: It's a tough fight, good fight but tough fight .
JA: A lot of people say that Floyd is going to run right through him, it's the perfect fight for Floyd
JB: Ya I think Floyd Mayweather has so much speed and everything, but Arturo Gatti with his being a warrior and him being a puncher and Floyd hasn't had that pressure on him either. If Gatti is able to study film and put a good strategic plan together. He has a good opportunity to win the fight.
JA: Diego Corrales vs. Jose Louis Castillo at 135
JB: I like Corrales. I think he is at the top of his game. I know he's moving up a little bit. People think that 3-4 pounds isn't a lot, well it is a lot. I just like him, I just like his punching ability and his aggressiveness. He is a good boxer puncher. I just think that he is going to win the fight.
JA: Is there anything that you would in closing?
JB: Ya I'd like to say that we have a great sport. I think that if people pay attention more to their own business rather than everyone else's business it would be great. I think that all of us together need to make the future stars of boxing. We're working very hard to and I?m hoping that everyone else is doing the same. It's a great sport!
( Editors note: I would like to thank Jimmy Burchfield for taking time out of his busy schedule and speaking with Boxingtalk. We wish Mr. Burchfield and the whole CES Fighters the best of luck on their future endeavors !)