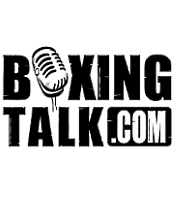 Light Heavyweight Jesus Ruiz ( 18 - 4 - 16 KO ) lost a very controversial decision to Paul Briggs in a Light Heavyweight Title Elimination match back in March of 2004. After a year layoff due to some personal issues Jesus Ruiz will make his comeback in 2006, and looks to re-capture his contention status once again. In this interview, Ruiz talks about the controversial loss to Paul Briggs, and he touches on his goal to meet former World Champion Glen Johnson in the ring in the near future.
BT - Jesus you took some time off, where have you been?
JR - Well I had some differences with my prior management team, and it took a little longer to resolve it than I thought that it would so that is the main reason I took the time off.
BT - Talk about your new team Jesus.
JR - I hooked up with Robert Diaz, and I have known him for many years. I respect his work in this business, and I have been friends with him for many years.
BT - Jesus you lost a very controversial decision to Paul Briggs back in March 2004. This was an important fight because it was a title elimination bout, give me your thoughts on that fight
.
JR - Well Brad for that fight, I am the type of fighter that is always in the gym. That fight I was told only a month before the fight about it, and also I had to fly from Mexico to Argentina, and from Argentina to New Zealand, and from New Zeland to Australia. So the travel had an impact on my me as well. I took the fight because I am very strong minded, and strong mentally. I think they thought maybe I wouldn't do as well because of the flight. I
prepared myself as best as I could with the limited time available. I arrived in good spirits, felt good, made weight, and in the second round I dropped him. As the fight wore on, I dominated most of the rounds. He might have won a few of the rounds, but I thought I won most of them. At the end of the fight when the judges scored it, I thought the results were awkward because in the second round after I dropped him one of the judges had it 10-10,  and the other judge had it 10-9??? After the fight Paul Briggs got on the microphone and told everyone that the decision was a "Hometown" decision, and that he will give me a rematch.
BT: Jesus, is a rematch with Paul Briggs something you are interested in now?
JR - Yes definitely, I think Paul Briggs would want the fight, but maybe on more neutral ground.
BT - Jesus, you have a nice Knockout ratio. Talk about your style of fighting a little bit.
JR - Well at the beginning of your career the majority of the fighters want to score Knockouts. As you get a little older you want to weaken your opponent and the knockout will come when it's ready. It's the way your punch connects, and how it connects, for example my fight with Glen Robinson on Fox Sports, he was much bigger than me. Glen was dominating the rounds, and dropped me in the 3rd. After the 4th round, I started to loosen up, and I can't believe the upper-cut I threw, it knocked him out cold.
BT - Jesus, your adviser Roberto Diaz talked about your short-term goal some, but down the road a piece you would like a shot at Glen Johnson. Give me your thoughts on your desire to fight Glen Johnson.
JR - First of all Glen Johnson is a gentleman, I want to point that out. I would like to first send him a hello, and would like to say he is an assett to boxing. Glen Johnson surprised the world with his defeat over Roy Jones Jr. We saw a fight with Glen Johnson vs Julio Gonzalez out here in California, and I want to say that Glen Johnson was robbed, it was a really bad decision. I would love to fight Glen Johnson down the road a little bit, he is a style of fighter that is rare to find, he comes forward, he is professional, non stop action. Fighting Glen Johnson is a challenge that I would like to face, he does not have your typical American style, he has more of  Mexican style going toe to toe.
BT - Jesus, where would you like to see your career one year from now?
JR - I would really like to be in line to fight for a world title by that time.
BT - Talk to the boxing fans Jesus, tell them what you have coming up for them in 2006.
JR  - Well I want to tell the boxing fans that I want to bring out the fighter that is inside of me, and show them what the great Mexican fighters do in the ring, I want to fight like them.
BT - Jesus, thank you very much for talking to Boxingtalk.com
JR - Thank you for having me.
*Special thanks to Roberto Diaz for assisting me with translating for Jesus Ruiz.
Send questions and comments to: bradcooney1@bellsouth.net