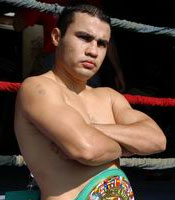 JA: How is training camp going for the Marco Antonio Barrera fight?
"Well as soon as it gets finalized then I will be getting ready. I am getting ready to fight him now. If it's going to get done, I hope its going to get done soon."  
JA: Do you expect it to get done?
JC: I'm not sure how things are going right now. Meanwhile I don't spend a lot of time worrying about that, I just been staying in the gym and staying focused.  
JA: I know that your last fight was a tough one. Can you tell us how things are going for you now?
JC: It's a sensitive to talk about. I don't think that I will fully get over his death. Who ever I am going to step in the ring next is who I am going to step in the ring with.
JA: Is it going to be tough to get back in the ring after your last fight?
JC: I don't know. I been in the gym and I stay in the gym a lot. I will never know until I get in the ring. It's a mystery even for my self.  
JA: What are some of your goals for 2006?
JC: To defend my title as many times as possible. If the fight with Barrera comes through I have to fight as hard as I can to win the fight and to defend my title.  
JA: How do you see the fight playing out with Barrera?
JC: It's going to be a bog burner my man (laughs). It's going to be two great Mexican fighters going at it, and it could be something like Morales-Barrera I.
JA: Do you think with the way you two fight that you can have your own PPV show?
JC: Well I am not sure. I don't know what the promoters are thinking about or how they want to stage the fight.
JA: If the Barrera fight doesn't get done. Do you have anyone else on your mind that you would like to fight? Would the Pacquiao-Morales winner be something that would interest you?
JC: Yeah. I got a thing out for Morales if he ever wants to step up and get some, come and get it.  The first time I fought him I only could use one hand and I stood in there and hung with him, I would like to see him face me with two hands.  
JA: Who do you like in the fight this weekend between Pacquiao-Morales?
JC: I think that Morales is going to be too big for him and may knock out him out this time. I am not discrediting Pacquiao in any way, but I was there at the first fight. It could go either way.  Manny has said that this has been his best camp to date and if he can get it together he can definitely win the fight. It's a toss up, its going to be a real good fight.  
JA: Was you shocked that Morales lost to Zahir Raheem?
JC: Oh yeah I was. I think that a lot of people were shocked to see him lose.  
JA: Have your people been in contact with you about the fight with Barrera is going to get done?
JC: Yes they have but there is not really much to say at this time.
JA: Is there anything that you would like to say in closing Jesus?
JC:  Yes I am very appreciative of there support and there is more Jesus Chavez to go around.
Send questions and comments to: aldenjimmy@cox.net