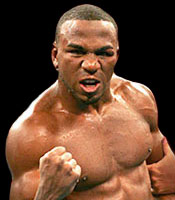 GL: What's going on Jeff? You and Syd Vanderpool will be getting it on October 2, which is a bit sooner than most expected. How do you feel about that?
"I'm just getting ready for this fight, I'm pumped about gettin the chance to fight for the IBF super middleweight championship of the world. I think it's a great opportunity for me. To me up against Syd "The Jewel" Vanderpool is my opportunity to take my career to the next level. And he'd better be ready for one night of hard pain. I'm going to be totally ready, like for no other fight before. I'm really pumped about this fight and I think the boxing world is going to see that come October 2. Everything is going to come together for me in this fight."
GL: How do you feel about the triple header you're opening up competing with the Trinidad-Mayorga fight?
Jeff Lacy: "One fight is on PPV and the other is on the premium channel, and that's Showtime. If people don't want to pay their money to see the Trinidad fight, and I feel that a guy coming up from welterweight to fight a middleweight, is a mismatch, but people are going to want to see what happens with Trinidad because there's a lot of Trinidad fans out there. So it could go either way. I just think fans have the choice to see three good fights on Showtime or one fight that might not even be that good of a fight."
GL: Are you already in camp for October 2?
JL: "Yep. I've been in camp for about three weeks now."
GL: Some people in the press look at this fight and say it might be too much too soon for you. How do you feel about that?
JL: "I'm telling you right now Greg, everything is going to come together for me in this fight. I've just been needing that opponent that's going to step up and want to fight. All these other guys that I've fought that ran...well, Syd is a slick fighter, but he's got something to fight for on October 2, and that's the world title. He's going to come to sit back, stay away and survive. He's going to be coming to fight and I'm going to be doing the same thing, so that means we're going to have to meet somewhere. And that's where everyone will see what I have in the tank and type of fighter I truly am."
GL: Can you refresh my readers by letting them know what your thoughts on Vanderpool are?
JL: "I watched Vanderpool when he fought Tito Mendoza out here in Tampa. I think he's a slick fighter..he's quick, but he lunges and jumps in a lot. I think his style is suited for me. He's a short southpaw and Winky is the same way, but he's a great fighter, and that's who I grew up fighting, Winky Wright. Vanderpool's style has been suited for me."
GL: Will Winky Wright play a role in your preparation for this fight?
JL: "Of course. Syd is a short guy. He's 5-9, which is the same height as Winky and I need guys like that. I don't think Syd is as slick as Winky, so the work with Winky will definitely add up and help me a great deal for this fight."
GL: Have you been following the Olympics Jeff?
JL: "I was following until my boy Andre Berto lost."
GL: I saw that fight it was close.
JL: "It was close but that point system gets us every time. I just think they need to eliminate the point system. The point system is for the foreigners. They get to practice under that point system all the time. We don't have that chance over here, and just about every fighter over here is not equipped to fight under that point system. We're seek and destroy type fighters. We want knockouts and we want to win fights. That running is a scary way of fighting and it doesn't last as a professional. If they want the amateurs to produce greater professsionals from the Olympics they need to do away with that point system. People won't even remember who the gold medallist a few years from now, because it's not the same with that point system."
GL: And what are people going to remember about your performance on October 2?
JL: "They're going to remember, 'and the new and still undefeated.'
GL: You know they say before you become a true champion you must taste defeat at least once. Why do you disagree with that?
JL: "I disagree with that because you lose when you're coming up from the amateurs. I could see if you never lose once as an amateur or professional, but if you've lost as an amateur you know what it feels like to lose. Especially when you put all your heart and soul into it. Syd Vanderpool might have the experience on me as a professional but I don't think he's got the experience I do in terms of fighting all different types of opponents."
GL: How do you feel about Joe Calzaghe coming back down to super middleweight?
JL: "Joe Calzaghe is a fight I'd love to take, and I'd even go over to England to do it as long as they pay me right. I respect him as a fighter and a champion, so as long as they pay me right, we could give the fans what they want. That's a fight that the fans want to see and we're both with the same network. All they need to do is come with the money and we'll make it happen over there if we have to."
GL: Is there anything you'd like to say in closing?
JL: "I told everybody we were going to be gunning for the title this year, 2004. And this is my year. I will have that IBF world title around my waist by the end of that twelfth round!"
CLICK HERE FOR MORE OF THIS EXCLUSIVE INTERVIEW
Send questions and comments to: gleon@boxingtalk.net