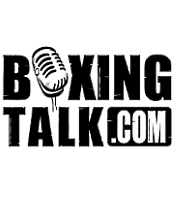 JA: For the fans out there that do not know about you John can you tell us a little bit about yourself
? "I am 32 years old that comes from France. I have 130 amateur bouts and I have been fighting professional since 2000. I am a southpaw who is 20-0 with 11 of them coming by knockouts and my objective is to fight the best fighters in the world. I want to come to the United States to fight the best fighters in the world and to prove myself. I am not worried about who the fighter is I just want to fight the best."
JA: You recently fought Saturday night, how did that go for you?
JPM: I out classed Travis Klayborn and I stopped him in the second round. It wasn't a good fight and it wsant the fight that we wanted, the only reason why that fight happened was because the original opponent that we had originally didn't get on the plane in Baltimore, Washington. We then had to scramble and find an opponent for John Paul, we offered the fight to the other fighters on the card but they didn't want to fight.
JA: Who would you like to fight next?
JPM: I would love to fight Allan Green or Yusef Mack, we will fight any of the top Super Middleweights in the world if we have too. We are not ducking anyone, we are just looking to fight a good fight.
JA: You were talking earlier about a tournament, can you elaborate more on that?
JPM: We are working with Gary Shaw on trying to setup a tournament for the 168 pound division so the winner can get a shot at Joe Calzaghe.
JA: When would you like to step in the ring next and fight?
JPM: I am stepping back in the ring next on June 10th in France to fight for the European linier title.
JA: When would you like to here anything more on the possible tournament that is being worked out?
JPM:  It will be a round one promotion in conjunction with Gary Shaw Productions. The contracts have been drawn and they are being passed back and forth between the attorneys right now. We look to have that finalized in the next couple of days.
JA: Is there anything that you would like to say in closing?
JPM: I want to showcase my skills in front of the American fan base and when they do see me fight I believe that they will become fans. I am looking for an opportunity to fight in front of the American fans because the American fans are the best fans in the world. I just want to thank my promotional team of round one promotion for all they have done for me. I am looking forward to fighting in the United States.
Send questions and comments to: jamesalden@Boxingtalk.com