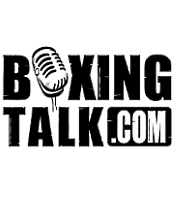 JA: How has training camp been for your fight Jamie?
"Training camp has been really good for this fight, I didn't expect it to be this good because normally I have some problems with my hands. Everything is feeling good. I was a little bit nervous because this is my first fight back since my surgery, my surgery was a success and I am ready to go."
JA: I know that you talked to a few people and you said if you lose your fight to Missy Fiorentino that you would possibly retire. Is there any truth to that?
JC:  Yeah I did say that and I think that it would probably happen. It's hard to say because I have been thinking about retirement before my hand surgery, before my surgery I was thinking about giving it up. There is a very good chance that it might happen because I feel comfortable where I am at in my career. I have been through a lot in my career, I lost my trainer Tiny Richie and I fought with broken hands so nothing surprises me anymore. I been on top and I have been at the highest point of my career at every level, so I am content if I decided to hang the gloves up.
JA: Why are you thinking about retiring? I know that you are married and is one of the reasons why is to start a family?
JC: It's like I said I did everything in my career. I think that I am going to win this fight coming up don't get me wrong, that is just a last case scenario. I feel very confident that I will win this fight but if something did go wrong that I did break my right hand again, that is along the lines that I am thinking right now. I own a gym and train a lot of young kids and if I decide to go that route that is what I want to focus on. I do have a husband and a dog that is like our family. It has nothing to do with having kids; it would be for my own personal reasons.
JA: How have you been preparing for Missy Fiorentino?
JC: For this fight I have had a little bit of everything and it has been really good for me. A lot of times in the past I would only have one sparring partner or one style of a sparring partner in the gym with me. I sparred Gary Balleto for this fight, I sparred Diego Perreira who is fighting in the amateurs. Missy and I sparred about four years ago and that was a long time ago and we were different fighters at the time, so I am not going by that too much. I am going by what I see when Missy fights, that is what I am going by. I have been getting a lot of different sparring partners in route to be as best prepared for this fight against Missy.
JA: I know that she likes to put a lot of pressure on her opponents, how are you going to handle the pressure and have you ever been in the ring with someone who has put as much pressure on you as Missy will come Thursday night?
JC: Actually I have fought a fighter like that in Eliza Olson. She is a very aggressive fighter and I see a lot of Missy in her, they come in straight and they are a little wild with there punches. Missy is a great fighter, she is very aggressive and I am not taking anything away from her. The biggest thing for me to win this fight is be in condition because I know I can box and punch and I can move. For me it's more of a conditioning thing and then I use all my skills to excel me to the next level.
JA: What is your prediction for the fight, a win?
JC: Oh yeah most definitely I am coming here to win, I go to every fight to win and I never entertain the thought of losing the fight. As far as the fight goes who knows because Missy can totally change her style and try to come out and box. Like I said I am going to be prepared for everything and at the end of the night you are going to here and still champion, Jamie Clampitt.
JA: Is there anything that you would like to say to your fans on Boxingtalk.com?
JC: I just want to thank you guys for the support. This is a big event for female boxing because we are the main event and a lot of people want to see this fight. I think that this fight is going to be a good fight for woman's boxing and you definitely don't want to miss it. I would like to thank all boxing fans for everything. For the fans out there who want to get in contact with me you can do so by going to
www.jamieclampitt.com
.
Send questions and comments to: jamesalden@boxingtalk.com