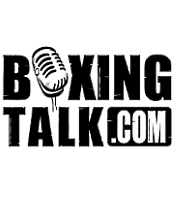 Toney: "I'm fighting three times this year!"
GL: What's good James?
"I'm ready to start breaking bones right now. I'm coming to break bones, break heads and kick ass. Right now I'm waiting on Dan (Goossen). Papa Goose in charge of my fate, I got my medical clearance the other day and I'm ready to go! Dan is going to be in NYC next week, so I'm snitching on him, and when he comes back with my fight it's on and it's time to have some fun."
GL: In many of our discussions you've made it clear that you want to fight Vitali Klitschko more than anything, but with it looking like Klitschko is going to fight Rahman next...
James Toney (cutting in): "Who the hell is going to buy that? You talk to everybody, you tell me, who's buying that?"
GL: I don't think it's going to be on PPV.
Dan Goossen: "They're looking to not put it on PPV because of that."
JT: "Rahman is terrible, he's garbage. Him and his promoter are garbage. Tell Don King to have some balls, show some confidence in his fighters and we could do this!"
GL: That might not be the best way to get one of Don's heavyweights in the ring.
JT: "I don't give a damn, just give that message to Don King.
GL: What I was getting at before you interrupted me, was that Klitschko and Rahman will be fighting each other. Does a fight with Chris Byrd become your new top priority?
JT:  (jokingly) "You're talking to me so I don't give a damn about interrupting you...My whole thing is this, when we were both on that Best Damn Sports Show you see how scared he looked when I was on stage with him. And then his wife hid from me, I didn't even know she was there. All he has to do is tell Don King to have some balls, show some confidence and make the fight. Who am I going to fight next? I don't give a (expletive delted) right now. Somebody's getting their ass  kicked.
Dan Goossen
: "Here's the bottom line with what we're trying to do with James next. We're out to show his dominance in the heavyweight division. You can't make these guys fight you. Whether it's Rahman, whether it's Byrd, whether it's Ruiz, whether it's Tyson, the bottom line is James by the end of the year will destroy each one of those guys if they want to fight him.
James Toney
in the back ground: "I'm fighting three times, three opponents this year, write that down. James Toney is fighting three times this year!"
Dan Goossen:
"The bottom line is to have James get rid of all these title holders and show his dominance...
James Toney:
"And when I get them belts, I'm defending them against all comers! I can't be stopped and I won't be stopped, I promise you."
GL: In discussions with Dan, he's made it clear that giving options to Don King is not an option....
Dan Goossen (cutting in): "Now it's my turn to interrupt you Greg, for one fight I don't want to do it.
James Toney: "He shouldn't need no options!"
Dan Goossen: "We want to secure the top fights out there and we want to be fighting the best that's what we're looking at and making those things happen is what I'm working at. 
James Toney: "I'm the people's champ. Everybody knows this already and those people who don't, will, after I knock someone out in my next fight. I'm going to show them dominance.!"
GL: Anyone who questions your skills is a fool James, but with you having suffered two seperate injuries recently, will that have a negative effect on your ferocity and aggressiveness? And is reinjuring your arm and achilles always something that will remain in the back of your mind?
JT: "If anything, I'm going to fight more aggressively now. The way I feel right now, nothing can stop me. People didn't think I would be able to come back right away after the achilles injury and you see what I did. Dr. Daly is the best in the world and he's the one who worked on me. All I'm waiting for now is Dan to give me the damn word about who it is. I want the best, right now!"
DG (laughs): "I got to tell you, he's getting ready to throw me out the window if I don't get something done quickly!"  
IT'S GREAT TO BE A MEMBER, BUT WE'RE GIVING YOU THIS MUST READ EXCLUSIVE INTERVIEW FOR FREE
Send questions and comments to: gleon@Boxingtalk.net