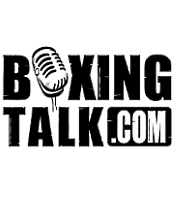 GL: How do you feel about the Ruiz fight going to purse bid? Does it upset you?
"You know what? I'm happy. Dan made it happen, the WBA made it happen. I'm prepared to live with the WBA's decision and now I'm just ready to get the fight and show the world that I'm the man, show them that I'm that dude."
GL: If you had your choice between the two, whom would you fight, Byrd for the IBF belt or Ruiz for the WBA belt?
James Toney: "I'd fight both of them in the same night. None of them got nothing for me."
GL: I'm sure you would, but based on the fact that you and Byrd have had more verbal altercations than you and Ruiz have, does that make you want Chris a little bit more?
JT: "Byrd doesn't mean that. He never says what's real, he says what he wants the public to think and then when he sees me him and his wife walk the other way. He talks a lot smack but all he needs to do is bring his ass to the ring and we could get it on whenever he's ready. I'm ready right now."
GL: John Ruiz hasn't ever been in a really exciting fight. He makes for ugly fights. Are you confident that your skills will make a Ruiz fight exciting regardless of how ugly he tries to make it?
JT: "Let me tell you something, Greg Leoney, I'm a fighter. I'm the master boxer in there. It doesn't matter how it goes. He's an ugly fighter that's true, but I'm going to carve him up like a damn butcher."
GL: Would a fight with Ruiz go the distance?
JT: "I'm going to knock him out! There's no doubt about that. I'm healthy, I'm 100%, there's no excuse about me being injured. I'm going to be right, I'm coming to fight and he's going down. You can count on that. They could call me a middleweight and talk however they want to talk, but when we get in the ring, I'm knocking him out. There might be two fights that night, I'm going to knock out Ruiz and then we're going to have Dan knock King out!"
GL: Would beating Ruiz worse than Roy Jones Jr. serve as additional motivation to you?
JT: "Taking that belt home is all the motivation I need. It's more than enough. Roy did what he did, and I'm going to do what I do. I don't want to do what Roy did, I want to do something special, rid the boxing world of John Ruiz once and for all. Everybody knows I'm the draw, everybody knows I'm coming to bring the heat to this cat. I'm not taking him lightly and I guarantee you he's never seen anyone with skills like me. He could try to do all the hugging and holding he wants to, the bottom line is I'm going to beat his ass."
GL: Vitali Klitschko has never been in a rush to get it on with you. Are you concerned about the fact that capturing any other title would prevent you from boxing Klitschko in as his mandatory?
JT: "Right now I'm focused on Ruiz. Klitschko might not get by bum ass Hasim Rahman. Klitschko doesn't want none of this, so he could keep on running because I'm not chasing anyone. After I knock Ruiz out they're going to be lining up to fight me, for nothing else but to make some money while they take a beating."
GL: If Chris Byrd goes to Germany to fight Wladimir Klitschko does he come home with his title?
JT: "Nope. Chris Byrd is garbage. He's tough when he talks with you but then when he sees me he runs away like a little girl. He looks like Buckwheat anyway. But after I knock Ruiz out, I'm going to use Hasim Rahman and Chris Byrd as sparring partners, I'll give them five fifty a week to split. And I'm not talking about $550, I'm talking more like $5.50 because that's all their worth."
GL: Who do you like in Vitali Klitschko-Hasim Rahman?
JT: "I'll tell you, it might be a draw because they're both SO terrible."
MEMBERS CLICK HERE FOR MORE OF THIS MUST READ INTERVIEW
Send questions and comments to: gleon@Boxingtalk.net